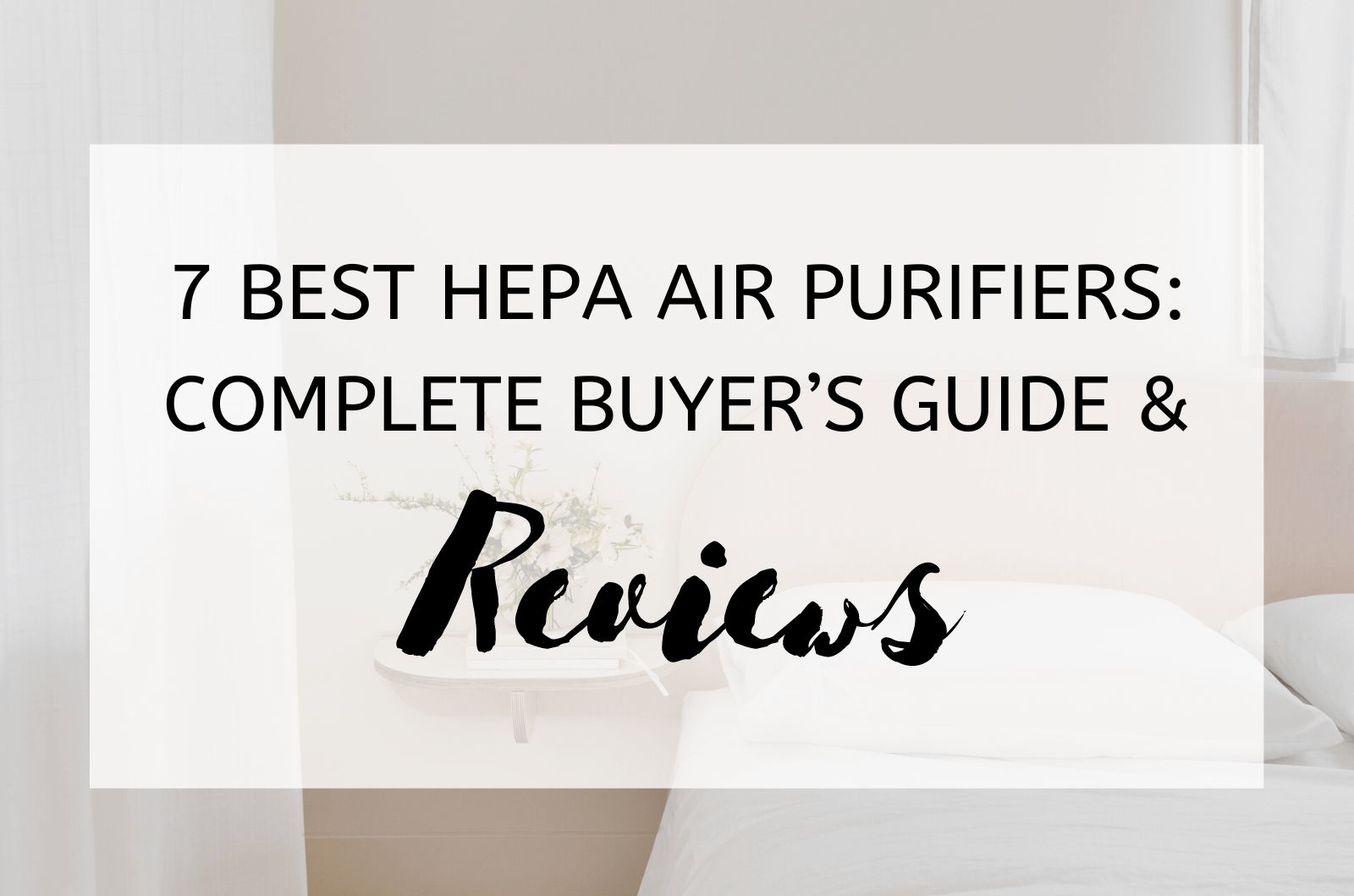 Having the best HEPA (High Efficiency Particulate Air) purifier means enjoying clean air to breathe. If you are searching for the right air purifier, here is a clear guide to follow to help you purchase the best HEPA air purifier.
Shopping for the best HEPA air purifiers can be overwhelming due to the plethora of brands on the market. This is why you need a buying guide to help you make the most informed decision.
The best HEPA air purifier can improve your health by eliminating airborne pollutants, ensuring the highest quality indoor air. But to qualify as the best HEPA air purifier, it has to be powerful in removing various types and sizes of allergens and particulates in your living space. This review and buying guide will help you understand the best HEPA air purifiers for your home.
What Are HEPA Air Purifiers?
HEPA air purifiers are air purifiers that contain a HEPA filter. Generally, there are many types of filters found in air purifiers today. A HEPA filter is proven to eliminate up to 99.97% of air pollutants with a size down to 0.3 microns.
The Best HEPA Air Purifiers Review
The AirDoctor is the first affordable purifier that not only removes 100% of airborne particles down to 0.003 microns, but also the vast majority of toxic ozone, volatile organic compounds and gases. This unit filter particles 100 times smaller than a standard HEPA filter. AirDoctor's powerful filtration technology circulates the air in a 638 sq. ft room every 15 minutes. AirDoctor keeps your air clean in living rooms, family rooms, bedrooms & nurseries. With built-in handles, it's easy to move AirDoctor from room to room.
Pros
Highly efficient
Easy to use
3-stage filtration
Cons
The HealthPro Plus is the number one rated room air purifier for homes, offices, schools, and commercial spaces; receiving more top reviews than any other air purifier. It was even selected by the Hong Kong Hospital Authority for COVID-19; both SARS-CoV-1 & SARS-CoV-2. It boasts a 320-degree difuser that efficiently filters all the air in large spaces numerous times every hour and uses a Medical Grade H14 HyperHEPA Filter which guarantees removal of 99.995% of all airborne particles down to 0.003 microns.
Each HealthPro Plus air purifier is Swiss made and individually tested for efficiency. If the unit is not delivering 99.97% cleaner air or better, it doesn't get shipped to the customer. The results of the tests are outlined in a hand-signed Certificate of Performance.
Pros
Ultra quiet
Highly efficient three-stage filtration
Energy-efficient
Filter up to 1,125 sq ft
Cons
This is the best HEPA air purifier for larger rooms of 1560 square feet. Designed with high-quality HEPA filters, this smart choice will help you eliminate dust, smoke, pet hair and dander, and mold, leaving your living space pleasantly healthy.
It is also perfect for removing odor due to its activated carbon filters. The adjustable filtration speed allows you to determine how fast you want your room cleaned. Lastly, it comes with light signals that tell you the pollution level in your indoor air.
Pros
Lightweight and slim design
Highly efficient three-stage filtration
Quiet operation
Light signals
Cons
This is one of the highest performers for eliminating smoke, pollen, and dust from indoor air. The air purifier does not have true HEPA filters, but the HEPA filters are highly effective in getting the job done.
It is also a beautiful addition to any room, with a customizable option allowing you to choose the best of its five color variants. On the downside, it generates more noise than other units on this list and is also relatively expensive.
Pros
Portable
Stylish
Excellent features
Cons
It covers a small area
Relatively expensive
The Rabbit Air BioGS is an effective HEPA air purifier suited for bedrooms due to its quiet nature. Its compact design also makes it efficient for quiet places that do not need any form of disturbances.
Besides, it is very efficient for removing dust, smoke, odor, and other air pollutants thanks to the HEPA filter and activated carbon filters. The only drawback is this unit is designed for smaller spaces and might not be effective in larger rooms. Overall, its simple design, performance, and quietness make it an excellent option.
Pros
Near quiet operation
Simple design
Removes odor
Cons
Like it's larger cousin, the HealthPro Plus, this compact versio also boast a H14 HyperHEPA Filter. If effectively filters a room size up to 1,240 sq ft.

It's an excellent choice for asthma & allergy sufferers. Proven exceptional air filtration: Filters particles 100x smaller than 0.3 microns.
Pros
Lightweight
Portable and easy to move
Highly efficient
Filters up to 1,240 sq ft.
Cons
Expensive
Does not filter chemicals & odors
This is a powerful HEPA air purifier designed for larger rooms up to 3,000 square feet. It is also perfect for smaller rooms and can clean your indoor air faster without consuming much energy. It is primarily designed for eliminating 99.97% of fine particles (as small as 0.1 microns) as well as dust, pet dander; while also absorbing smoke, wildfire smoke, cooking odors, pet odors, and VOCs with it's H13 True HEPA Filter.
According to thousands of reviews, the extensive size makes it less appealing to some buyers. However, if you do not find that annoying, this is a great HEPA air purifier for your offices and larger rooms.
Pros
Works well
Covers large area
Affordable
Cons
The Best HEPA Air Purifiers Buying Guide
There are hundreds of air purifier brands on the market, making it difficult to choose the best solution for your home. However, we have compiled the list above to point you in the right direction. Apart from the review, there are some aspects you need to consider when choosing the best HEPA air purifiers for you and your loved ones. Here are some additional factors to consider.
Allergies: You need an air purifier with a true medical grade HEPA filter to reduce allergens in your living space.
Pets: If you have pets, you will need an air purifier that removes pet dander and hair.
Sensitivity to chemicals: Are you sensitive to various chemical substances? Choose an air purifier designed to eliminate chemicals and odor from your home that uses a carbon filtration for gases like the IQAir GC MultiGas with an H11 HyperHEPA Pre-Filter.
The Best HEPA Air Purifier FAQs
What's the Difference Between HEPA-type And True HEPA?
The difference between these two filters is their efficiency in filtering out air pollutants. HEPA-type filters can filter out up to 99% of air pollutants capturing particles as small as 2 microns. I, while true HEPA is 99.97% efficient at capturing airborne particles as small as 0.3 microns.
Do Air Purifiers Have Side Effects?
Some  air purifiers may have side effects, especially if the user is sensitive i some conditions. For instance, someone might experience throat irritation, and other mild respiratory irritation in the case where ionizers and some UV-C filters are used.
How Long Does It Take a HEPA Air Purifier to Clean A Room?
It depends on the size of the room and the unit itself. However, these products are mainly designed to take about 30 minutes to clean small rooms and up to three hours to clean larger rooms.
Conclusion
When choosing the best HEPA air purifiers, consider the above factors. Accordingly, you should determine the maintenance requirements. For instance, do you know how to replace a HEPA filter? Overall, try find what is best for your individual needs, depending on the size of your room and your budget.