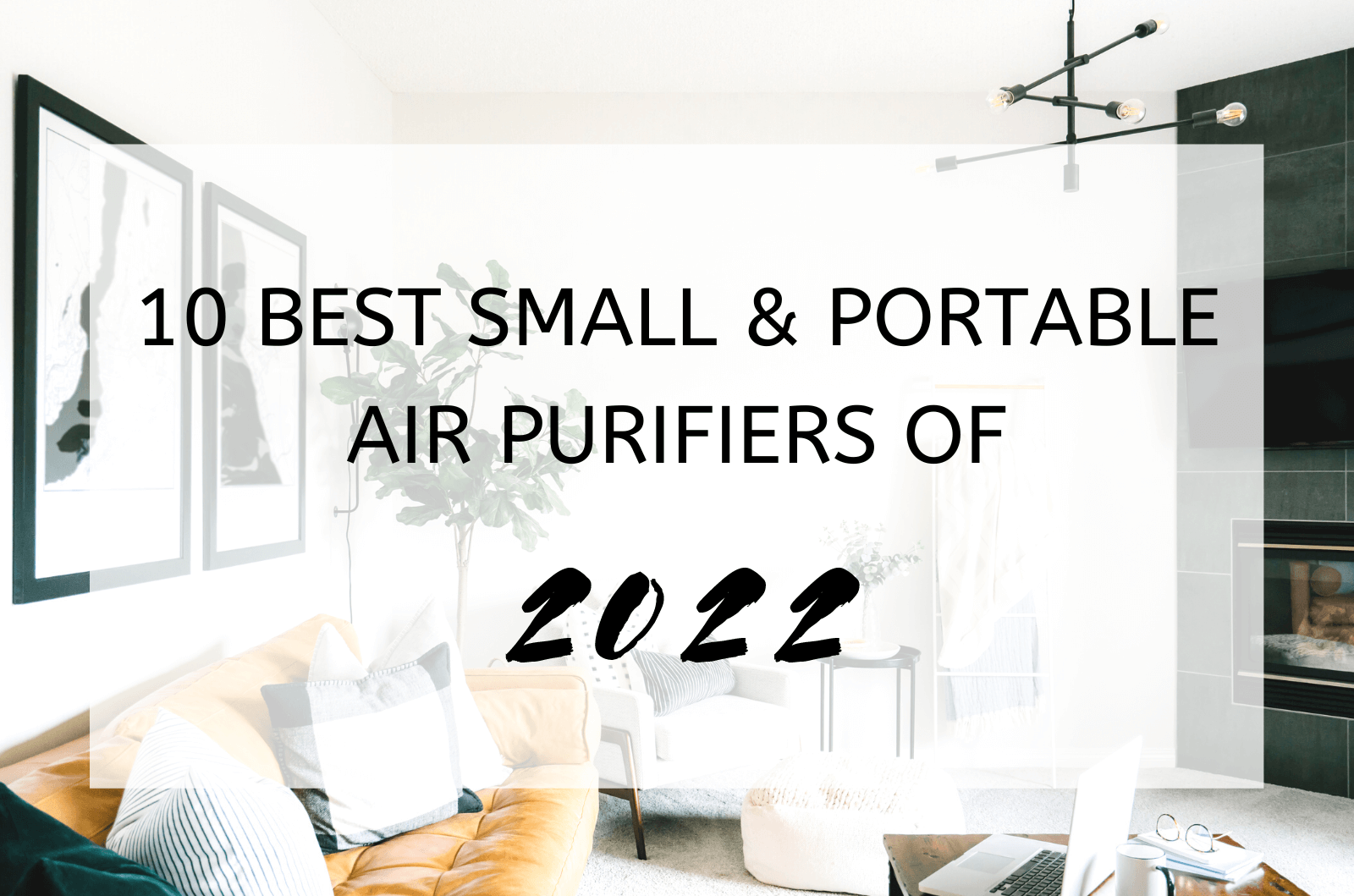 The best small and portable air purifiers will allow you to breathe easier at home. They are handy devices that eliminate air pollutants and toxins, including smoke, dust, allergens, pet hair and dander, and bacteria from small rooms.
Are you suffering from symptoms of allergies and asthma? Buying the best small and portable air purifier can make a difference in your home. Even to healthy people, the best air purifier can still make a notable difference in the quality of the air you breathe. We have rounded up the ten best small and portable air purifiers you need for small rooms, such as your bedroom or office.
What Is A Small Air Purifier?
Air purifiers are designed to filter out and eliminate air pollutants from the air you breathe. However, these devices come in a wide range of sizes, with multiple features. Small and portable air purifiers are more compact and, as the name suggests, are designed for smaller rooms. Their compact size means you can use them in a studio apartment or a single room with excellent performance efficiency.
Best Small and Portable Air Purifiers for 2022 Review
Buying the best portable air purifier for your home can be more challenging. That is why we have created the best small and portable air purifiers review for you.
This air purifier is relatively compact and portable enough to fit on a bedside desk and can eliminate pollutants in a 129 square feet room. Its excellent features, including a HEPA filter, which makes it 99.97% efficient in purifying indoor air. Additionally, it is an affordable option with loads of practical and functional features for your home use.

Molekule Air Mini+ air purifier is FDA-cleared for medical use to destroy viruses and bacteria. It's designed to sit on an elevated surface like a table or counter and pull in particles from all sides. The device uses a patented PECO-Filter, which is coated with a proprietary catalyst and breaks down viruses & bacteria at a molecular level when activated by light. It also traps 95% of particles 0.3-1 micron in size like mold & pollen allergens. It's designed for smaller spaces up to 250 sq. ft. such as offices, kid's room and studios or apartments.
This is a renowned product from a leading brand in the air purifier industry. It is easy to operate and equally as effective as bigger air purifiers. Its four filtration stages make it more efficient in reducing allergens and air pollutants that make your indoor air stuffy.
IQ Air Atem is a number one rated personal air purifier. Only IQAir's exclusive HyperHEPA filters stop ultrafine particles and stops the smallest particles that exist: 10x smaller than a virus. HyperHEPA filtration delivers up to 99% purified air to your personal breathing zone for up to 150 sq ft room coverage. Atem is versatile, using an array of accessories to provide four air purifiers in one system. This unit eliminates ultrafine particles down to 0.0003 microns; approximately 90% of all airborne particles. Perfect for an office/desktop or small room.
This small and portable air purifier fits the list as a smart option for people looking for extra features, such as smart controls. Its auto features allow you to schedule and adjust modes depending on the quality of your indoor air. More importantly, it is small and portable enough to filter the air in confined spaces. You can also carry it around without being noticed.
This is a simple air purifier with an excellent design and smart functionality. Its filters are designed to eliminate airborne particles, such as pet hair dander, odor, dust, and other pollutants. Made for 160 square feet of coverage, it is perfect for smaller spaces, such as a small office or bedroom.
It is not a popular brand in the market but is highly efficient in cleaning and freshening your home and office spaces. It features adjustable settings, a deodorization feature for eliminating odor, and perfect air filters.
Eliminate 99.9% of airborne particles, including pet dander, dust, mold, smoke, and other toxins using this small and highly portable air purifier. It comes with some of the best features, such as LED night light, quiet operation, quality filters, 1-year warranty, and a timer.
This air purifier is compact enough and suitable for smaller spaces. The HEPA filter and activated carbon filters are excellent for reducing odor and finer airborne particles up to 0.3 microns. This product has a 4.7-star rating, suggesting its superior performance. Lastly, it is a smart choice with advanced technology settings to make your work more manageable.
This small, compact, and portable air purifier will impress you with its lightweight. Its two-stage filtration system, consisting of HEPA filter and an activated carbon filter, is perfect for eliminating pollen, germs, and allergens.
How to Buy the Best Small and Portable Air Purifier
Once you have determined the air purifier that fits your budget and other requirements, you need to focus on more practical features that make these handy devices more effective and suitable for use in your living space.
· Size
A small and portable air purifier should have a relatively small size. For instance, check if it can fit on top of your bedside drawer.
· Noise
Small and portable air purifiers are primarily used in bedrooms. So, you will want to go for the quietest of them all.
· Settings
You might not want a complex air purifier. Find yourself an easy-to-use device with basic settings.
The Bottom Line
Buying small and portable air purifiers is made easier if you have the right information. Once you have these handy devices, you will not have to worry about the quality of your indoor air.
Be it in your bedroom, office, or living room, the best portable air purifiers should eliminate up to 99% of air pollutants, leaving your living space pleasantly clean and healthy. The products reviewed in this post are tried and tested to offer industry-best performance and superior efficiency to help you achieve a healthier, cleaner home.
The Best Small and Portable Air Purifiers FAQs
Will a small and portable air purifier increase or decrease the oxygen level in my room?
Neither, these devices do not change the oxygen level. Instead, they filter breathable air, making your living space fresher, cleaner, and healthier.
Where is the best place to put my portable air purifier?
You can place it anywhere as long as the room is smaller or equal to the air purifier's CADR rating.
Are air purifiers worth the hype?
Yes, air purifiers are more beneficial than you can imagine. They are designed to clean the air you breathe, keeping you healthier.