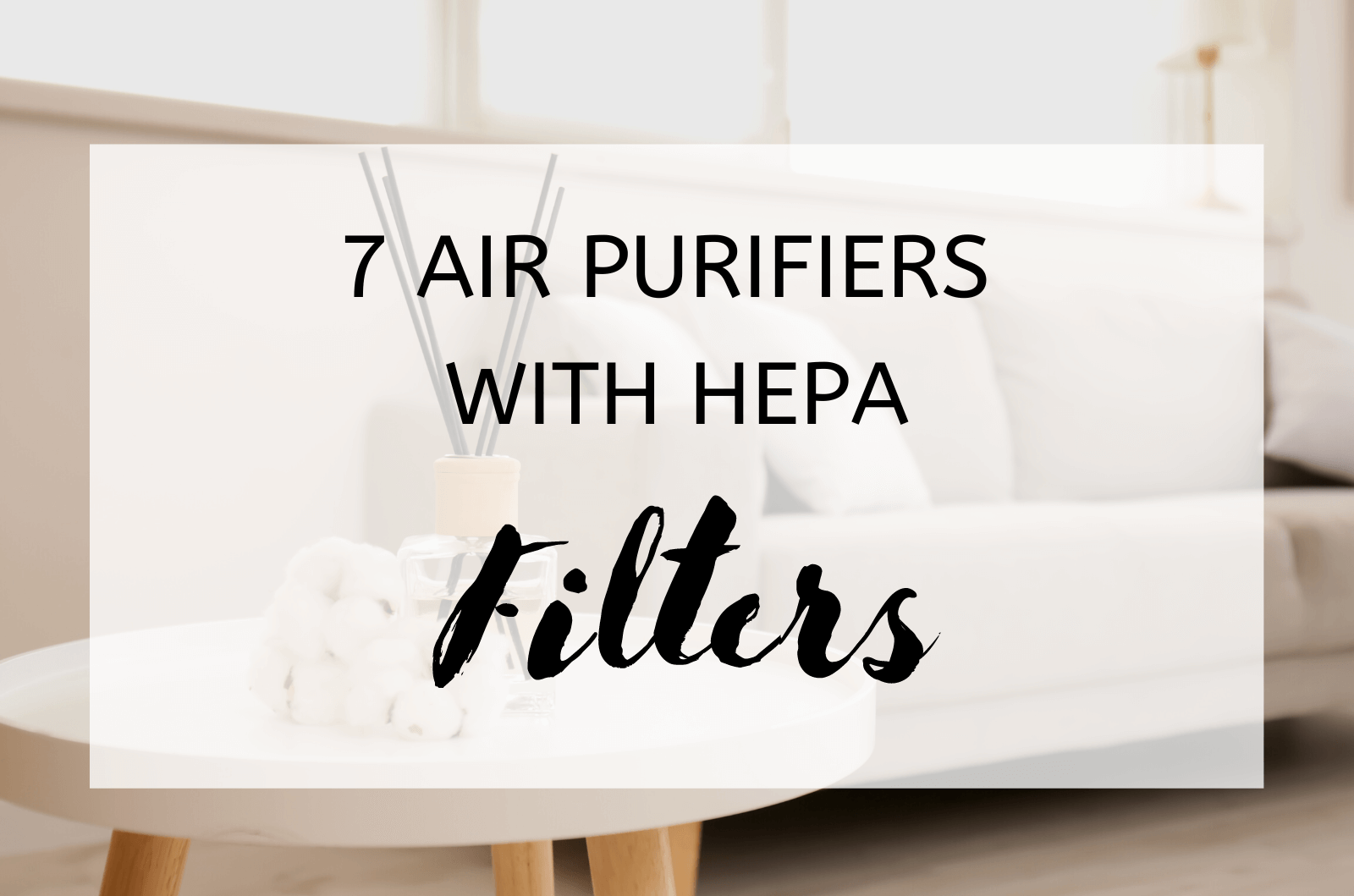 Air purifiers with HEPA filters will transform your living space into a more comfortable and healthier place. Here are seven that contain some type of HEPA (high-efficiency particulate air) filter to consider for your next purchase.
If you experience seasonal allergies, a quality air purifier can offer relief by filtering airborne pollutants to increase the quality of the air you breathe. Additionally, the best air purifiers that remove harmful particles including allergens, odors, VOCs, smoke, pollen, pet dander, dust, smog, contaminants from the air you breathe will also minimize the impact of air pollution in your home.
Below is a detailed review of seven air purifiers with HEPA filters to help you make an informed decision.
What are air purifiers?
Air purifiers are mechanical devices designed to eliminate a variety of air pollutants from your indoor air. However, not all air purifiers are made equal. This is why you should be aware of what you want in an air purifier before purchasing one. For instance, there are air purifiers that eliminate odors, while others are made only to reduce particulates.
7 air purifiers with HEPA filters
Do you suffer from seasonal asthma and allergies? This air purifier is specifically designed for anyone concerned with their indoor air quality. It comes with a three-layer HEPA H13 filter and activated carbon developed to remove up to 99.9% of your home's odor and other harmful air pollutants down to 0.1 microns.
Smokers and pet owners can also make the most of this air purifier since it filters out pet dander and smoke particles from indoor air, providing high-quality breathable air.
According to reviews on Amazon, customers find it a value for its affordability and effectiveness.
Pros
Excellent performance
Inexpensive
Four-stage filtration
Cons
Not quiet
Only cleans 470 sq ft
This air purifier is suitable for spaces of up to 600 square feet. It comes as a cost-effective option for people with more extensive living spaces. It also has three washable filters that remove air pollutants, including pet dander, hair, and lint. For people looking for an air purifier that eliminates odor, this one has activated carbon.
Accordingly, the H13 HEPA filter filter feature allows it to eliminate other kinds of pollutants, including dust, mold, smoke, odor, and pollen. Unlike most air purifiers for odor in this list, this one does not use an ionizer or UV, thus a more sustainable and environmentally-friendlier option.
Pros
Environmentally friendly
Highly efficient filters
Filters up to 600 sq ft
Affordable
Cons
2 x washable pre-filters
No smart features
With some of the most advanced of the seven air purifiers with HEPA filters, this IQAir air purifier is perfect for large living spaces as it filters up to 1125 square feet. One of the most outstanding features of this product is its ability to get the job done without noise. This air purifier goes above and beyond with it's medical grade H14 HyperHEPA that is  certified by a third-party testing lab to remove and trap 99.995% of all airborne particles down to 0.003 microns; the smallest of this group.
Plus, it is perfectly designed for homeowners who suffer from seasonal allergies and other airborne infections. Lastly, it is perfect for removing the smell of any kind from your indoor air. However, some people feel that it is overpriced.
Pros
Excellent coverage
Filters up to 1,125 sq ft
Super quiet operation
Outstanding features
Energy saving
Cons
This is one of the best air purifiers for collecting dust and removing odor from your indoor air. With thousands of positive reviews on Amazon, the Germ Guardian air purifier guarantees improved breathing and alleviates allergies and asthma symptoms.
GermGuardian is perfect for people with pets at home as the TRUE HEPA filter is designed with modern technology to trap all forms of particles such as hair and dander down to 0.3 microns. Its outstanding performance in cleaning indoor air makes it a perfect fit for anyone who wants an air purifier for dander removal.
Pros
True HEPA filter
Advanced technology features
Inexpensive

UV-C light helps kill airborne viruses such as influenza, staph, rhinovirus
Cons
Limited coverage
Only filters 153 sq ft
MOOKA is a leading brand in producing air purifiers, and this product is another win for homeowners. It remains one of the few air purifiers with tens of thousands of positive reviews for producing gentle white noise. It boasts a H13 true HEPA filter to filter particles down to 0.3 microns.
However, some reviewers found the noise a bit annoying. Nonetheless, the product is designed with one assignment in mind; to remove all kinds of smells from your indoor air. It also creates a relaxing atmosphere, perfect for any living space.
Pros
Perfect for relaxation
Highly efficient in eliminating pollutants
Very affordable
Cons
Quite noisy
Filters only 430 sq ft
This is one of the most sustainable and energy-efficient picks on the list. Some of the standout features of this product include the activated carbon filters effective in removing odor from cooking, pets, smoke, and others. The signature HEPASilent dual filtration provides more clean air using less noise and energy than a standard HEPA filter.
The 3-stage filtration is also designed to remove the tiniest particles like germs, leaving your indoor air more breathable and healthier. Its small build also makes it a perfect design for an air purifier with decent features to leave you smelling the freshness of the air you breathe. It's also more affordable than most picks on the list, adding to the list of its standout features.
Pros
Perfect sound level
Removes particles down to 0.1 micron
Filters up to 674 sq ft
Compact design
Inexpensive
Cons
Complex to operate
2 x washable pre-filters
Winix 5500-2 is a powerful air purifier that removes odor and leaves the air you breathe sterilized. Its activated carbon filters are more advanced than most air purifiers, making it very effective in eliminating odor molecules in every living space, including homes and offices.
The HEPA filter add to its effectiveness, trapping and removing up to 99.9% of pollutants, regardless of their sizes. As our top pick, this product also comes with a technology designed to break down chemical substances, viruses, and bacteria, making it the safest for human use and the environment.
Pros
Smart features
Excellent CADR rating
Efficient
Cons
Bulky
Only filters 360 sq ft
How to choose the best air purifier
Portable air purifiers are excellent devices to have in your home. However, not all of them have HEPA filters. Air purifiers with HEPA filters to a superior job of air filtration. Therefore, you must understand these specific features that make air purifiers perfect for removal of allergens, particulates and odors. If you are just getting started, look out for the following features:
 Activated Carbon Filter
 HEPA Filters
 Coverage
 Other patented technologies
We hope that these air purifiers with HEPA filters have been helpful. Regardless of the brand you choose, be rest assured that the best air purifiers with HEPA filters are perfect for eliminating unwanted pollution in every living space. Make your living spaces smell fresh by going for the highest quality air purifier with a true HEPA filter.
Air purifiers with HEPA filters FAQs
Here are some common questions we've come across.
What are Air Purifiers with HEPA filters?
These are specifically designed air purifiers with true medical grade filters that remove 99.97% or more of airborne particles like smoke, dust, viruses and pet dander. Typically, these are coupled with a carbon filter to capture household odors from smoking, smog, pets and cooking your indoor air.
Where is the best place to have my air purifier for odor?
It depends on where you want indoor air cleaned. The good news is that most have extensive coverage to be effective in larger rooms, so you can place it in the area or room you spend the most time in.