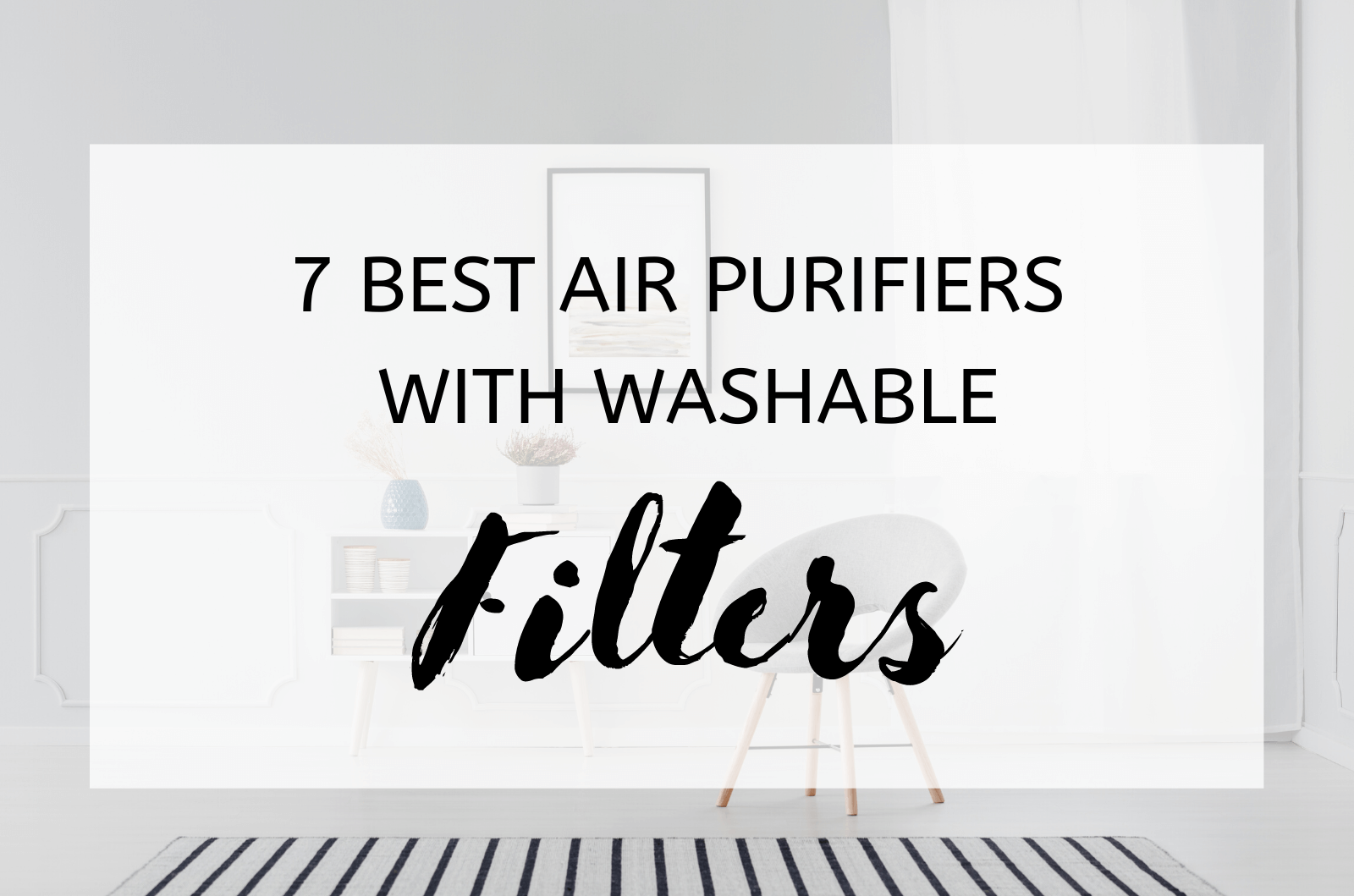 Choosing one of the best air purifiers with washable filters is a great option if you're looking to save money while still enjoying breathing in fresh, purified air indoors.
To purchase one of the best air purifiers with washable filters, you'll need to look at various factors to determine what works best for you. Below, we recommend some the best air purifiers with washable filters based on numerous criteria, including coverage, price, and overall performance.
Air purifiers with washable filters also often contain a true medical grade HEPA filter, a pre-filter, and an activated carbon filter. We have considered square foot coverage, CADR ratings, other customers' reviews, as well as the purifier's proven efficiency to compile this list of the seven best air purifiers with permanent or washable filters.
The Best Air Purifiers with Washable Filter Review
Are you seeking one of the best air purifiers with washable or permanent filters? Then, you've come to the right place. Below, we feature some of the best products on the market to assist you in your search for a portable air purifier for your home or office space.
This 4 in 1 air purifier is a cost-effective option. It boast a washable pre-filter that remove air pollutants, including pet dander, hair, and lint. For people looking for an air purifier that eliminates odor, this one also has an activated carbon microparticle filter.
Accordingly, the H13 premium HEPA allows it to eliminate other kinds of pollutants, including dust, mold, smoke, odor, and pollen. Unlike some air purifiers this one does not use an ionizer or UV, making it a more sustainable and environmentally-friendly option.
Pros
Environmentally friendly
HEPA filtration
Filters up to 600 sq ft
Affordable
Cons
Replacement filters may be difficult to find/purchase
No smart features
This is an excellent air purifier with two pre-filter options; one for reducing odor, and another is a washable pre-filter designed to trap both odor and particles. The product also comes with a smart screen to set the speed and unit mode. The added timer feature makes it more convenient.
According to multiple reviews on Amazon, buyers love its ultra-quiet function. It is also an easy-to-use air purifier with washable filters and permanent filters.
Pros
Automatic timer
Smart indicators
Easy to use

EnergyStar certified & AHAM verified
Cons
Limited to small spaces; only filters 250 sq ft
Are you looking for the perfect air purifier with washable filters suited for small and medium-sized rooms? This one comes with a 3-part filter system that traps 99% of airborne pollutants, including allergens and mold.
New Blue also features an activated carbon filter that eliminates odor, smoke, and other gases, leaving your living space pleasantly fresh. Another fantastic feature of this air purifier is its silent operation. Lastly, it is an energy-efficient option to filter out airborne pollutants at low fan speed.
Pros
Stylish
Three-stage filtration
Energy-efficient
Quiet operation
Cons
With the Genius 5 air purifier, you can buy another odor-reducing pre-filter. This is a cost-effective option and an alternative to the common active carbon filter found in most air purifiers.
However, the extra filter is not washable and may not be appealing to someone looking for washable filters. That aside, this air purifier features some of the best aspects of the Genius series of air purifiers from Honeywell and even more. Together, with these features, this is the most affordable, while the washable filter is budget friendly.
Pros
Inexpensive
Compact
Efficient
Cons
Expensive to replace some of the filters

This air purifier with a washable filter is a low-maintenance product. It features a HEPA-silent technology and pre-filter for trapping large and small particles. It also features an activated carbon filter that eliminates odor, smoke, and gases with a coverage of up to 540 square feet.
Blueair's adjustable settings make it an easy-to-use air purifier, suitable for small and medium-sized spaces. The only downside of this product is its slightly high price, but overall, it is an excellent choice.
Pros
Durable
High CADR rating
Customizable colors
Cons
Expensive
No extra features
Oion product is worth mentioning as an air purifier with washable filters, however note that this unit does emit small amount of ozone; less than 0.05 ppm which meets the safety standards; a warning for those who wish to avoid ozone completely. The washable filters guarantee a powerful filtration system making it more efficient than most products on the market.
Accordingly, the added UV-C light improves efficiency by providing an additional layer of protection against toxins that might pass through the filters. It also features nightlights and super-quiet operation, suitable for bedrooms. The combination of filters makes it an even better product for trapping and eliminating airborne pollutants from your indoor air.
Pros
Powerful filtration
Smart UVC lights
Super quiet operation
Cons
Slightly bulky
Emits small amounts of ozone
Keep your indoor air clean with the Coway Airmega 300, which touts a HEPA filter and a pre-filter. This product is suitable for large spaces, especially offices, covering 1,256 square feet. It is perfect for eliminating volatile organic compounds, fumes, dust particles, and other air pollutants.
The compact design has impressive efficiency capabilities that make it even better for larger rooms. On the downside, you will have to part with a relatively high amount of cash. However, its performance is worth every penny.
Pros
Lightweight
Excellent for large spaces
Three-stage filtration
Cons
How to Buy the Best Air Purifiers with Washable Filters
Here are a few factors to consider when searching for the best air purifiers with washable filters:
· Efficiency
The efficiency of an air purifier can be determined by the coverage per square foot and the percentage of pollutants removed.
· Versatility
The best air purifiers with washable filters should have a 360-degrees distribution as well as a true medical grade filter and a filter for gases and smoke. Some extras can also go a long way to help you solve air contaminant issues in your home.
· Digital Controls
Digital control can make your work more manageable when dealing with air purifiers. The best air purifier with washable filters should be easy to use and convenient.
The Bottom Line
This buying guide highlights some of the best air purifiers with washable filters. Always do your due diligence when shopping to assure you make the best purchase for your individual needs.
The information above should help you find an air purifier that will keep your home clean, pleasant, and smelling fresh. Improve the quality of your indoor air with a cost-effective air purifier while taking into consideration some of the factors above.
The Best Air Purifier with Washable Filters FAQs
What is the difference between washable filters and permanent filters?
Washable filters and permanent filters vary in many ways. However, the most notable difference between the two is that permanent filters are perfect for trapping smaller particles, while washable filters eliminate large particles.
Are washable pre-filters as effective as disposable ones?
Washable pre-filters are as effective if cleaned regularly; always be sure they are completely dry to avoid any type of mold and mildew contamination.
How do you clean a washable air filter?
Washable filters are easy to clean. You can wash these filters in the sink or outdoors.