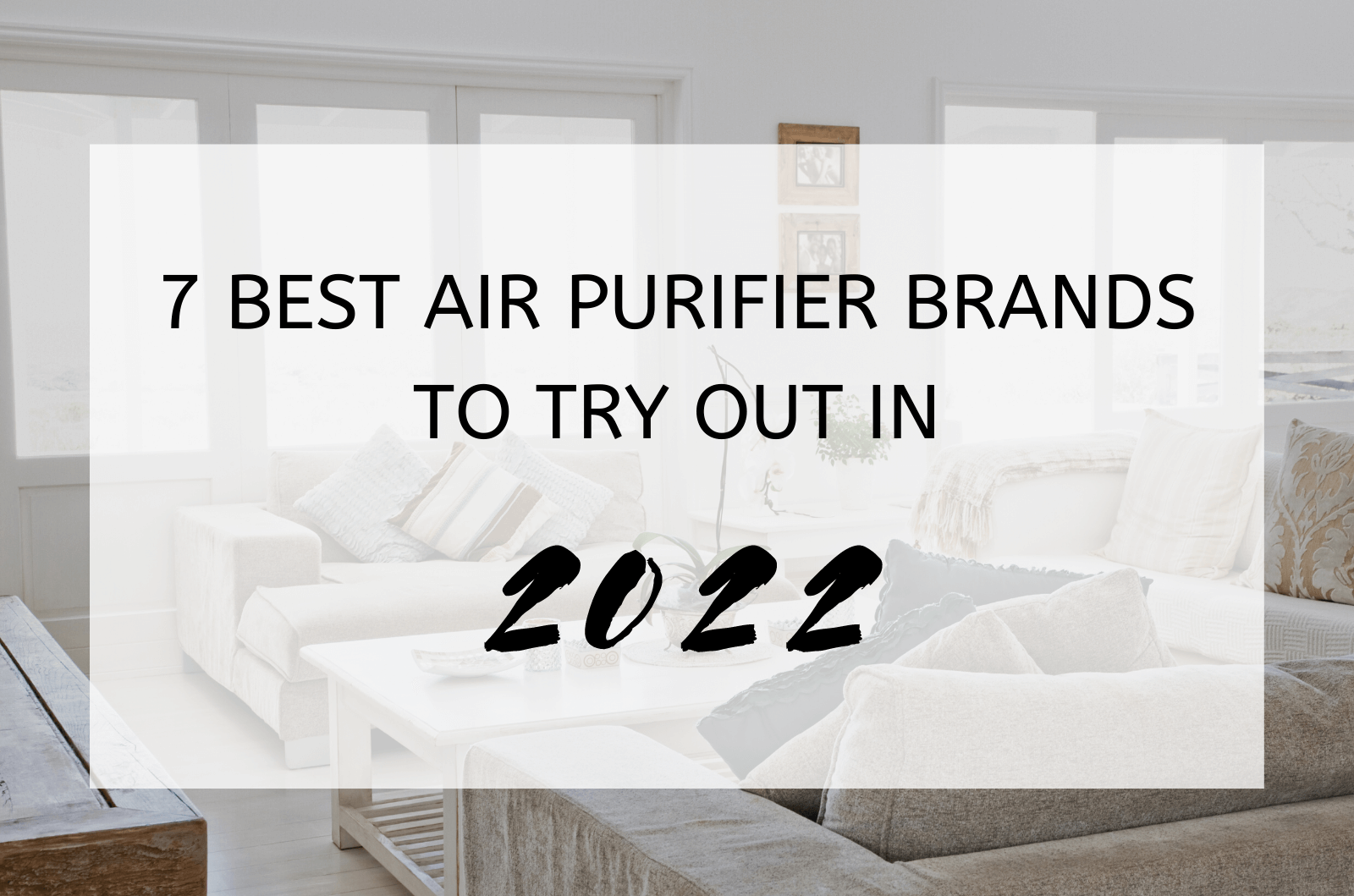 Are you curious about some of the best air purifier brands available in 2022? Here are a few affordable solutions to keep your indoor air fresh and free from airborne particles and pathogens.
Air purifiers have become a staple in our homes today. Portable air purifiers improve the air we breathe in indoor environments by absorbing microscopic particles like bacteria, viruses, pollen, pet dander, smoke, and more.
There are numerous well-established brands with exceptional air purifier features in a market valued over $12 billion. Between 2022 and 2030, the market it expected grow by a Compound Annual Growth Rate (CAGR) of 8 percent.
With the rise of airborne diseases, air purifier demand is increasing. Here is a list of just a few of the best air purifier brands to consider in 2022. This list is by no means comprehensive and we have covered a variety of other options such as the 8 Best Air Purifiers Made in the USA and the 3 Best Air Conditioners with Air Purifiers.
7 of the Best Air Purifier Brands to Consider in 2022
1. Dyson Pure Hot + Cool Air purifier
2. Hathaspace Smart Air Purifier HSP001
3. Samsung Cube Stack 
4. Levoit Core 300
5. Blue Pure 211+
6. Alen BreatheSmart
7. Coway AP 1522 HH
The Dyson air purifier has a unique fan incorporated to blow out cool air in hotter environments or vice versa. The backward airflow purifies the air without causing heat or cool temperature on you.
During winter, a thermostatic control heats the air to regulate the room's temperature. It's also fitted with a HEPA filter that traps 99.97 percent of pathogen particles up to 0.3 microns from the air.
Another feature is an air booster technology that blows 77 gallons per second of freshly circulated air. The purifier simultaneously releases the air in all directions via a 350-degree oscillator.
Pros
Occupies minimal space
You can monitor it from a remote location via an app
Intelligent LCD prompt that displays the air quality in the room
It has a magnetic remote control
Cons
Designed with beautiful aesthetics, the Hathaspace Smart Air Purifier covers 700 sq. ft. of space. It refines 100 percent of the air every hour and has a carbon-activated filter that is honeycomb-like that absorbs smoke, odors, and VOCs. It captures particles at a rate of 99.9 percent to 0.3 microns in size.
Equipped with a 5-in-1 and H11 true HEPA filter, the whisper-quiet operation ensures silence while sleeping at night.
The Hathaspace air purifier weighs about 12 pounds (5kgs). That makes moving it from room to room easier.
Pros
Portable
One of the few in the market that has a 5-in-1 filter
Affordable
Washable permanent pre-filter
100% ozone-free
Cons
No built-in alert filter indicator. You need to monitor it to know when to replace it
Not WiFi and app-enabled
Well-designed to blend in with the electronics in the home. This cubicle shape is a beauty. The aesthetics coupled with the gray color adopt themes of most Samsung electronics.
Features include:
HEPA filtration technology that filters out 99.97 percent of fine dust
A 5-way suction that draws in air and circulates it in multiple directions
Pet mode that takes care of pet dander
Boasts of WiFi connectivity to controls that are voice-enabled on mobile devices such as:
Amazon Alexa,
Google Assistant
Bixby
Samsung smartphones via the SmartThings app
The Samsung cube can function in a sizable room of 310 sq ft. It does not produce ozone, which negatively affects people's health.
Pros
Lovely aesthetics
An app that connects to various other platforms like Bixby and Google assistant
You can connect with your Samsung phone via the SmartThings app
Cons
Occupies a relatively large space
Bulky
Slightly more costly
Levoit Core was ranked the number one selling air purifier brand in the US according to information by the Retail Tracking Service up to the end of October 2020.
During the COVID pandemic, Levoit air purifier sales soared. The high sales point to a popular brand option at a relatively low price of below $100.
Like most other air purifiers, Levoit clears odors, fine dust, and pet dander using a full-proof filter system known as 3-stage H13 HEPA Filtration.
Pros
3-stage H13 HEPA Filtration
QuietKeap Technology which makes it very quiet
A motor buffered by shock pads for protection hence increasing the lifespan
VortexAir technology
Relatively light at 6 pounds (2kgs)
Cons
Not suitable for large rooms of more than 220 sq. ft
There is no beep when switched on
Lacks advanced functions
Consumer Reports experts recommend Blue Pure as one of the best air purifiers on the market. Despite the stellar review, one drawback is the price and requiring a lot of space.
Blue Pure is Swedish-designed. Suitable for large rooms like living rooms, playrooms, and rooms and filters around 540 sq ft.
It uses a three-part filter:
The first part acts as a general filter for larger particles and guards the second filter. Being the primary filter, guarding it extends its lifespan
Particles like pollen, pet dander, viruses, dust, mold, and bacteria that go past the outer filter get trapped by the primary filter
The carbon-made primary filter prevents minute particles like smoke and pollen known to cause allergic responses in some people
Pros
Designed for large rooms
It can be placed anywhere in the room without affecting its performance
It has a very user-friendly manual
The pre-filter is a fabric that is machine washable
It has a low energy consumption rate of between 30 and 50 w
Cons
One of the heaviest on the market
Not easy to move around from room to room
Noisy at a decibel level of 56
There are three models for this well-executed air purifier, namely:
Alen BreatheSmart 75i Fresh True HEPA Filter B7- Fresh
Alen BreatheSmart 45i True-HEPA Air Purifier.
Alen BreatheSmart Classic- Air-Purifier for smoke.
The Alen BreatheSmart Classic Air Purifier comes with:
A true HEPA medical grade H13 that captures particles at a rate of 99.99 percent
The HEPA filter lasts longer by 3-5 months than other filters
It has a sensor for air quality with automatic adjustment of the speed fan
Very quiet, for every 30 minutes it cleans 1100 sq. ft
Pros
Advanced particle sensor technology
An auto mode that self adjusts the purifying power
Cons
A bit pricey
Heavy, weighs about 22 pounds (10kgs)
Like its competitors on the market, the Coway AP is an affordable air purifier.
The brand describes the purifier as small in size but efficient in delivery, hence it is:
Designed to work in room sizes of 361 sq. ft
Equipped with a 4 stage filtration system. It filters up to 99.97 percent of particles and 0.3 microns in the atmosphere
Compared to others, the Coway is not aesthetically a high-end design. Extensively made of plastic in the front, the translucent arch suggests it might illuminate, but it does not.
Pros
Affordable
Portable
The pre-filter is washable
It has a pollution sensor
Cons
Manual fan speed
Largely made of plastic
Others Air Purifier Benefits
Air purifiers sales skyrocketed during the pandemic period. Because of the nature of viruses, air purifiers came in handy in minimizing the spread during the COVID-19 pandemic. As we enter the post-pandemic period and clamor for greener environments gains momentum, having a portable air purifier in your house is beneficial to keep your health in check.
Well-designed to not only purify the air from bacteria, ultra-fine dust, smoke, and odors, air purifiers create fresh air in an environment making it healthy, serene, and enjoyable to relax in. For this reason, do not hesitate to invest in an air purifier this year depending on your budget. Commit to making your 2022 cleaner, greener and healthier.
Frequently Asked Questions
Can I service an air purifier by myself?
You should be able to maintain your air purifier by carefully going through the owner's manual.
The filter is the engine of the air purifier. Some of these filters are washable by water. Others must be replaced. Confirm type of filter your unit requires before you attempt to clean it.
Most brands recommend that you replace the filters annually or bi-annually.
What is the average lifespan of an air purifier?
The lifespan of an air purifier varies. Your air purifier will only last long when it is well maintained. Ensure you service it frequently and vacuum the exterior when doing your routine housework.
How often should I replace the air purifier's filter?
Most brands advise that you should replace the filter annually.
To ensure the filters last for a year, you need to service them regularly. When servicing the purifier, kindly note that there are two types of filters:
One that is washable by water
The other is not washable by water and must be purchased and replaced
It's advisable to note which one yours is when purchasing the machine.
Can air purifiers operate well in a room with open windows?
Ar purifiers should work best when the windows are closed to maximize efficiency. However, during the pandemic, research showed that keeping windows open coupled with an air purifier drastically reduced the spread of SARS-CoV-2.