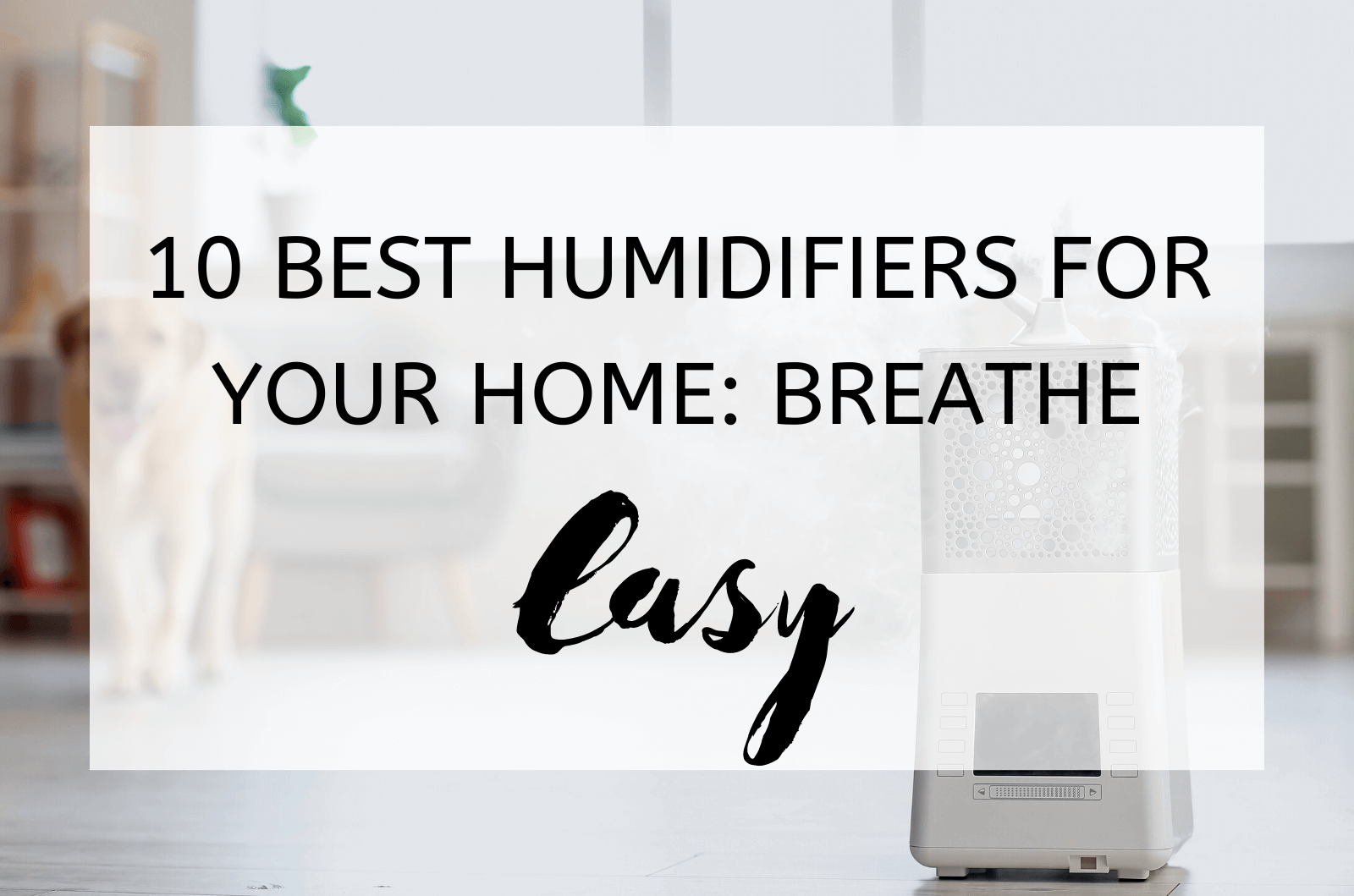 As an essential household appliance, humidifiers are beneficial when treating dry skin, respiratory problems, and allergies while improving the air quality in the house.
The best humidifier for your home will depend on your needs and budget. We compare our picks for the top ten humidifiers on the market based on their type, the size of their coverage area, the noise level, the water tank capacity, and other features. Each product's benefits, drawbacks, and consumer feedback are listed for your consideration.
Humidifiers for the Home: 10 Best Options
Homedics Ultrasonic Humidifier
LEVOIT Humidifiers for Bedroom Home
Frida Baby 3-in-1 Humidifier with Diffuser and Nightlight
Honeywell Cool Moisture Humidifier
HealthSmart Essential Oil Diffuser
Crane 4-in-1 Drop Ultrasonic Cool Mist Humidifier
Honeywell HUL520R MistMate Ultrasonic Cool Mist Humidifier
Vicks Mini Filter-Free Cool Mist Humidifier
Dreo 4L Smart Humidifiers for Bedroom
Air Innovations Humidifier Top Fill Large Capacity 1.6Gal 6.5L Whisper
Comparison Table of Various Humidifiers on the Market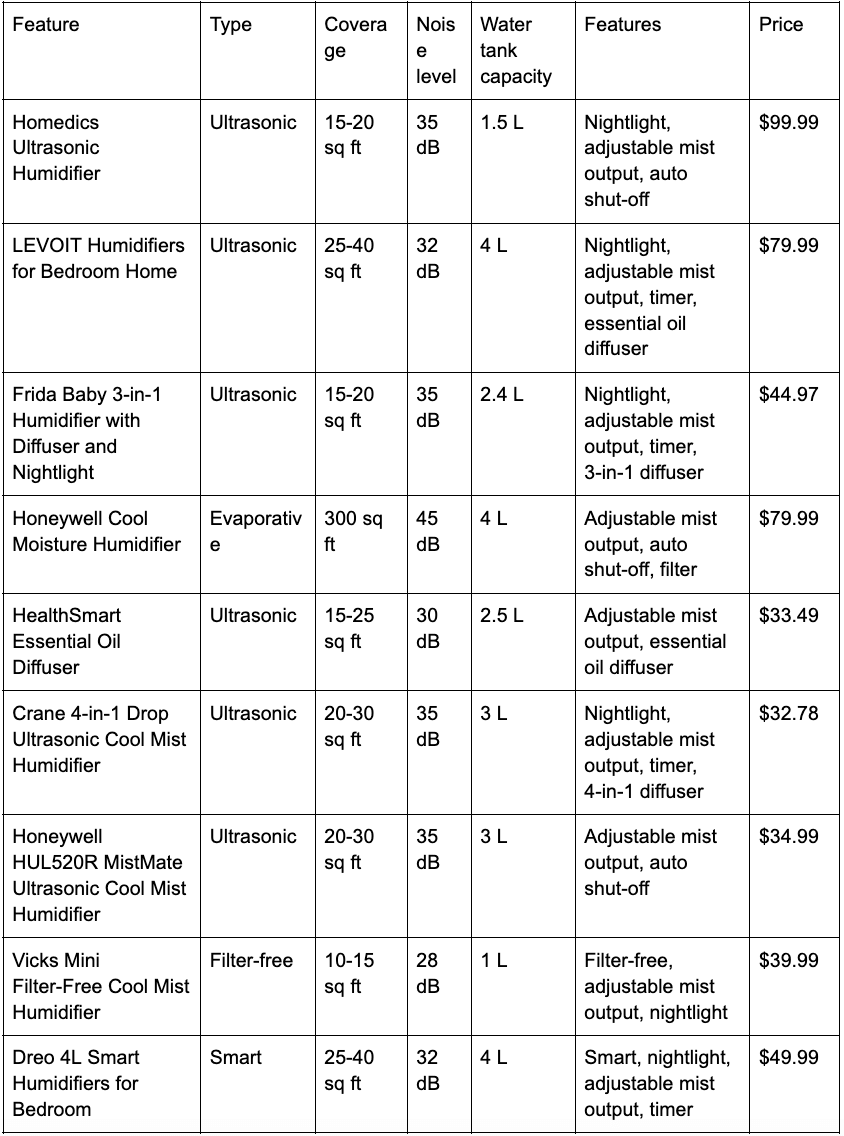 10 Best Humidifiers for Your Home
Here are 10 of the best humidifiers on the market to help you breathe easy and stay healthy all year.

Upgrade your home's comfort with the Homedics Ultrasonic Humidifier. This sleek device has an easily fillable 1.4-gallon tank to maximize efficiency. With built-in demineralization cartridges, say goodbye to white dust and hello to cleaner air. Its ultrasonic technology ensures quiet operation—ideal for a peaceful night's sleep. A digital display with an adjustable mist control and a built-in timer to customize your comfort. Designed for safety, it automatically shuts off when empty. Make dry air a thing of the past and breathe easier with Homedics.
Pros
Large 1.4-gallon tank for extended use
Built-in demineralization cartridges
Ultrasonic technology for quiet operation
Digital display for easy control
Adjustable mist control
Built-in timer for customized usage
Auto-shutoff feature for safety
Cons
It may take up significant space
Cartridges will eventually need replacement
The price may be on the higher side
It may require regular maintenance and cleaning
What Are Customers Saying?
The ultrasonic feature is impressively quiet. I can hardly notice it's on.
Automatic shut-off is a lifesaver. No more worrying about it running dry.
The built-in nightlight is a nice touch but can be too bright for some.
I love how easy filling is, but make sure you clean it regularly.
The anti-microbial feature gives me peace of mind. Highly recommend this product.

Introducing the LEVOIT OasisMist Ultrasonic Humidifier—an essential home appliance designed for optimal air quality. A sleek frame and intuitive touch control panel combine to create an aesthetically pleasing humidifier. With ultrasonic technology, you can breathe more easily without being disturbed by disruptive noises. A large 6L water tank on the unit provides up to 36 hours of continuous humidification. Due to its built-in smart sensor and auto mode, the OasisMist allows you to customize your humidity levels. Moreover, it is available in warm and cool mist options, making it appropriate to use at any time of year. The user-friendly design includes a timer and sleep mode for convenient operation. Choose the LEVOIT OasisMist Humidifier for a balanced and comfortable indoor environment.
Pros
Large 6L water tank for extended use
Quiet operation due to ultrasonic technology
Built-in smart sensor for customized humidity
Offers both warm and cool mist options
Includes timer and sleep mode for convenience
Cons
May be more expensive compared to other models
Some users might find it bulky for small spaces
Requires regular cleaning to prevent mold
Limited color or design options
What Are Customers Saying?
The quiet operation is a game-changer. I can finally sleep peacefully.
Absolutely love the design! It adds an elegant touch to my living room.
I appreciate the large water tank; it saves me from refilling it constantly.
The auto mode is super convenient. It adjusts to the perfect humidity levels.
Quality product, but it takes up a bit more space than I'd like.

The Frida Baby 3-in-1 Humidifier is a multi-functional device designed to elevate your home's atmosphere to a new level of comfort. Seamlessly integrating a humidifier, diffuser, and nightlight, this versatile appliance meets many needs with just one device. Its compact and chic design makes it a perfect fit for any room, from a nursery to an office. This humidifier operates quietly with ultrasonic technology, ensuring your sleep or work is undisturbed. The built-in diffuser allows you to add essential oils for a calming or invigorating aromatic experience. The built-in nightlight provides soft illumination, making it ideal for nighttime use or as a comforting light for children. Its easy-to-use controls and auto shut-off feature further ensure hassle-free operation. Choose the Frida Baby 3-in-1 Humidifier for an all-in-one solution to indoor air quality needs.
Pros
3-in-1 functionality: humidifier, diffuser, and nightlight
Quiet operation due to ultrasonic technology
Compact design suitable for various settings
Built-in nightlight for added convenience
Auto shut-off for safety
Easy-to-use controls
Cons
Smaller water tank requires more frequent refills
No smart sensor or auto mode
May be less durable compared to higher-end model.
What Are Customers Saying?
The 3-in-1 functionality is perfect for my nursery. I couldn't ask for more.
I love how quiet it is. I forget it's even on!
The nightlight is such a lovely addition. My kids are obsessed.
I wish it had a larger water tank, but the features make up for it.
The essential oil diffuser is a nice touch; my room smells fantastic.

Introduce your home to the Honeywell Cool Moisture Humidifier, a reliable and efficient device designed to enhance indoor air quality. Its timeless design and sturdy construction promise durability, while its advanced cool moisture technology ensures a healthy and comfortable environment. This unit has a sizable 2-gallon water tank, providing extended operation requiring fewer refills. An adjustable humidity control knob lets you customize moisture output to your liking. Uniquely, the wick filter removes impurities from the water, giving you cleaner, fresher moisture. It is designed for medium to large rooms and is an ideal choice for living spaces and bedrooms. With quiet operation and easy-to-fill features, the Honeywell Cool Moisture Humidifier is straightforward to use, ensuring you can focus on enjoying your improved air quality.
Pros
Large 2-gallon water tank
Quiet operation
Adjustable humidity control
Wick filter for cleaner moisture
Suitable for medium to large rooms
Easy-to-fill design
Cons
No built-in nightlight or diffuser
Lacks smart features like auto mode or sensor
Bulky design may not suit all spaces
Replacement filters may incur additional cost
What Are Customers Saying?
I was surprised by how quiet it is, even on the highest setting.
The 2-gallon tank is a lifesaver. I don't have to refill it constantly.
The wick filter is a nice touch; the air feels cleaner.
I wish it had some smart features, but it gets the job done.
Its size is a bit imposing, but it works wonders for larger rooms.

Discover a sensory retreat right in your home with the HealthSmart Essential Oil Diffuser. This stylish and compact device packs a powerful aromatic punch, transforming any space into a soothing haven. Designed with a wood grain finish, it effortlessly blends into any décor, adding an elegant touch. Unlike many other diffusers, this unit uses ultrasonic vibrations to disperse a fine mist of essential oils into the air, allowing you to enjoy the full spectrum of aromatherapy benefits. Featuring a variety of mist settings and LED light options, the diffuser caters to your mood, be it calming lavender for a restful sleep or invigorating citrus to kickstart your day. An auto-shutoff function provides peace of mind, ensuring the device turns off when the water level is low. Elevate your senses and well-being with the HealthSmart Essential Oil Diffuser.
Pros
Ultrasonic vibrations for efficient diffusion
Variety of mist settings
Stylish wood grain design
LED light options
Auto-shutoff for safety
Easy-to-use interface
Cons
Limited water capacity may require frequent refills
Not suitable for larger spaces
Lacks advanced features like timers or sensors
What Are Customers Saying?
The wood grain finish is chic and blends perfectly with my home decor.
I adore the LED light options; they add a nice ambience.
The ultrasonic vibrations make a difference; the aroma is incredible.
It's great for a small room but not enough for my living room.
I wish it had a timer, but the auto-shutoff is a nice safety feature.

Elevate your living space with the Crane 4-in-1 Drop Ultrasonic Cool Mist Humidifier, an all-in-one solution for indoor comfort and well-being. With its contemporary drop design, this appliance is not just a humidifier but a statement piece that adds a touch of elegance to any room. Don't let its stylish exterior fool you; this unit is a powerhouse of functionality. It incorporates a humidifier, an air purifier, a diffuser, and a color-changing nightlight. Utilizing ultrasonic cool mist technology adds moisture to the air quietly and efficiently. The built-in air purifier removes airborne particles, ensuring you breathe fresh air. Want to add some aroma to your surroundings? Use the diffuser function to disperse your favorite essential oils. Plus, the color-changing nightlight adds a whimsical touch that both kids and adults will love. Take control of your environment with the Crane 4-in-1 Drop Ultrasonic Cool Mist Humidifier.
Pros
4-in-1 functionality: humidifier, purifier, diffuser, and nightlight
Ultrasonic cool mist technology for quiet operation
Air purifier removes airborne particles
Elegant drop design
Color-changing nightlight
Easy-to-operate controls
Cons
Water tank may require frequent refills
Might be considered pricey
Size may not be suitable for smaller spaces
What Are Customers Saying?
The 4-in-1 functionality is a lifesaver. It's everything I needed in one device.
This humidifier is so quiet, it's like it's not even there!
The air purifier feature is a game-changer for my allergies.
Love the nightlight! It adds a cozy atmosphere to the room.
It's on the pricier side, but totally worth it for all the features you get.

Transform your home into a sanctuary of comfort with the Honeywell HUL520R MistMate Ultrasonic Cool Mist Humidifier. Small but mighty, this compact device efficiently disperses a fine, cool mist to elevate humidity levels in your space. Its modern, minimalist design, complete with a vibrant red hue, offers a refreshing pop of color that enlivens any room. This humidifier uses ultrasonic technology to ensure whisper-quiet operation, making it an ideal companion for bedrooms, offices, or nurseries. The device features a half-gallon tank that provides hours of continuous humidification without frequent refilling. It comes with a simple control dial, allowing you to adjust the mist output to your personal preference easily. With no filters to replace and an auto-shutoff feature for added safety, the Honeywell MistMate makes humidification hassle-free.
Pros
Ultrasonic technology for quiet operation
Compact, minimalist design
Vibrant red color adds aesthetic appeal
Easy-to-use control dial
Auto-shutoff feature for safety
Cons
Limited half-gallon tank capacity
Lacks additional features like diffusers or nightlights
Not ideal for larger rooms
No filters means less purification
What Are Customers Saying?
So quiet and efficient. I can barely hear it when it's on.
The red color is so vibrant; it's a great design element.
I wish it had a larger tank, but it's good for the size of my room.
Couldn't be easier to use. Just fill it up, turn the dial, and you're good to go.
Great for a bedroom or office but doesn't quite cut it for larger spaces.

Experience the perfect blend of simplicity and effectiveness with the Vicks Mini Filter-Free Cool Mist Humidifier. This compact unit is designed to make your life easier, offering quick and efficient humidification without needing filter replacement. Its small footprint and sleek design make it ideal for bedrooms, offices, or dorm rooms. Featuring a half-gallon water tank, this humidifier provides up to 20 hours of moisture, mitigating the harsh effects of dry air. But that's not all. It's compatible with Vicks VapoPads, allowing you to add soothing menthol vapors for added respiratory comfort. With its whisper-quiet operation and easy-to-use dial, setting your ideal humidity level is a breeze. Plus, the auto-shutoff feature ensures safety and peace of mind. Keep your air moist and breathe easier with the Vicks Mini Filter-Free Cool Mist Humidifier.
Pros
Filter-free design for easy maintenance
Up to 20 hours of operation
Compatible with Vicks VapoPads
Whisper-quiet operation
Auto-shutoff feature for safety
Cons
Limited to smaller spaces
No advanced features like timers or sensors
Smaller tank may require more frequent refills
What Are Customers Saying?
Love the filter-free design. Less hassle and less expense.
Using Vicks VapoPads is a game-changer during cold season.
Quiet enough for a good night's sleep is a big plus.
Simple and straightforward to use. No fuss, no muss.
Wish it had a larger tank, but it gets the job done for my small room.

Elevate your bedroom's atmosphere with the Dreo 4L Smart Humidifier, a state-of-the-art device offering a spacious 4-liter water tank. Engineered for seamless connectivity, it integrates effortlessly with smart home systems for remote control convenience. This humidifier utilizes ultrasonic technology, ensuring efficient, whisper-quiet operation. With built-in sensors to automatically adjust humidity levels, it delivers a consistently comfortable environment. Its timer and sleep mode further contribute to a tailored user experience.
Pros
Spacious 4L water tank
Smart home integration
Whisper-quiet ultrasonic technology
Automatic humidity adjustment
Timer and sleep mode for customization
Cons
May be too large for small spaces
Initial setup may require technical knowledge
Price may be comparatively higher
Requires compatible smart home system
What Are Customers Saying?
The 4L tank means less frequent refills. Highly convenient.
Smart home integration is seamless, allowing for hassle-free operation.
It's so quiet, perfect for keeping in the bedroom.
Initially had trouble with the setup, but customer support was beneficial.
A bit on the pricey side, but worth it for the features.

Step into a world of comfort with the Air Innovations Humidifier, a top-fill large capacity device boasting an impressive 1.6-gallon water tank. This humidifier takes convenience to a new level, offering up to 80 hours of continuous operation—so you can say goodbye to frequent refills. Engineered for whisper-quiet functionality, it doesn't just enhance your air quality; it respects your peace too. With its top-fill design, adding water has never been easier. You can even fill it right from the tap! Alongside convenience, safety isn't compromised; an auto-shutoff feature activates when the tank is empty. The unit has a built-in humidistat and a fully adjustable mist output, allowing you to customize your indoor climate perfectly. Switch to the Air Innovations Humidifier and experience an unparalleled combination of convenience and performance.
Pros
Large 1.6-gallon water tank for extended operation
Up to 80 hours of continuous operation
Whisper-quiet functionality
Top-fill design for easy refilling
Built-in humidistat
Auto-shutoff feature for safety
Fully adjustable mist output
Cons
Bulky size may not fit smaller spaces
Higher price point
May require regular cleaning due to large tank
What Are Customers Saying?
The large tank is a game-changer. I only need to fill it every few days.
So quiet, I sometimes forget it's even on!
Top-fill design makes refilling a cinch. No more detaching the tank.
I love the built-in humidistat. Now I know exactly how humid my room is.
It's a bit pricey, but you're paying for quality and convenience.
The Importance of Choosing the Right Humidifier
Choosing the correct humidifier is crucial for maintaining a comfortable and healthy living environment. The ideal device can alleviate symptoms of dry skin, irritated eyes, and respiratory issues, especially in winter when indoor air is dry.
Moreover, a well-chosen humidifier can preserve the longevity of wooden furniture and flooring by preventing drying out.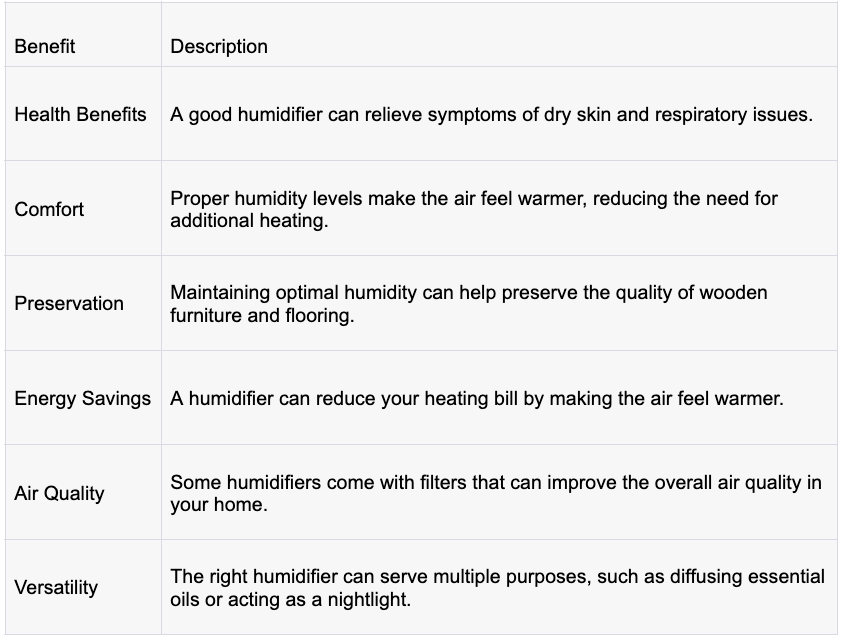 Key Features to Consider: Coverage, Noise Level, and Water Tank Capacity
When selecting a humidifier, it's important to consider the size of the area you want to cover. Noise level is another crucial factor, especially if you plan to use the device in a bedroom or office. Additionally, the water tank capacity will determine how often you'll need to refill the device.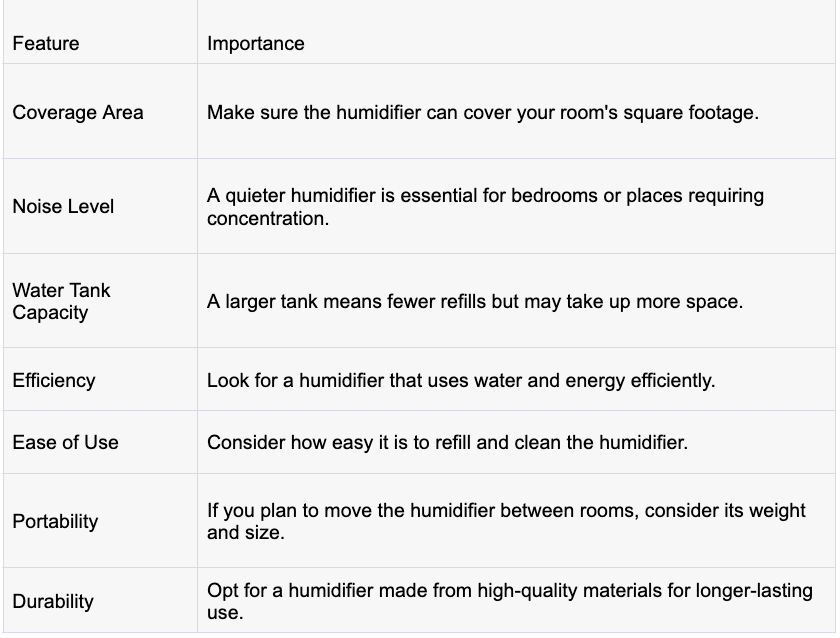 Additional Features: Nightlights, Timers, and Smart Controls
Beyond the basic functionalities, many modern humidifiers have additional features like nightlights, timers, and smart controls. A nightlight can be particularly useful in children's rooms or for nighttime use. Timers and smart controls offer the convenience of setting schedules and remotely controlling the device.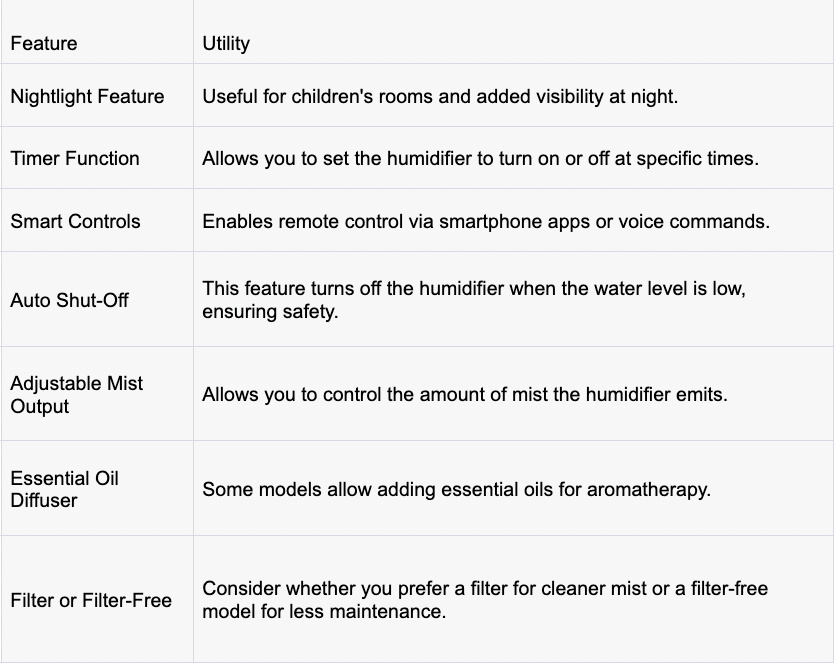 Selecting the correct humidifier is a crucial decision impacting health and comfort. This guide has presented a detailed comparison of the top 10 humidifiers, focusing on essential and additional features and customer feedback. Whether you're seeking a device for a small bedroom or a larger living space, options are available to meet various needs and budgets. Consumers can make an informed choice that best suits their requirements by considering factors such as type, coverage area, noise level, and water tank capacity.
Frequently Asked Questions (FAQs)
What type of humidifier is best for alleviating dry skin and respiratory issues?
Ultrasonic humidifiers are generally considered the best for alleviating dry skin and respiratory issues as they produce a fine mist easily absorbed by the air.
How do I determine the right coverage area for my humidifier?
Measure the square footage of the room where you plan to use the humidifier. Make sure to choose a model rated for that specific coverage area.
Are there humidifiers that operate quietly for bedroom use?
Many modern humidifiers are designed to operate quietly and may even feature a sleep mode that further reduces noise levels.
How often will I need to refill the water tank?
The frequency of refills depends on the water tank capacity and the mist output setting you choose. Larger tanks generally require fewer refills.
What are the benefits of having additional features like nightlights and timers?
Nightlights can be useful in children's rooms or for nighttime use, while timers allow you to set schedules for when the humidifier turns on or off.