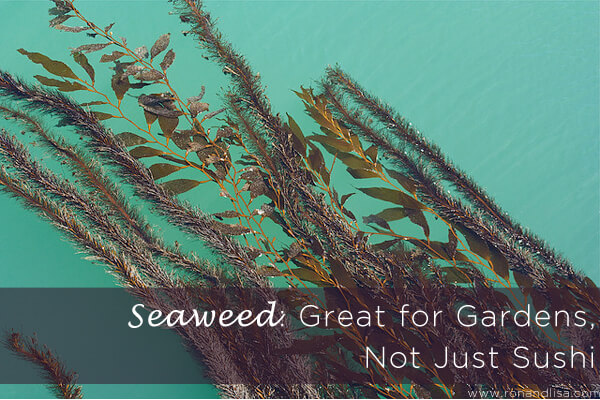 Whether you have vegetable beds in your yard, a balcony garden, or just a few flowers along a perimeter fence, those of us with a green thumb are hoping for the best when it comes to our plants this summer.
Shrubs and greenery can be advantageous for curb appeal and occasionally for food, but in the end, the things we're growing give us a sense of accomplishment when they're doing well. When they're wilting or sickly, the opposite it true as we contemplate how we could have been better caretakers.
Whether our gardens are growing well, or are in desperate need of help, seaweed offers a great booster that provides extra 'oomph' to all types of vegetation in different stages of life. Yes, the oceanic plant familiar to sushi lovers contains an abundance of nutrients and plant hormones that make it one of the best organic fertilizers around. Seaweed's unique qualities give plants what they need to be robust, withstand the elements, stave off disease, and – depending on the insect – can act as a natural repellent.   For all of these reasons and more, if you haven't tried seaweed in the garden, it's time to learn about this wonderful natural remedy for plants and begin reaping the benefits.
Variety
One of the first things to know about seaweed for the garden is that the long strands called kelp are the most beneficial. Found in abundance all over the world, kelp is one of the most common varieties.  It is found washed up along the shore; especially after high tide or a storm. What's great about kelp is that it is organic.  Except for a possible drive to the beach, there's no carbon footprint involved in obtaining a few strands of kelp – not to mention, it's free!
The only drawbacks to utilizing kelps in your garden are 1.) Kelp smells like the ocean (if you consider this a drawback) and, 2.) Kelp may be a little slimy when handling it; however, these are merely aesthetic concerns. What really matters is the importance kelp holds for your plants. Just be sure to verify that wherever you are collecting from is not a private beach or contaminated area.
Related Article:
An Introduction to Xeriscaping: 7 Simple Principles
Green Thumb: 5 Reasons to Create a Vertical Garden
Living Walls: Planting Seeds from a New Perspective
Don't Kill the Love Fern! 4 Tips to Save Your Yard & Garden Plants
Save Money with 5 Eco-Friendly Landscape Tips for Your Home
How to Root Basil in Water and Bring Bees to Your Garden
7 MYTHS of Having & Maintaining a Green Lawn
How to Grow Your Own Culinary Herbs Inside or Out!
Methods
There are two main methods for utilizing seaweed in the garden:
1.) The first is to simply visit the ocean, collect several strands of kelp, take them home, and cover the surface around plants in your garden. The freshest and healthiest strands will be those that haven't yet begun to dry.  Once the seaweed is applied, it will shrivel up quickly; usually within a day or so. Initially, the seaweed may appear a bit grungy, but as it degrades it starts to work itself into the soil.
2.) Alternatively, seaweed can be made into a spray and applied to leaves through a process called foliar feeding, which can often treat a plant faster than feeding by the roots.
Meanwhile, if you don't live near an ocean, don't worry. Dried seaweed can be purchased at local home improvement stores in both powder and pellet form. The main thing to watch out for, however, is that nothing was added to the mix during processing. After all, why go to all that trouble for one of nature's purest forms of fertilizer only to find it treated with unnecessary chemicals?
Jakob Barry is a home improvement journalist for Networx.com. He blogs about Green topics for fencing contractors and other exterior design professionals across the U.S. Specializing in tips for chemical-free living, Jakob  teaches people how to phase out noxious substances and better utilize nature for their everyday needs.