By Chef Mark Cleveland of Avanti Natural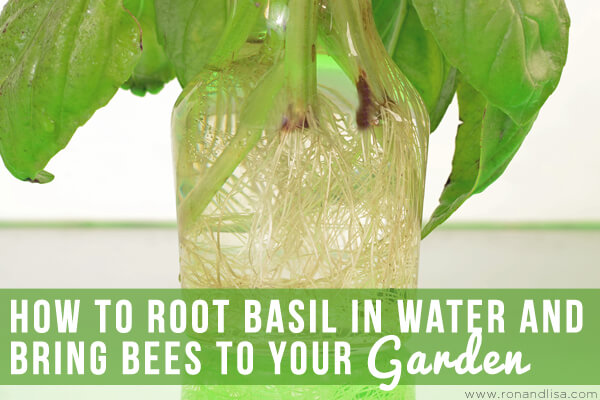 What culinary enthusiast could possibly resist fresh basil – always ready in the garden or potted on your patio or front porch?
Also known as African Blue Basil, this wonder plant is a hybrid of two varieties. It is sterile, meaning it does not set seeds. That's actually good news for the foodie gardener. Typical varieties of annual basil plants are triggered to end their life cycle by setting seeds. This hearty woody hybrid never does and hence, can flourish and grow tall and fragrant for many years. It also readily roots in water.
In Southern California, you can easily root cuttings most of the year. From late December until early spring the plant is dormant and so rooting may be lackluster, but the rest of the year, it's happy to oblige. In the summer months, it roots quickly. The cuttings prepared for this blog were started on Aug 4th, 2014, rooted in 7 days and were ready to plant on day 8 – August 12th, 2014.
How to Root African Purple Basil Cuttings in Water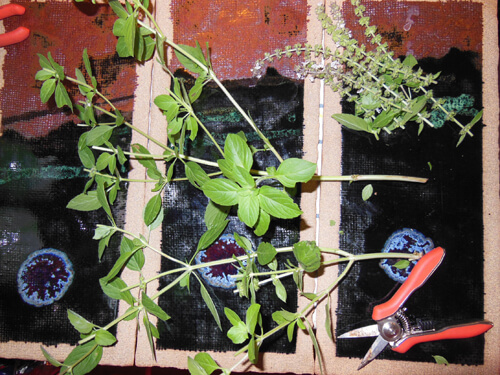 1.) Choose cuttings that are not too woody. Firm solid green stems are the best. Cut about ¼ inch below a node and pinch off all the leaves up the stem for 4 to 6 inches. Trim off any flower blossoms as well (save those for sprinkling on your lunch or dinner). Above is a photo of the trimmed cuttings. Next, place the cuttings in a glass vase or jar w/ fresh clean water up to the rim. Let them sit in a brightly lit, but not harshly sunny place near a window. Keep an eye on them and top off w/ water as needed. They will begin to root in 4 to 7 days depending upon the time of year and the weather.
2.) Once the roots are about an inch long, pot them up or plant them directly in the garden. They do well in full to partial sun. Use good soil, a little compost and you'll rarely need to fertilize. The plant flowers prolifically and is a good draw for bees to the garden. In this time of stress on the honeybee population, we should all make an effort to incorporate bee sustaining plants in our gardens, patios and entrance areas. Fear not! The mighty bee rarely stings and does so much to support our green environment.
Related Articles:
An Introduction to Xeriscaping: 7 Simple Principles
Green Thumb: 5 Reasons to Create a Vertical Garden
Seaweed: Great for Gardens, Not Just Sushi
Living Walls: Planting Seeds from a New Perspective
Don't Kill the Love Fern! 4 Tips to Save Your Yard & Garden Plants
Save Money with 5 Eco-Friendly Landscape Tips for Your Home
7 MYTHS of Having & Maintaining a Green Lawn
How to Grow Your Own Culinary Herbs Inside or Out!
Both the basil leaves and flowers are edible. The leaves have a nice potent flavor, and the flowers and buds add a lovely subtle texture. Experiment with your recipes and favorite dishes to find the right flavor profile for your taste. Here's a link with more info on the variety: African Blue Basil
You can visit guest blogger, Chef Mark Cleveland, online HERE. Or, on Facebook, Twitter, Pinterest or Instagram at @avantinatural.