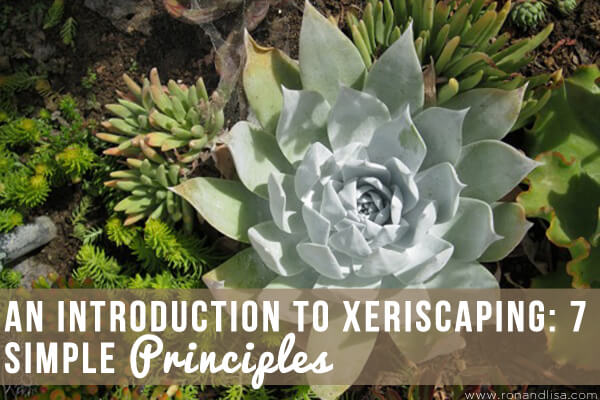 By guest blogger, Rama Nayeri, landscape designer and owner of Creations Landscape Designs in Orange County, CA.
If you are new to the art of xeriscaping or the name sounds like something from a sci-fi thriller, than you'll be pleased to know it is much more 'earth bound' than you might imagine.  Pronounced "zeriscape," the name is derived from the Greek word for "dry;" xeros. Xeriscaping, as defined in the dictionary, is "an environmental design of land using various methods for minimizing the need for water use." Xeriscape gardening involves using plants that require little to no water. These gardens can incorporate a variety of foliage colors, shapes and a gorgeous burst of colored flowers. Below are seven principles of xeriscaping from the National Xeriscape Council Inc.
1. Start with an efficient design – An efficient design is one that not only takes into consideration the environment that you are designing in, but also a design plan that is drawn accurately. By this, I am not only referring to indicating the names of each plant that you wish to incorporate, but also by including accurate measurements for the all hardscape, etc. elements. For example, if you accidentally draw a walkway at an undesired width of two feet wide, then the contractor is not liable for building it that way. Hence, the more accurate your drawing is, the easier it will be for the contractor to install and execute your design properly.
2. Carefully select your plants – You can't just pick any plant on a whim and plant it wherever you like; rather, you must to consider the needs of that plant. Does the plant need sun or shade? Is the area large enough to accommodate the plants roots and growth habit? In xeriscaping, you are not limited to using only cacti and succulents. You can use any native plant that requires little to no water as long as your garden is designed correctly.
3. Use turf practically – Some of you may not really need an area of lawn in your garden. Others, however, who have kids or dogs, may want to maintain a small area for play. In this case, if you must have a lawn, then design with a grass that is native to your area. Using a plant that is already adapted to the local climate and requires much less water than the traditional lawns.
4. Improve your soil – The best thing to add to your soil for improvement is organic matter such as compost. Improving the soil before you start planting is always a smart idea because once you have planted it, it become harder to dig in the soil without the risk of harming some plants.
5. Mulch, mulch and more mulch – Mulching is a great way to retain soil moisture and keep the weeds from growing. Mulch can also prevent soil erosion and add a nice aesthetic appeal to any garden.
6. Irrigate efficiently – Having an efficient irrigation system installed is key to the growth of your garden. The specific type of system you install depends on where you live.  For example, if you life California, a spray head system is best as plants that are native to California don't like getting drip irrigated.  An energy-efficient irrigation system will minimize the need for spending excess money and wasting water.
Related Articles:
Green Thumb: 5 Reasons to Create a Vertical Garden
Seaweed: Great for Gardens, Not Just Sushi
Living Walls: Planting Seeds from a New Perspective
Don't Kill the Love Fern! 4 Tips to Save Your Yard & Garden Plants
Save Money with 5 Eco-Friendly Landscape Tips for Your Home
How to Root Basil in Water and Bring Bees to Your Garden
7 MYTHS of Having & Maintaining a Green Lawn
How to Grow Your Own Culinary Herbs Inside or Out!
7. Maintain your garden – Maintenance keeps your plants healthy and beautiful. Looking to multi-task and get your daily workout in while maintaining your garden?  You may even think of this space as your own outdoor gym. For more on that, please visit my blog.

Guest blogger, Rama Nayeri specializes in California native/drought tolerant landscape designs that reduce your water bill, while increasing your property value. Visit her Website or Blog for additional information.