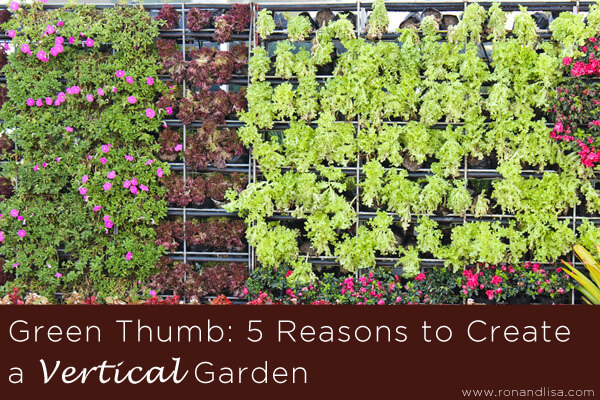 It's becoming impossible to visit a public space, commercial building or upscale hotel without witnessing one of these.  No, your eyes are not playing tricks on you.  The above photo represents that latest trend in interior and exterior landscaping -vertical gardens or, living walls as they are referred to.  Installation via Woolly Pockets, modular trays, or planting tubes makes them quick to install and easy to maintain.  Here is a quick DIY guide to help you. If you are thinking of adding a little green to your home, here are 5 reasons why you should:
1. Lack of Space:  If you are limited on space and don't have much land to plant in, then a vertical garden is a perfect solution for you.  This type of gardening allows you to "Garden Up" and utilize more of the space you do have.
2. Endless Options:  Your choices of vertical containers are endless.  From Woolly Pockets and prefab systems to even plant frames, you are only limited by your creativity and imagination.
3. Great for Indoors & Outdoors:  Vertical gardening can be accomplished both indoors and outdoors.  This gives you the option to add some pizzazz to an otherwise bland wall and even grow plants to add life to tight, small spaces.
4. Fun Family Activity:  Vertical gardening is a great way to involve the entire family; thus creating an interactive activity for both you and your kids to enjoy.  This is also a great concept for schools that wish to educate their students about gardening.
Related Article:
An Introduction to Xeriscaping: 7 Simple Principles
Seaweed: Great for Gardens, Not Just Sushi
Living Walls: Planting Seeds from a New Perspective
Don't Kill the Love Fern! 4 Tips to Save Your Yard & Garden Plants
Save Money with 5 Eco-Friendly Landscape Tips for Your Home
How to Root Basil in Water and Bring Bees to Your Garden
7 MYTHS of Having & Maintaining a Green Lawn
How to Grow Your Own Culinary Herbs Inside or Out!
5. Growing Edibles:  If you are concerned about mixing edible plants into your landscape due to water requirements, then you might want to consider vertically growing your edible plants.
WATCH a live installation of a vertical garden below and see how easy it can be.  No landscape architect or botanist required.  Step by step, you can witness the process, get motivated and create your own vertical garden oasis:
Guest blogger, Rama Nayeri specializes in California native/drought tolerant landscape designs that reduce your water bill, while increasing your property value. Visit her Website or Blog for additional information.