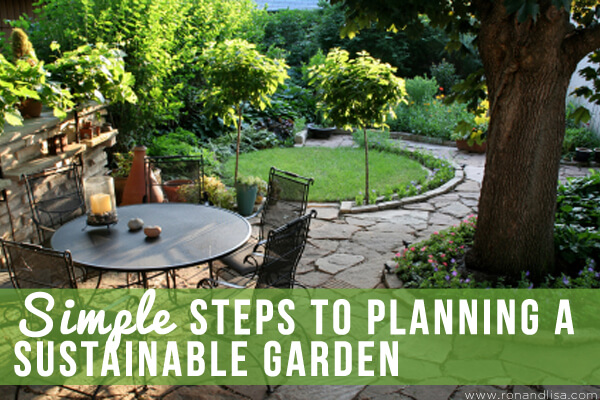 By guest blogger, Rama Nayeri, landscape designer and owner of Creations Landscape Designs in Orange County, CA.
There are many steps to designing a sustainable garden.  It begins with a clear understating of what will and will not work. The correct steps will help you achieve the right garden as opposed to one that is inefficient and requires additional rework.
1. Measure your site and create a site plan. Having an accurately drawn site plan will make it easier for you to assess how much space you have.  Typically, this is accomplished using a measuring tape or roller in conjunction with an architectural corner to utilize as your starting point.  Most residential landscape designers will use 1/8" scale to draw site plans as this makes the plans easy to read.
2. Perform a site analysis of your garden by locating what already exists in your garden that you wish to keep. You will also need to determine what type of soil you have and whether the area you are designing collects more sun or shade.  These factors will effect what plants you can and cannot have in your garden.  You should create a landscape design checklist to determine what your needs are in this garden.  Below is a sample checklist.
Do you actually intend to spend time in the garden and if so when? What time of the day? When the sun is out or at night
What is the main purpose of your garden?

Designed to sell
Outdoor dining/entertaining – how often and how many people?
Meditation/contemplation
Hobbies – what types?
Games/sports – what specifically?

Do you prefer open exposed spaces or enclosed sheltered areas?
How would you like to move through the space?
Does the garden get sunlight between 9am to noon, noon to 3pm or after 3pm?
What is the home's architecture like? Are there architectural elements that might look nice repeated in your garden?
What is your favorite color?
Are there any landscape elements (hardscape, planting etc.) that you prefer?
Are there any landscape elements (hardscape, planting etc.) that you dislike?
Are there any landscape elements (hardscape, planting etc.) that you would like to maintain?
What do you like least about your home's exterior spaces currently?
Do you have any significant HOA restrictions?
How much time are you willing to allot for the creation and maintenance of your garden?
Will the installation be done by you or are you planning to hire a licensed landscape contractor (recommended)?
What is your budget?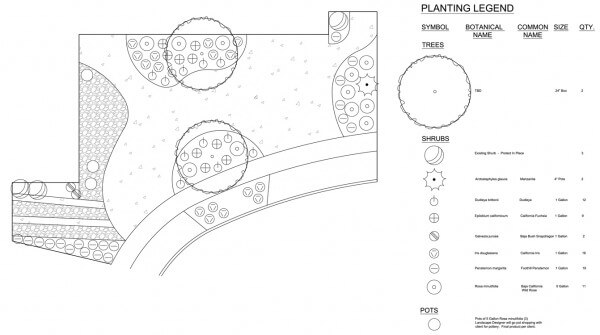 3. Concept drawings. Typically, a landscape designer will create two concept designs to present ideas of what is possible for the space.  These concepts can either be in color or black and white.  They are drawn to a scale of 1/4"=1' or 1/8"=1'.  These concepts can be as conceptual or as detailed as you like.  This is the part of the design phase where you can get creative and play around with different options.  Once you have a concept or two drawn, the next course of action is to make a trip to your local nursery to look at plants that are native to your area and determine which ones will work best for your yard.  The height, spread and water needs of each plant as well as the native factor should all be considered.  Additionally, you should design for visual interest by having plants of varying heights & widths.  It is also recommended to look at different hardscape materials which range anywhere from flagstone to decomposed granite; your options are endless.  Perhaps you have a brick fireplace.  In this case, adding more brick to your garden might present a cohesive tie in to the whole space creating better continuity.
4. Choose the concept plan that suits your individual preferences and add additional details to assist the licensed landscape contractor in being able to accurately bid the design. These details can involve adding dimensions to pathways, providing the correct botanical name of each plant and indicating their exact location on the drawing. Typically, residential paths are drawn as 4 feet wide to allow for ample walking room.  If a plant grows optimally to 3 feet wide, then you should accommodate this by allowing enough space between this plant to the next.  This will not only prevent overcrowding, but will reduce future maintenance.
Guest blogger, Rama Nayeri specializes in California native/drought tolerant landscape designs that reduce your water bill, while increasing your property value. Visit her Website or Blog for additional information.