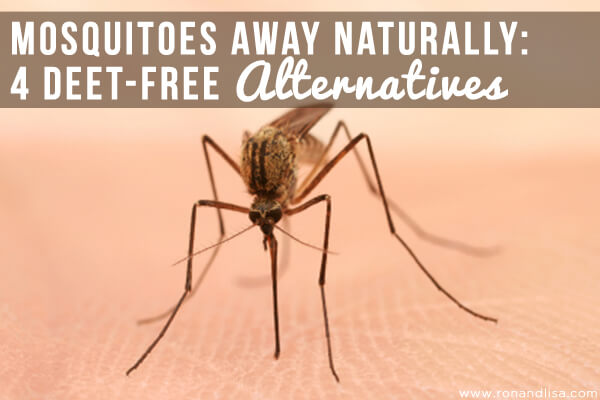 You know what they say – everything is bigger in Texas.  Even mosquito bites.  I should know because I just returned from a lovely trip to the beautiful city of Austin. Wonderful views, fantastic food, family, new friends and oh yeah — mosquitoes that found me exceptionally tasty (Ron, on the other hand? Not one bite likely due to our difference in blood type).  Did you know According to an article in Smithsonian magazine, an estimated 20% of people are "especially delicious" to mosquitoes? I have many favorite, non-toxic remedies, but didn't think to pack them since I don't normally associate mosquitoes with the fall season (and you may not either).  So, what better time to tackle this annoying topic?!
When it comes to mosquito repellents for use in and around your house and yard, there appear to be few alternatives to the chemical-laden variety. The good news is there doesn't have to be a trade-off between repelling insects and preventing bites and infestations. There are many ways to keep the bugs at bay naturally, without harsh chemicals or toxic substances. Kid friendly and pet friendly natural solutions are effective, easy to use, and 100% safe and natural.
How Safe is DEET?
Traditional mosquito repellents are extremely harsh. They smell bad, taste bad, and can leave an icky, oily residue on the skin. Although they are effective at keeping mosquitoes at bay, they contain a poison called DEET. This chemical is highly concentrated and has to be applied carefully. It cannot be applied under sunscreen, as it can absorb into the skin completely and become toxic.
When it comes to determining whether or not DEET is the best solution to a bug problem, the risks should be weighed against the benefits. In areas where diseases such as malaria, West Nile Virus, Lyme disease, or other bug borne illnesses are prevalent (view map to find high risk areas for West Nile HERE), then DEET provides the best solution for keeping the bugs at bay according to the Environmental Working Group's Guide to Bug Repellents. Although the chemicals contained within traditional mosquito repellents can be harsh in high concentrations, in most cases, these chemicals are considered safe for most people, including pregnant women. DEET, in high concentrations, is capable of melting plastic, destroying vinyl, and destroys rubber; however, when used properly DEET is the most effective way of preventing mosquito and biting insect borne diseases. In fact, if every single person in America were to use DEET, only 3 people might experience complications as a result of usage. However, there are safer alternative to sprays containing DEET for lower risk situations.
4 Non-Toxic Alternatives to Preventing Mosquitoes
1.)  Mosquitono is a revolutionary product that is fun, safe, non-toxic, waterproof and easy to use. It provides up to 72 hours worth of mosquito protection infused with natural citronella oil. Mosquitno™ comes in the form of a colored wristband available in a variety of colors and sizes, a sticker, or a shirt that provides safe and natural protection against mosquitoes.
2.) The Bugzooka is another safe and environmentally friendly alternative to keeping the bugs away. This device is a bug vacuum. It provides powerful suction which allows users to actually suck the bug into the vacuum without batteries. These are perfect for the home, camper, garden, or bug collectors. No chemicals, no toxic substances, and no smelly sprays. The Bugzooka provide hours of fun for kids on a bug hunt, and are an effective, gentler way of getting rid of a bug problem. Recently, Ron and I demonstrated this catching a spider in our home.  Watch the video NOW:
3.) Fans.  There are some easy solutions to keep the insects away from your outdoor gathering without having to resort to harsh chemicals. For some small outdoor spaces with electricity available, a simple oscillating fan provides easy mosquito relief. A mosquito can only fly at 1-1.5 miles per hour. An oscillating fan can blow faster than a mosquito can fly, making an easy solution for mosquito repellent without any chemicals.
4.) DIY Insect Repellents.  There are also some effective, homemade natural solutions to mosquitoes. These can be particularly valuable when you are camping or in other places where oscillating fans are unavailable. For a completely natural insect repellent, Vinegar of the Four Thieves has been a strong, effective insect repellent for centuries! This concoction has not only warded off unwanted insect visitors, but has been known to fight off diseases as well. You will need:
a 32 oz bottle of apple cider vinegar
2 tablespoons each of dried rosemary, sage, lavender, thyme, and mint
a large jar or spray bottle
To make, combine all the ingredients in a large jar with a screw top lid or a spray bottle. Shake daily for 2-3 weeks. After 2-3 weeks, apply liberally to the skin as needed for insect protection.
Additionally, oil of eucalyptus products may offer longer-lasting protection, studies reveal. Endorsed by the CDC, Oil of Lemon Eucalyptus (not to be confused with natural lemon eucalyptus oil) offers protection similar to low concentrations of DEET and is available under the Repel brand name. It's also safe for children older than 3 years but can cause allergic skin reactions.
Insects can make even the most highly anticipated family vacation a miserable experience. Mosquitoes and other biting and stinging insects can completely ruin any kind of outdoor get-together. While DEET provides excellent coverage against mosquitoes and other disease-carrying insects, for some users, DEET can cause serious health consequences. For those looking for a natural source or the least toxic protection against bugs, download the EWG's Advice for Avoiding Bug Bites and enjoy these non-toxic remedies above – or – share your favorite with us below in the comments section!