By Ava Anderson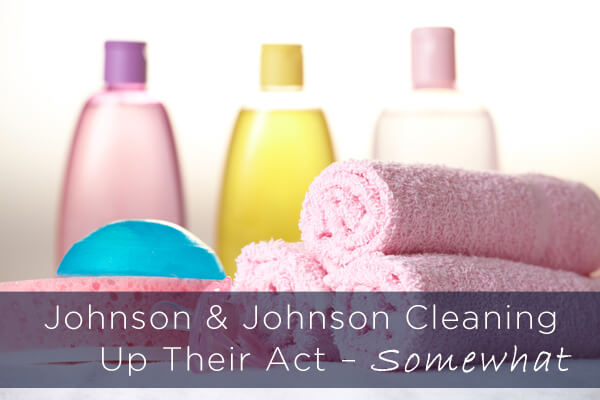 A round of applause to Johnson & Johnson for publicly announcing they will remove some toxins, from some of their products, at some point…in the next 3 years! It's a start – and a brilliant publicity campaign – but I, personally, don't want ANY known toxins or endocrine disrupters in ANY products starting NOW! At Ava Anderson Non Toxic, we avoid these harmful chemicals in our entire product line, therefore, we know it can be accomplished (much faster than three years, too).
Johnson & Johnson has publicly admitted to the presence of chemicals in their products while validating their harmful effects. But, why wait three years? If this is new information to your ears, you are probably wondering exactly what are they taking out and what are they leaving in.  Below, I clarify this for you.
What J&J is taking OUT? Tricolsan: Thankfully, this antibacterial ingredient that is registered with the government as a pesticide is on the way out. Additionally, they will be removing Formaldehyde. These two toxins should never have been there in the first place.
What J&J is PARTLY Taking OUT? 1,4 dioxane:  J&J says they will reduce exposure to less than 10 parts per million. Well, this is the level that the government currently allows which begs the question – how much is in there now? 1,4 dioxine is a known human carcinogen. It costs mere pennies to get rid of it, so why not eliminate of all of it? Remember, this is not present in just one product, but many that you are exposed to daily. If I handed you a vial of 1,4 dioxane would you rub it all over yourself and your child?
Related Article:
Feeling Hormonal? Your Home May be Wreaking Havoc on Your Health! Part I
I Believe the Children Are Our Future
AUTISM: A Mother's Sensitive Journey + a Simply Sweet Ending!
Lisa Beres Shares Tips to Avoid BPA on NBC's Nightly News
Autism: The Environmental Toxin Connection
What is NOT GOING ANYWHERE? Methylparabens and other parabens, which were recently implicated again in breast cancer, will not be removed from adult products.
Maybe it will take three years, because there is nothing really good for you in these products to begin with. As we like to say, It's all about the ingredients; the rest is just marketing hype! Be sure to compare ingredient labels. Here is one example below:
AVA BABY LOTION – aloe barbadensis leaf extract (organic aloe), cocos nucifera (organic coconut oil), prunus armeniaca (organic apricot kernel oil), olea europaea (organic olive oil), simmondsia chinensis (organic jojoba seed oil), butyrospermum parkii (organic shea butter), avena sativa (organic oat kernel flour), lavandula angustifolia (lavender essential oil), chamomilla recutita (chamomile essential oil), punica granatum (organic pomegranate), vaccinium macrocarpon (organic cranberry).
J&J BABY LOTION – water, mineral oil, glycerin, carbomer, phenoxyethanol, ceteareth 6, fragrance, methylparaben, sodium citrate, stearyl alcohol, sodium hydroxide, citric acid, ethylparaben, propylparaben, avena sativa kernel flour (oat), tocopheryl acetate.
Just three years ago, I started a mission to provide quality personal care and home products that are truly safe; with a mission to inform Americans of the dangerous and harmful chemicals found in most products made for humans and our environment. We offer skin care, body care, hair care, baby care, sunscreen, home cleaning products and essential oil fragrances. Our avaBABY line consists of: baby lotion, baby shampoo & wash and diaper cream (which also acts as a barrier cream and great for burns, eczema, rosacia, etc).  If you do not want to wait three more years for somewhat safer products to become available, please stop by and visit me!