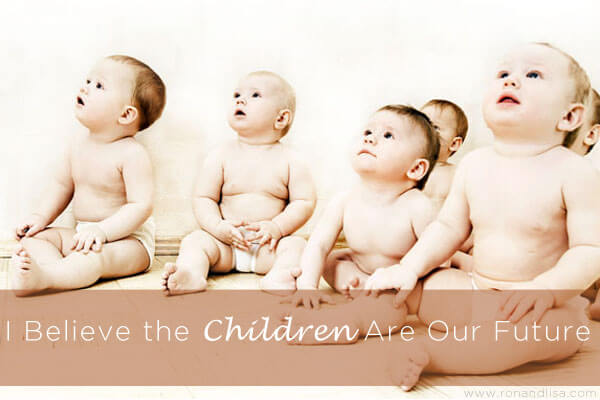 I certainly don't share the vocal gift of the late Whitney Houston (1963-2012).  But one thing we did have in common is the belief that the children are our future. Our ongoing efforts to make homes safer and healthier places in which to thrive are, ultimately, about the legacy we are all leaving behind for the future generations.  Are we, however, 'Teach(ing) them well and let(ting) them lead the way?' Ron and I recently met a group of powerhouse women who are heeding the advice of Mahatma Gandhi and literally being the change they wish to see in this world.  A concerned group of moms who won't settle for less than the best for their children, Mom's In Charge was founded by Dotty Tyre Hagmier and is recreating the future; one mom at a time.
A wise rabbi was walking along the road when he saw a man planting a tree. The rabbi asked him, "How many years will it take for this tree to bear fruit?" The man answered that it would take seventy years. The rabbi asked "Are you so fit and strong that you expect to live and eat its fruit?" The man answered, "I found a fruitful world because my forefathers planted for me. So I will do the same for my children."
~Midrash
Ron and I were invited to speak to this group to share our knowledge and expertise on creating healthy homes.  The event began with a wonderful presentation from Raw Food Chef, Raya Belna who demonstrated a delicious, easy and oh, so healthy vegan Banana Crepe recipe.  It didn't hurt that we all got samples of this decadence drizzled in a meyer lemon cashew cream sauce with fresh berries.  Before you wipe that drool from your lip, you may want to print out this recipe and indulge for yourself.  It's so simple (it requires a dehydrator, but if not an option, you can also cook on your oven's lowest temperature for about an hour).  We also handed out samples of Earth Friendly's Pear scented Dishmate to all attendees; made of plant based surfactants; 100% biodegradable; non-toxic & natural. Being healthy isn't about deprivation and as Dotty eloquently reminded us, we are given taste buds for a reason. A healthy lifestyle is however, about making informed choices and being the change.
"The world will not be destroyed by those who do evil, but by those who watch them without doing anything." ~Albert Einstein
Related Articles:
Feeling Hormonal? Your Home May be Wreaking Havoc on Your Health! Part I
AUTISM: A Mother's Sensitive Journey + a Simply Sweet Ending!
Lisa Beres Shares Tips to Avoid BPA on NBC's Nightly News
Johnson & Johnson Cleaning Up Their Act – SOMEwhat
Autism: The Environmental Toxin Connection
If you are interested in joining Mom's In Charge here is Southern California, or any part of the country, feel free to visit their website and stay tuned for fabulous changes including a detailed pathway to creating a healthy and non-toxic home shared by Ron and myself, The Healthy Home Dream Team.  At the Vancouver Peace Summit 2009, The Dali Lama was quoted saying, "The world will be saved by the western woman." Are you up for the challenge? Isn't it time you sought greener pastures and expected a better world?