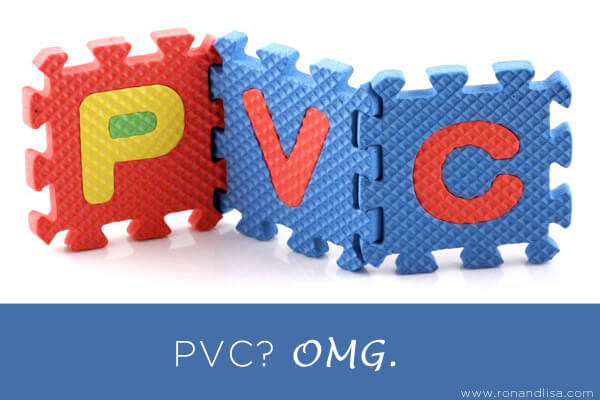 PVC, or polyvinyl chloride, was once deemed a great innovation; a discovery that simplified the way we lived. Things that seemed a figment of our imagination could suddenly be made out of a miracle plastic to expedite our daily routines. Plastic molding became the norm as merchandise, almost seemingly essential to sustain life itself, churned out of factories.
Whatever the advantages of PVC may have been, today, it is indisputable that PVC is a known toxin to both humans and animals alike. Dubbed the most toxic plastic, vinyl – or polyvinyl chloride – is used today in a superfluity of items surrounding us.
What is disturbing is the fact that PVC uses chemicals that are quite dangerous to both our health and the environment; yet many of these chemicals and PVC Health hazards are present in our own homes, workplaces, and schools where children are exposed to them on a daily basis.
What is PVC Material?
PVC (Poly Vinyl Chloride), is a synthetic polymer material that contains chlorine. It can be made from ethylene, butane, and other chemicals. It is used in many household items like shower curtains, rain gutters, pipes, and in some food packaging. Chemicals in PVC can cause serious illnesses like cancer, heart disease, kidney disease, liver damage, and respiratory problems like asthma or COPD.
Children's Exposure To PVC
Hazards And Health Concerns
The greatest threat of PVC is to children health. Children are extremely vulnerable to PVC hazards harmful chemicals as they are in the early stages of physical and mental development. Exposure to such chemicals can have serious consequences. Vinyl chloride, the chemical used to make PVC, is a known human carcinogen, according to the World Health Organization's International Agency for Research on Cancer (IARC). Children's products including water bottles, lunch boxes, toys, small chairs and tables, school bags, and stationery items such as pencil boxes can contain some amounts of PVC.
The fact is, while most of these items are made of plastic due to their weightlessness, affordability, and convenience, children today are put at far greater risk since they are in constant contact with such items. Here is a great video by CJEJ (Center for Health, Environment, and Justice) called Sam Suds and the Case of PVC, the Poison Plastic.
PVC Product Health Hazards
Children's toys

: Teethers, bath and squeeze toys, balls, and watchbands.

Childcare products

: Stroller covers, diaper covers, bibs, and mattress covers.

Adult Consumer products

: Aprons, raincoats, hats, shoes and boots, bags, backpacks, luggage, pet toys, food packaging, plumbing, and building materials, medical devices, inflatable furniture & swimming pools, vinyl flooring, vinyl shower curtains, bed liners, and mattress covers (click HERE for greener shower curtain alternatives).
The manufacturing of polyvinyl chloride (PVC) requires the addition of chemical softeners (plasticizers such as phthalates) and stabilizers (ie: heavy metals including lead; a neurotoxin and cadmium; a probable human carcinogen that can cause kidney disease) among others.   The main ingredient in PVC plastic, however, is phthalates which can make up the majority of the weight of a product. Phthalates are used to soften plastic to make it more flexible.
As plastics degrade, these chemicals break down slowly and release more and more phthalates into the air. This can make the air toxic. Due to the sources found inside, air levels are on average much higher than outside. Exposure to such toxic chemicals can result in hormonal imbalances, asthma, and even cancer.
Strict measures should be taken to reduce the presence of PVC-laden toys and products in households and schools. Since children are most likely to be affected by PVC and phthalates, PVC plastic products should be avoided or replaced with healthier alternatives.
How to Detect PVC Plastic?
Have you ever noticed that plastic objects have a triangle symbol with a number in the center – usually found on the bottom of the object? The recycling rating numbers, called the SPI (Society of Plastic Industry) Resin Identification Code, are not only essential for recycling efforts but offer information from a health perspective. #3 polyvinyl chloride (V, PVC) inside the triangle indicates PVC.
Due to these various additives and the presence of the chlorine molecule itself, PVC plastic is difficult to recycle and has been reported as the least recycled of all plastics. PVC-free plastics such as plant-based resins are affordable, widely available and a more advisable choice for you & your loved ones.
FAQs
What does PVC Stand For?
PVC Stand For Poly Vinyl Chloride. PVC is a synthetic polymer material that contains chlorine. It can be made from ethylene, butane, and other chemicals.
Is PVC plastic?
PVC is plastic made from a thermoplastic polymer that contains chlorine. It can be made from ethylene, butane, and other chemicals.
What are some of the PVC Health Effects?
PVC health effects and risks include dermatitis (skin irritation), asthma attacks and respiratory problems (in addition to other health conditions), kidney disease, and liver damage. It is also a known carcinogen, meaning it has the potential health risk to cause cancer.
Is PCV Plastic Toxic?
PCV is a toxic chemical that has been used in vinyl products for decades. It can be found in many forms, including food wrap and paint.
Is PVC Recyclable?
PVC is not recyclable as it contains a lot of the harmful chemicals that are contained in plastic.
Is PVC Clothing Safe To Wear?
PVC clothes use dangerous chemicals like ethylene and butane. PVC clothing can cause skin irritation.
What is a PVC Mold?
A PVC mold is a tool used to make plastic objects by pouring liquid polymer into the mold.
Related Articles:
Feeling Hormonal? Your Home May be Wreaking Havoc on Your Health! Part I
I Believe the Children Are Our Future
AUTISM: A Mother's Sensitive Journey + a Simply Sweet Ending!
Lisa Beres Shares Tips to Avoid BPA on NBC's Nightly News
Johnson & Johnson Cleaning Up Their Act – SOMEwhat
Autism: The Environmental Toxin Connection
Choose Wisely
PVC production and disposal also present significant problems and potential for exposure to other toxic chemicals such as dioxins and hydrogen chloride gas. Remember, it is always better to be safe than sorry. Taking action HERE and spreading awareness about the harmful effects of PVC can enhance the quality of life and help both children and our planet thrive toward a healthier future for all.