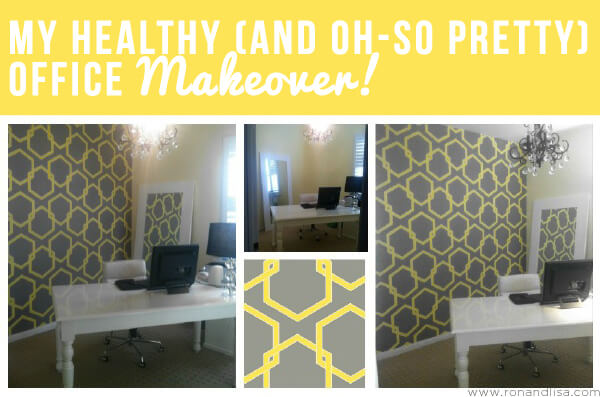 Let's face it – makeovers are fun, inspiring and (if done correctly) just plain pleasing to look at! Soo, when I discovered a company called Tempaper Designs – the self-adhesive, removable, repositionable wallpaper company – I was all ears (and eyes). As a former interior designer, there's nothing like the thrill of a home or room transformation. It lifts your spirits and creates a whole new energy in your existing space.
I've spec'd wallpaper in the past, but never actually installed it myself (gasp!), so I was a tad hesistant about this DIY project. I knew I wanted a feature wall in my home office, but was nervous about the hassles and permanence of traditional wallpaper. So, like most of us, I procrastinated. We've e all heard the wallpaper horror stories from our parents or grandparents. And, we've seen them on many a makeover TV shows – gaudy 1970's paper that takes a village to remove.
Tempaper is Eco-Friendly
What first caught my attention about Tempaper Designs is that the product itself is green! They really did have me at eco-friendly. Its water-based adhesive and ink provide a design solution that's environmentally safe and friendly. Tempaper is 100% manufactured within the U.S.A. and is lead-free, phthalate-free, and VOC-free (even though it's vinyl, not PVC. Because of this, it can be used in bathrooms and humid environments). With no paste or water required, it can also be used over mirrors and furniture for creative pops of color and design. I love that Tempaper Designs is women-, and family-owned and operated by an aunt and her twin nieces who emerged as set designers from the entertainment industry.
Fear not renters – this isn't exclusive for homeowners. Now renters, sub-letters, homeowners, and all temporary and permanent decorating projects can utilize wallpaper and remove it quickly easily without damaging the wall. You can determine the exact amount you'll need by visiting their Wallpaper Calculator.
It is the perfect solution for high-impact decorating without a long-term commitment.
Materials Needed
Onto my transformation. Below you'll see the before & after images. I think they speak for themselves in terms the life just under two hundred dollars can breathe into a space. I'm beyond thrilled with the results. With just a metal ruler, an X-Aacto blade, a handsome hubby (o.k., that's my two cents), a ladder and the Tempaper Branded SQUEEGEE (a must; don't skimp on this $5.00 item), Ron and I were off to the makeover races. We completed the project in about 4 hours total. I (thankfully) watched this how-to video first which you can see for yourself below.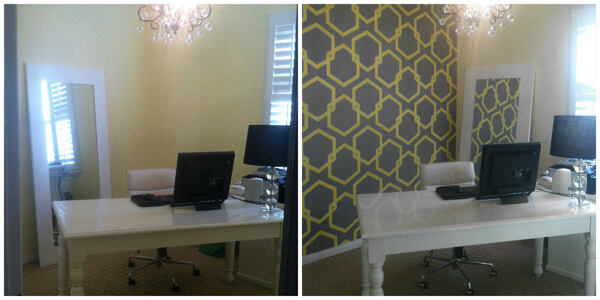 Tempaper Before & After Makeover
Since I've already highlighted the pros above (of which there are many), there really weren't any cons. I will give a fair warning that the most challenging part was matching the strips. I chose the Honeycomb Citron paper which is highly patterned; hence, it proved slightly challenging to match, especially when I attempted to apply it upside down (oy!). But, the finished piece is pure perfection and would obviously be even easier with an overall texture. I can't rave enough about the joy I feel working in my new space. It's aesthetically stunning and there is absolutely zero odor whatsoever. Watch the how-to video below:
As you can see from their website, the options are unlimited and even include a kids line and a design your own option for you graphic design geeks!
Of course, my only regret is that I didn't do this sooner. Are you inspired? I'd love to hear about your upcoming project in the comments below and see your before + after photos! Share them on Instagram and tag us @RonandLisa and @Tempaper_Designs
P.S. I highly recommend ordering a sample from their SAMPLE shop page first. BONUS: You'll also get a 10% off coupon code along with your sample (win-win).