By guest blogger, Rachel Hulan, ASID, CID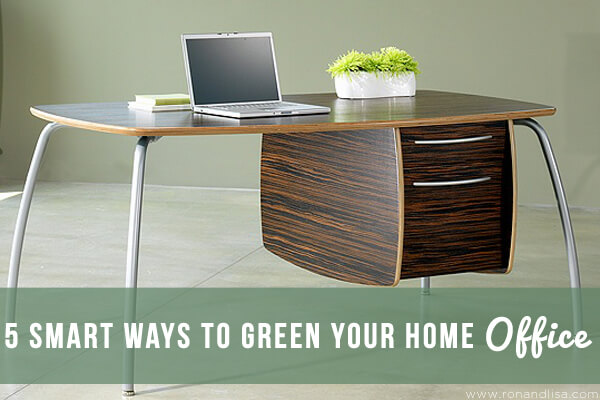 If you are like me, then you have a home office. And if you're really like me, then you started the New Year with a roaring shriek when you realized that the magic office elves did not take care of things during your holiday hiatus. While elves were notoriously sitting on shelves across America, piles of clutter on your desk remained – only a bit dustier. Darn those lazy elves!
In honor of the New Year (and the stacks of filing I face), I present you with five smart ways to create a greener, more organized and more sustainable home office.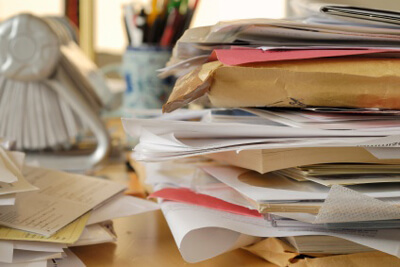 1.  Reduced Clutter = Reduced Dust
All those piles of filing, knick knacks, books, and general clutter are covered daily in a fine layer of dust.  Since dust is made up of all sorts of allergens and pollutants, having it present in your environment can be harmful to your health; not to mention sneeze inducing!
To paraphrase William Morris, have nothing in your home office that you do not know to be useful, or believe to be beautiful.  If you aren't likely to need something in the next year, then it isn't useful.  If you look at an object and just think, "meh", then it isn't beautiful.  Try setting a timer for 20 minutes and pick up as many items off your desk as you can and ask yourself if they are useful or beautiful.  If they aren't, toss them in a box to donate to charity.  You'll be surprised how freeing this disposing of dust collectors is!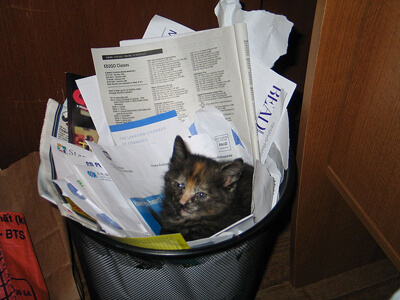 2.  Go Paperless!
Of course, there is no such thing as a completely paperless office, but there are many things you can do to reduce the amount of paper you generate or store.
One of my favorite apps is Evernote, which basically functions as a note taking service.  Now, that doesn't sound all that amazing until your realize that a "note" can be anything from a snapshot you take with your mobile phone, to a screen grab of a website you're visiting, to a to-do list you send yourself via email.  Imagine seeing something – wherever you are – then snapping a photo of it and sending it off to a file system where you can easily access it along with notes, voice memos, web pages, lists, etc.  Best yet, the basic service is free.
Already have work receipts bulging out of your wallet, business cards stacked in piles on your desk or paper bulging out of your filing cabinet…but no time to scan the documents to get rid of them?  Try a service like Shoeboxed.  They send you an envelope, you put everything you want to have scanned in it, and they take care of the rest.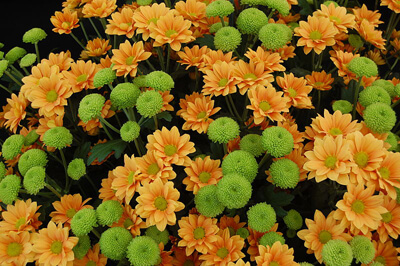 3.  Bring the Outside In
Besides looking nice and bringing your office a little bit of life, plants are amazing air filtration systems.  Based on research by NASA scientists beginning in the 1980s, many plants are now known to quickly and efficiently remove harmful pollutants such as formaldehyde and mercury from the air.  Just one or two plants can clear the air in a normal size home office, and all they ask back is a little water and some TLC. Watch a video to learn Ron & Lisa's Top 10 plant picks HERE.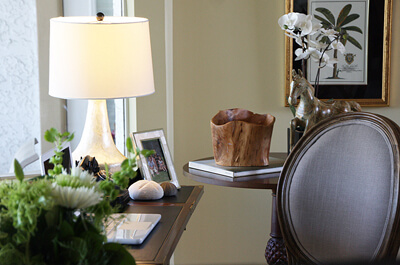 4.  Natural light
Natural light is not only the most efficient way to illuminate a space, it is also better for your health.  Studies have shown that workers in offices with direct access to natural light slept longer at night were more productive during the day and expressed feeling happier than workers in offices with only artificial light.  Why not apply that science to your own home office?  Try turning off any artificial light during the middle of the day, and see how much natural light you have.  Is it still dark and cave-like in the room?   See what changes you could make to your window treatments to allow more light to enter. It it's still not enough to work by, then consider installing a Solatube, which provides indirect sunlight, without allowing in heat or harmful UVA/UVB rays.
Whatever the solution, let the sunshine in!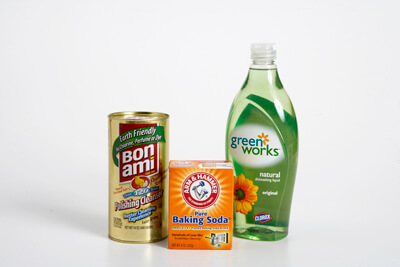 5.  Green Clean
So, now that you have taken some important first steps towards creating a healthier, more sustainable home office space, make sure it stays healthy by using only non-toxic, environmentally safe cleaning products.  If you prefer cleaning products ready to use off the shelf, there are terrific options available nowadays, sometimes as close as your local grocery store.
However, if you enjoy following recipes, you might try one of many homemade cleaning solutions.  They are less expensive, just as effective, and really easy once you get the hang of it.  Your home office will sparkle – and your health will shine!
#4 Photo credit: Nest Design Group