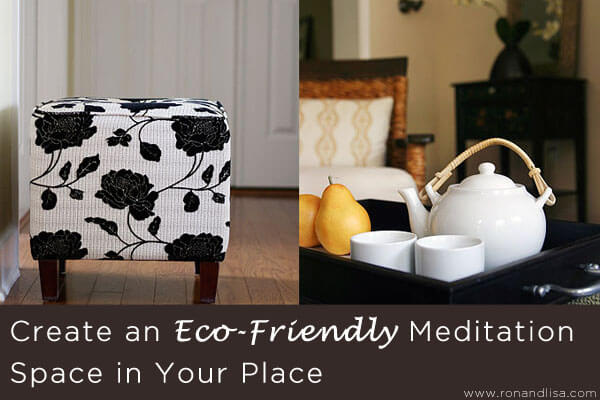 Meditate, mediate, meditate.  I recall this advice given to Dr. Wayne Dyer from Deepak Chopra when Dr. Dyer sought advice on a technique to resolve any problem or conflict.  Sounds so simple and yet, it is.  But the thought of finding a quiet retreat in your home to focus on your thoughts can, for many, be a daunting task.  Daunting?  Perhaps, but by no means impossible.
I remember the first time I witnessed a meditation space in someone's home.  It was the home of EcoNest founders – natural builder, Robert Laporte and architect, Paula Baker-Laporte.  Their stunning clay, stray and timber home in New Mexico was as majestic as it was serene; though not in a gold, gilded, Trump-sort-of-way.  This was my firsthand account of Shoji doors inside a personal residence.  They overflowed into a small, yet sacred space comprised of a circular window peering out over the painted desert hills and beyond.  I found myself reminiscing of the sunrise room featured in the 2010 HGTV Dream Home giveaway.  This room featured a see-through fireplace, a comfy chair and corner floor-to-ceiling windows peeking out at the Sandia, New Mexico landscape.  This can be mine, I thought. Ha.  Apparently I and millions of others had the same idea (I suppose should have meditated a bit more on this).  So, the recycling room, home theater and sunrise room were not in my immanent future – but a sacred space in our current homes – can be!
Does anyone remember the Oprah episode where she highlighted a woman who transformed a walk-in closet in her home into a meditation space? Genius!  Just a nice chair, a fresh coat of paint, and some candles and this over-stressed mom had an instant place to quite her mind, gather her thoughts and listen.  In fact, Oprah herself has admittedly confessed to a small meditation room in her home. Sure, Oprah could have a meditation space the size of many of our entire home's square footage.  The point here – bigger isn't better when it comes to a sacred space.  We don't need to win a dream home or move residences to create this. We only need the intention and action to do so.
A meditation room should be comprised of those items that speak to you and that make you feel calm, happy, peaceful and relaxed; a personal sanctuary and place to turn off and tune in. It can literally be a converted closet or a simple pillow in the corner of a room.
Here are my 4 tips to creating eco-friendly meditation space.  Choose:
1.)    Low or Zero VOC paint.  I love Mythic Paint's zero toxic, zero VOC paint. Choose a paint color in a relaxing shade such as a pale blue or blue-green hue which is great for meditation, or a light relaxing violet.
2.)    Unscented or 100% essential oil scented soy or beeswax candles.
3.)    Sustainable Seating: Find a comfortable spot to sit, preferably sitting up (so you don't doze off).  A few of my favorite finds include: 1.) Jute Floor Cushions: woven from cotton remnants and jute and stuffed with wool; 2.)  Felted Wood Stone Beanbags: socially conscious and made from 100% merino wool. These freeform oversized "stone" floor cushions may fool the eye but they provide immediately recognizable comfort to weary torsos in search of a relaxing seat. Soft yet buoyant, the veined, smooth textured cushions can be arranged to support seat and back;  3.) Bloom Lounge Chair: Made from sustainable & organic materials, this chair is constructed of hand quilted microfiber fabric and felt stitched over a resin top on a steel base. Available in lime green, moss green, yellow, black, or muted red; 4.) A Soft Stone Pouf: clusters of natural felted wool artfully woven with striations to resemble water-smoothed river stones.
Learn more about the best-infrared saunas for every space and budget

4.)  Eco-friendly flooring: For reclaimed hardwood, take a peek at Mohawk GreenWorks™  line of reclaimed hardwood and Carlisle Reclaimed Wood Flooring. You can also try bamboo flooring such as those from EcoTimber in a variety of gorgeous tones. To add softness underfoot, add area rugs such as this Felted Stone Rug, or these Natural Fibered Rugs.
Good luck in the journey to transcend your sacred space. Please feel free to share your favorite tips with us below!  Namaste.
Cover photo by Nest Design Group