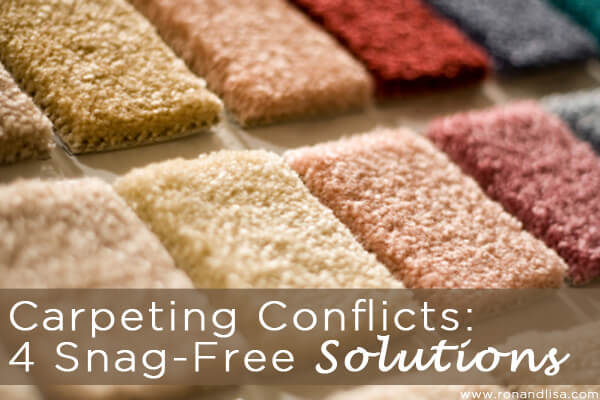 Of the more than 80,000 chemicals permitted in the U.S, the EPA has only required testing for toxic impacts on human health and the environment of about 200 of these chemicals, and has partially regulated only five. This has created a superfluity of concerns when it comes to creating a healthy home in which to thrive; one of which includes carpeting.
Hard surfaces in the home provide a more ideal flooring solution for many reasons including ease of care & cleaning and the inability to harbor microorganisms. However, not everyone has the option or resources to remove existing carpeting in their home. If you find yourself in a carpet quandary, then we have four simple solutions to remedy existing carpeting challenges while still providing warmth underfoot.
1.) I have new carpet and am concerned about off-gassing from chemicals:
The only products in the world designed to do so, Carpet Lock Out and Carpet Seal, utilize a tight molecular bonding that seals in up to 99% of outgassing from volatile organic compounds (VOC's). Carpet Seal is a unique sealer designed to help prevent the off-gassing of chemicals found in carpet backing and adhesives. These chemicals include such known carcinogens as formaldehyde, toluene, benzene, xylene, and styrene. It also resists water stains. Carpet Lock Out seals and reduces the outgassing of harmful chemicals used in the manufacture of carpet fibers. Secondly, it helps repel dirt and stains. These products should be used in a three step process together with the SafeChoice Carpet Shampoo for maximum results. Features include:
Non-toxic, odorless, dye free, biodegradable: Contains no phosphates, ammonia, butyl ethers, alcohols, phosphates, caustics, or acids. Non-corrosive, non-flammable. Safely used by and for the chemically sensitive.
Powerful and safe: Strong cleaner and odor remover, but does not irritate hands or skin.
Uses: Generally suitable for all synthetic carpets and rugs. Not recommended for wool – product is water based. Spot test recommended.
2.) Is there a non-toxic solution to carpet padding?
For carpet padding, there are natural, non treated options such as the Bio Floor Enertia Wool Padding. This padding is free from dyes, fire retardant, glues, moth proofing or adhesives.
3.) I want to purchase new carpeting. What healthy options exist?
Look for carpet, cushions and adhesives with the CRI (Carpet & Rug Institute) Green Label. This indicates that the cushion has the lowest possible chemical emissions. Or, their newest edition, the Green Label Plus for carpet and adhesives, which sets an even higher standard for ensuring the very lowest emitting products.
Another option, our personal favorite, is the Bio-Floor line from Earth Weave. It is unique in the sense that it is completely biodegradable via the use of 100% natural raw materials; including 100% natural wool. There is no moth proofing or stain protections applied and only naturally pigmented wool fibers for coloration. Even the adhesive is 100% natural and bio-degradable; made of natural rubber from the rubber tree. The secondary (back of carpet) is made from jute.
Or, to reduce your carbon footprint, try the luxuriously soft line of Mohawk's SmartStrand® with DuPont™ Sorona® which offers fiber made with Bio-PDO™. It is produced from corn sugar resulting in less energy and lower greenhouse emissions. Look also for Mohawk's EverStrand™ carpet containing 100% post consumer recycled content and made from plastic bottles! 1 in every 4 bottles recycled in North America becomes EverStrand™.
Find more flooring alternatives in Just GREEN It!
Related Articles:-
Are You Being MisLEAD? Red Lips. Bright Paint. High Price.
Flame Retardants in Your Home: The Truth May be Too Hot to Handle!
What Lies Beneath? Furnishing a New Concept of Change
Falling in Love with Furniture
Taking Odor Out of Painting Projects
4.) I have synthetic carpeting and am looking for a non-toxic shampoo option.
SafeChoice Carpet Shampoo is an odorless, dye free rug and carpet shampoo. It is both a strong cleaner and odor remover. However, it contains no harmful chemicals like ammonia, butyl ethers, alcohols, phosphates, caustics or acids which can be especially dangerous to young children, pets and the chemically sensitive. It is not toxic, non-corrosive, non-flammable and biodegradable. Shampoo should be applied using a hand-held pump sprayer. One similar to a garden sprayer is most effective, or if desired, it can be added to any shampooing or carpet cleaning machine.