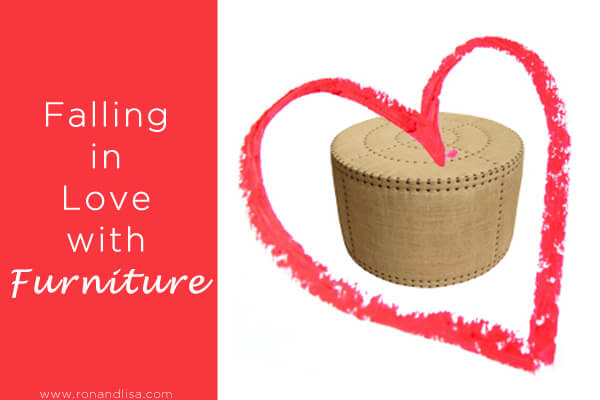 By guest blogger, Linsi Brownson, interior designer and owner of Redefine Home Store.
Most people use the term love pretty lightly. I've been known to do it, especially when it comes to Interior Décor. "Oh, I am soooo in love with this ottoman!" "I will die if I don't get that pillow I love." Really? A little dramatic don't you think?
I am a passionate designer through and through. As owner of interior lifestyle boutique, Redefine Home, I think it may actually be possible that I fall in lust with things every single day. Of course the flip side of that is that sometimes I also lose interest pretty quickly…
But true love is different. And it's important when decorating your home. My design philosophy is based on the 80/20 concept. 80% of your interior should include elements that either make you happy when you see them or are necessary to your daily life. The other 20% are items that you need or want occasionally, or even decorative things that help finish off the room. If you don't need it or love it, don't have it. This is the first step in happy home decorating and it saves infinite resources (not to mention money) by avoiding the purchase of unnecessary stuff in the first place.
So how do you know if the piece you want is in this for the long-haul or will be a short sighted relationship that ends up on Craigslist? Well, I think the first step in any good relationship is to understand yourself… but, alas, we can't exactly count on that when we need a place to sit. I would start by asking myself a couple of questions:
1. What are the basic requirements? For example, if you're on the hunt for a sofa you need something that is (obviously) comfortable, fits the dimensions of your space and priced within your budget.
2. What are the desired requirements? Do you need something that will hide stains? Do you have a color or pattern preference? Flip through home décor magazines to get inspiration – pull out everything that appeals to you. This is like free association but with visuals. You'll look at everything again later and be able to narrow it down to what you actually like and could live with.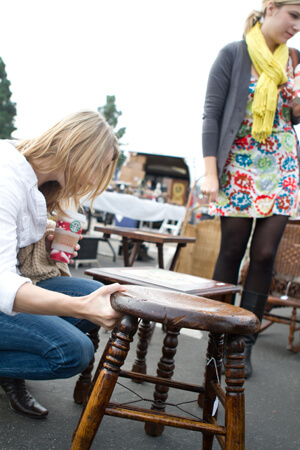 3. Take your list of requirements and desires and get shopping.
Head online and check out where and when your local Flea Markets are happening. On a relaxing Sunday morning outing you could score something amazing and have the budget left over to play around with more. I love finding vintage pieces – they have history, personality, and the quality is so often better than what we've got today. Just be sure to look carefully at the piece and don't get too taken by the price. Glass can be replaced and seams can be glued, but if the 'bones' of the piece are beyond repair you'll just end up with a broken heart. Also keep in mind that reupholstering a small chair can cost anywhere from $75-$400 so calculate these costs into your bottom line. That said, a good find is worth its weight in gold. You'll never feel such a connection to a piece you buy off the shelf somewhere.
I also like to look around online – I search Craigslist, Ebay and other community based shopping sites. If you're buying furniture sight unseen, be sure to have an open communication with the seller to make sure you get what you think you're getting. I believe Ebay does a pretty good job of protecting their buyers.
The world is at your fingertips when shopping online, and if you're looking for a special piece (especially antique or vintage), I highly recommend searching around places like 1stDibs.com. These can be pretty pricey but you'll be hard pressed to find another one like it. Our store, Redefine Home, also sources and sells unique finds and we just started an online shopping service to help customers find that perfect piece anywhere.
Related Articles:-
Carpeting Conflicts: 4 Snag-Free Solutions
Are You Being MisLEAD? Red Lips. Bright Paint. High Price.
Flame Retardants in Your Home: The Truth May be Too Hot to Handle!
What Lies Beneath? Furnishing a New Concept of Change
Taking Odor Out of Painting Projects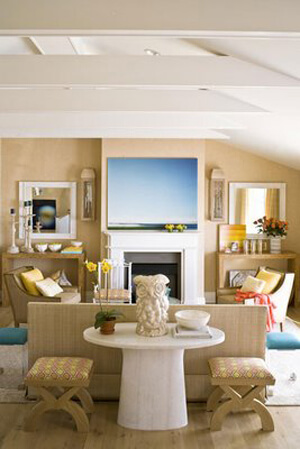 And, of course, be sure to check out your local sources as well. Look for small businesses – you will get better customer service and often times the proprietor will be there to assist you in making decisions. You won't get this kind of honest treatment from big box or designer stores (in-house designers still have sales quotas). Small companies are also more willing to offer incentives, like free shipping or discounts on multiple items. Talk to whoever is working, be nice to them and see how fun it can be to shop local. If you're dead set on a brand name, that's okay too. Any piece that you will keep for a long time or, better yet, pass down later is a good purchase.
No matter where you buy the furniture or accessories for your home, the key is look for things that speak to you. I find that rich colors and textures, good quality craftsmanship and design are all elements that make something work long term. It's not a sin to buy new pillows every spring or to pick up a cheap jute rug from Ikea, but when you focus mainly on things that make you feel good you're more likely to smile every time you walk into the space. And isn't that what a great relationship is all about?
Guest blogger, Linsi Brownson, is passionate about design and helping people define what home means to them. She and her husband combined their experience to create an online store full of unique, well-designed home furnishings. Visit her Website or Blog for additional information.