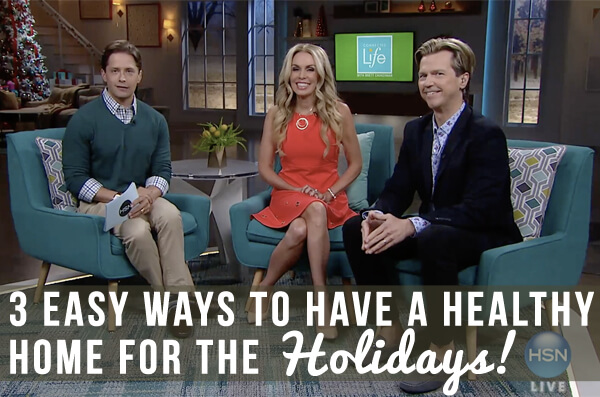 Ron and I are thrilled to be back on the Home Shopping Network (HSN) sharing a few practical tips to eliminate cancer-causing chemicals from your home. Chilly weather outside means more time inside where toxins and biological contaminants permeate our indoor air. Between dusty holiday décor, PVC from artificial trees and mold spores from real trees, take inventory now to assure you and your holiday guests breathe easier. Happy holidays from the all of us at the Healthy Home Dream Team to you & your family.
1.) Get Your Home Healthy & Holiday Ready…Now!
Getting ready for holiday guests? Make sure their bed is dust-mite-, germ-, fungi- and bacteria-free with our simple Wash, Dry, Cool technique!
2.) Ron & Lisa on HSN with Tips to Prevent Breast Cancer!
Ron & Lisa share 5 easy steps to breast-cancer proof your home by eliminating everyday chemicals found in our homes that are linked to breast cancer.
3.) Ron & Lisa on HSN with Tips to Create a Healthy Home for the Holidays
We're back on the Home Shopping Network with Connected Life to share our proven techniques to help you create a healthy home for the holidays! Say bye-bye to dusty décor & toxic candles this season!