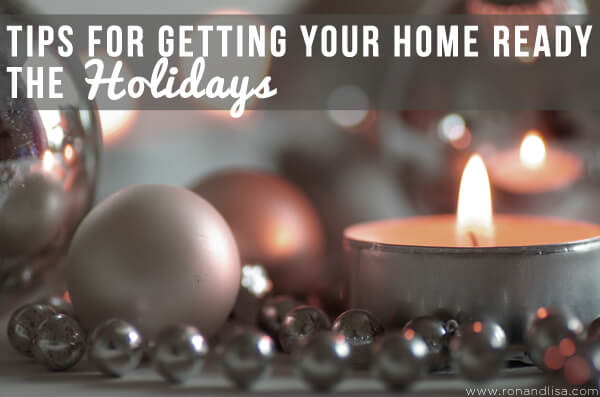 As we get further into fall, decorations emerge, the weather shifts, and our house sees more visitors than it has all year. Make sure you're ready for holiday guests by prepping your home for both looks and function.
Kitchen
Before you do anything else, go through your fridge and throw out expired items and unwanted foods. You'll need space to store all of your holiday fare, and with a pre-organized fridge, finding what you need on the day will be much easier. Head into your pantry or cabinets and take inventory of all the baking necessities and spices you already have. If you're feeling ambitious, decant these into clear containers. It will make it easier to find the items you need, and the uniform look will help your pantry appear cleaner and shorten the search for that one spice you haven't used since the last holiday event. Stock your freezer with some delicious frozen hors d'oeuvres in case you have more guests than expected, or whip them out in a jiffy if any other plate doesn't turn out the way you wanted it to.
Living Room
Be sure you make your living spaces as cozy as possible for guests and inspire them to stick around a little longer. Drape soft throws over couches to encourage them to snuggle up, and if you've got hardwood floors, lay down a cushy rug to keep any bare feet warm. Breathe some life into your space and order a delivery of seasonal flowers that make for easy and effortless décor. Hang heavier curtains to warm up the space and match the season. It will also help you cut down on heating costs as the temperatures dip even lower. Put out some travel books or interesting photography books on your coffee table; guests can flip through them and inspire conversation as the evening goes on. Add candles around your living room—always in spaces that you'll remember to blow them out at the end of the night.
Front Closet
Clear out a nearby hall closet if you have one a week before your guests arrive. Move out coats that you won't be wearing this season and vacuum seal them down to a fraction of the size. Put any loose items in labeled boxes and stack them out of the way. Hang some empty but sturdy hangers in the closet prepared to hold the jackets and coats of visitors. To maximize your space, you can elect to hang an inexpensive organizer on the back of the door with ready-made pockets to hold smaller items guests don't want to keep track of during the festivities. You can even designate bins or baskets for gloves, scarves, etc. to make it easier for guests to find their items at the end of the night.
Bathroom
Don't neglect your bathroom, because it's likely each guest will use it at least once during the festivities. First thing: make sure you have enough toilet paper and that you store it in the bathroom. You can disguise the rolls in a large basket or clear some space in cabinets to ensure no guest is left in the dark when nature calls. Check out your shower as well, and clear any old products or empty bottles that are taking up space and causing more clutter.
Guest Bedrooms
If you'll be having overnight guests during the holidays, give your guest bedrooms a sprucing. Pull out thicker comforters, fold bath towels and place at the end of the bed, and keep extra bathroom essentials like toothbrushes and shampoo stocked up.
Backyard
If you plan on having any guests spill out onto a back patio, make sure they'll be able to keep warm. Rent a heating lamp for the occasion, or invest in a fire pit that your family will get use out of for years to come. Hayneedle has some great options that are relatively inexpensive. This is especially essential for those who think they may run out of indoor space. If you can't cut down the guest list, then make sure your guests are still comfortable while braving the outdoors.
Safety Preparation
With the holidays comes an increase in inclement weather for many across the United States. Make sure you take the appropriate measures to ensure the safety of any guests you welcome into your home this fall and winter. If you live somewhere where the winter brings a lot of snow and ice on a consistent basis, invest in something like Traction Magic that can provide instant traction on slippery surfaces. Shovel walkways clear of snow on the day you're expecting visitors, and throw salt or sand onto the ground to make sure no one slips on icy pavement.
Start a few months early and get your home ready for the holidays; both your family and your guests will thank you.
Save