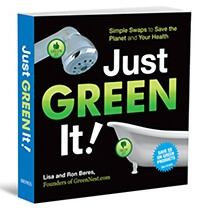 WIN
a Signed Copy of Just GREEN It!,
Simple Swaps to Save the Planet &
Your Health in the…
Ultimate Shopping
Guide Giveaway
ENTER TO WIN!
Valued at $17.95
To green or not to green?  That was the question. However, in today's day and age, regardless of the unstable economy, making "green" choices and living a healthier lifestyle is becoming less of a luxury and more of a norm. Researchers have even predicted a shift in future trends that "non-green" will not survive.
The average consumer must go far beyond reading a label. We now require an education that includes green definitions and product comparisons. In nearly every purchasing decision you may ask yourself if the short-term savings are really worth the long term price tag on our health and planet.
The array of so-called "Green" products on the market is dizzying and often misleading. Consumers need one reference book that clearly lays out what is the better choice-between brands, benefits, and costs. Just GREEN It! by Ron and Lisa Beres, explains in an easy visual format exactly which products-from household appliances and cleaning tools to food, cosmetics, and clothing-are the best for the planet and also healthy for you, your kids, your home, and your budget.
Authors Ron and Lisa Beres debunk the "greenwashing" that is so prevalent in today's marketing and teach readers how to know the difference between such confusing and often deceiving terms as "natural," "or­ganic," "chemical-free," and "non-toxic," among others.
Just Green It! by husband/wife team Ron and Lisa Beres, BBEC's, CGBP's, healthy home experts, and professional speakers; is the ultimate consumer guidebook for navigating the green marketplace; understanding the many green-washing tactics used by companies and organizations claiming to be "green"; and choosing environmentally and human friendly products—everything from light bulbs and mattresses to baby food and nonstick cookware—to live healthier, "greener" lives.
WIN (1) of 2 signed copy's of Just GREEN It! Simple Swaps to Save the Planet and Your Health.  With Just Green It! you'll have a guidebook for navigating the over-saturated Green marketplace. It's truly a must have for today's consumer to decipher fact from fiction, live a healthier lifestyle, and exercise not just your voice, but your purchasing power as well. (ARV $35.90)
How to Enter:
For every action below that you complete, you receive a specific number of entries. Click each individual action to enter yourself. For actions you have done in the past (i.e. you already follow  @RonandLisa on Twitter) just click directly on 'I did this'. The eligibility of the winner will be verified by The Healthy Home Dream Team(TM).
There is no mandatory entry. Each action will earn different numbers of entries into the contest. You may tweet or share on your Facebook wall for an entry once per day. All other actions will only be counted once. You must be 18 or older with a US or Canadian address to win. Contest ends 2/24/12 at 12:01am ET. Click here for complete terms and conditions.

a Rafflecopter giveaway