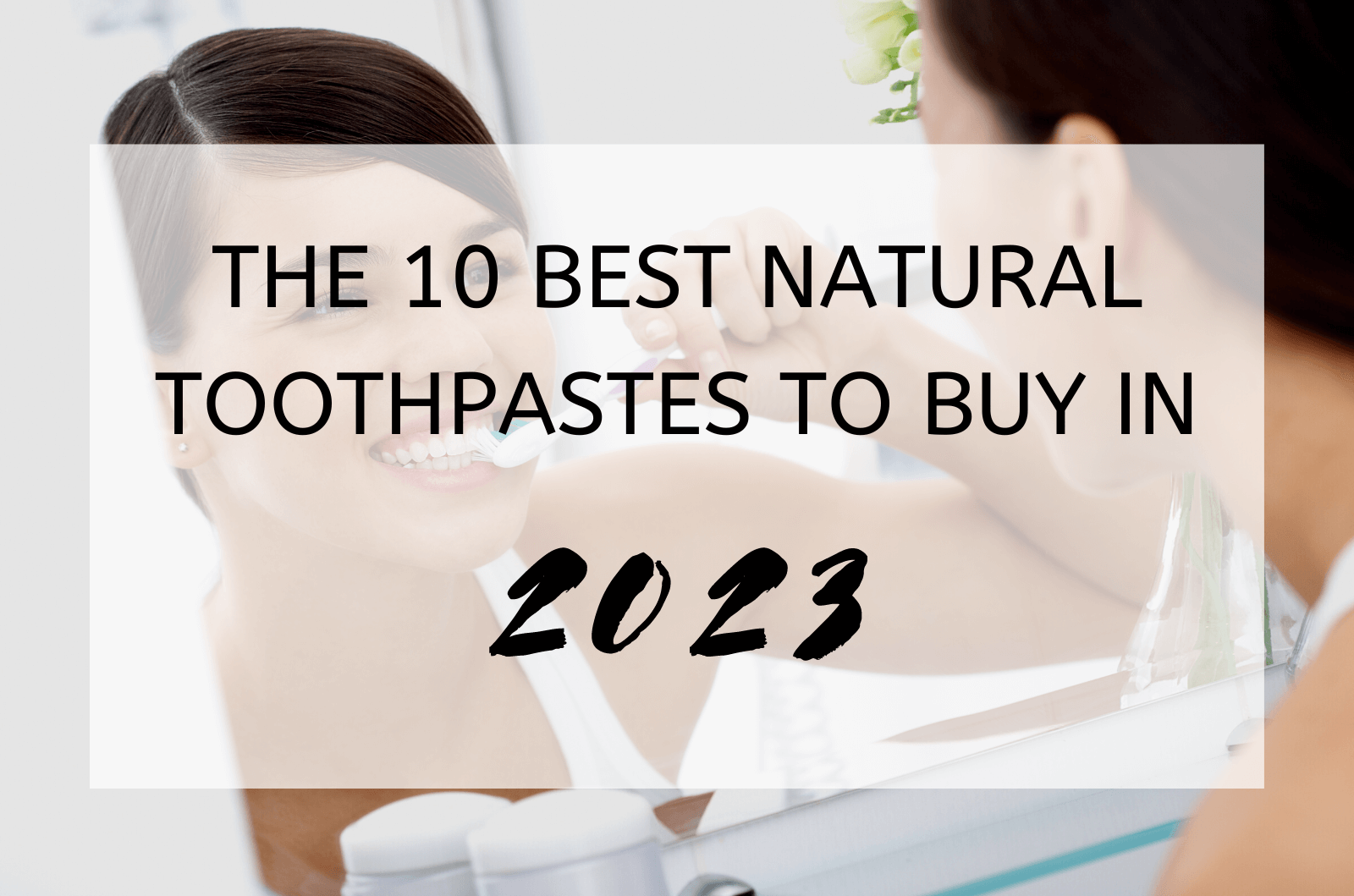 Dental care is an intrinsic part of our daily hygiene routine. When it comes to taking care of one's teeth, however, the choice of toothpaste can make a huge difference.
Synthetically-derived toothpaste ingredients offer the "promise" of faster results and more effective performance, but that is just one side of the oral hygiene story. Toothpaste products that contain fluoride and other synthetic ingredients can end up doing more harm than good in the long run.
We recommend choosing natural toothpaste that contains naturally derived, plant-based ingredients. Here's a peek into what you need to know regarding natural toothpaste along with a few of our picks for the best natural toothpastes to buy in 2023.
What is a Natural Toothpaste?
Natural toothpaste is free from harmful ingredients that are often found in conventional toothpaste products. These ingredients include synthetic dyes, artificial sweeteners and colors, SLS/sodium lauryl sulfate, glycols, petroleum-dervied ingredients, gluten, fluoride, triclosan and parabens.
Natural toothpaste products are typically vegan and cruelty-free made using natural ingredients that are minimally processed with plant derived ingredients.
Why Use a Natural Toothpaste?
Benefits of Using a Natural Toothpaste
Natural toothpastes offer the following benefits:
No health risks
Helps refresh your breath
Alleviates gum pain
Makes teeth stronger
Safe for kids
Whitens naturally
Potential Drawbacks of Synthetically Made Toothpastes
Here are the potential drawbacks of using synthetic toothpastes:
Heightened sensitivity in the teeth
Wearing of enamel
Fluorosis (caused by excess fluoride)
Abrasion
Negative impact on the environment
Potential animal testing/cruelty
The 10 Best Natural Toothpastes to Buy in 2023

Hello is one of the most popular natural toothpaste brands offering a wide array of toothpaste flavors and made with 100% natural and some certified organic ingredients.
This toothpaste contains natural charcoal that works to polish and clean your teeth while freshening your breath at the same time. This toothpaste is vegan, cruelty-free (certified Cruelty-Free and Vegan through PETA) and free from toxic ingredients such as fluoride, triclosan, artificial sweeteners, parabens, gluten, dyes, and SLS/sulfates.
Ingredients
Charcoal powder
Fresh mint
Coconut oil


Weleda plant gel toothpaste is ideal for people suffering from sensitive teeth and gum issues. This toothpaste gel is non-abrasive, and 100% fluoride-free and free of detergents, synthetic fragrances, colors and preservatives.
This toothpaste contains a combination of mint and fresh lemon that adds to the health and freshness benefits that it has to offer. It has earned the Natrue certified cosmetics certification; made from naturally sourced ingredients.
Ingredients
Water
Hydrated silica
Chamomilla recutita
Krameria triandra


This toothpaste is great for people who seek to fight off plaque from their teeth. The toothpaste uses tree oil and neem that helps remove plaque. We highly recommend this toothpaste for deep cleansing of teeth and gum. It is made from all-natural ingredients that offer long-lasting freshness and is cruelty-free and vegan.
This toothpaste is non-GMO certified. It's free from sweeteners, parabens, harsh abrasives, glycols, fluoride, phthalates, petroleum compounds, and artificial fragrances or dyes.
Ingredients
Tea tree oil
Neem
Sea salt
Baking soda


This veang, SLS- and fluoride-free toothpaste contains a natural, triple-action formula that keeps your teeth clean and healthy. It is a mint gel toothpaste that helps remove plaque and prevents the formation of tartar.
The natural ingredients present in this toothpaste account for its fast teeth-whitening performance. It is an excellent natural alternative to standard toothpaste options. It's free of triclosan, SLS and artificial colors and flavors.
Ingredients
Tea tree oil
Vegetable glycerin
Aloe barbadensis
Hydrated silica

The Earthpaste is an all-natural cleaner for your teeth that polishes away minor stains from your teeth and reduces plaque buildup. It doesn't contain fluoride, SLS, glycerin, and other harmful ingredients. And the best part is, it contains simple, natural ingredients including bentonite clay, sea salt and essential oils. It's all-natural, vegan, and gluten-free making it an ideal choice for adults as well as kids.
Ingredients
Bentonite Clay
Sea Salt
Essential Oils


This toothpaste is a great choice for kids as it contains a natural cherry flavor derived from farm-fresh cherries. This toothpaste works well for kids of all age groups. It helps gently clean the teeth while protecting your children from developing dental issues. It is vegan free from SLS, fluoride, gluten, soy, parabens and artificial flavors & sweeteners and is cruelty-free.
Ingredients


This is another effective natural toothpaste product from Hello that helps freshen your teeth, without any side effects. It contains farm-grown mint and hemp seed oil that speeds up the teeth-whitening process. This toothpaste is completely vegan and free from SLS, peroxide, fluoride, dyes, parabens, gluten and BPA. It can be used by kids as well. It's Leaping Bunny Certified and PETA recognized.
Ingredients
Hemp seed oil
Coconut oil
Tea tree oil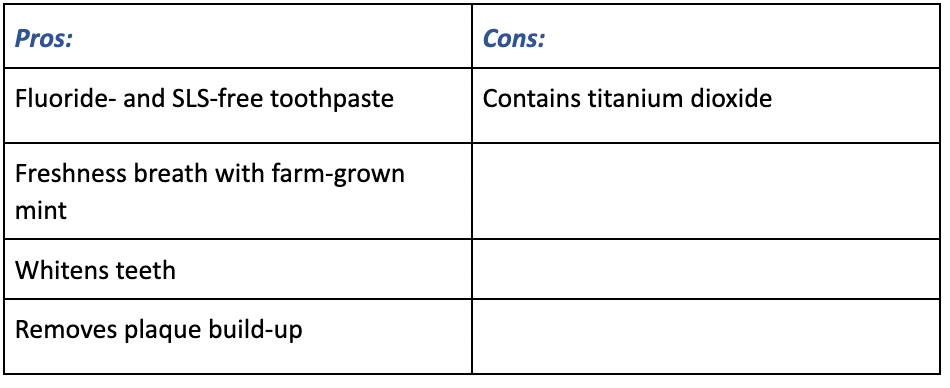 This natural toothpaste has a salty taste that promotes peppermint freshness. This fluoride-free toothpaste is 100% safe to use and is an excellent alternative to conventional toothpaste products. The sea salt-rich composition of this toothpaste makes it a great choice for round-the-year usage. It's free from surfactants, synthetic preservatives, flavors, colorants, or raw materials derived from mineral oils.
Ingredients
Jojoba seed oil
Peppermint oil


This fluoride-, triclosan-, paraben-, gluten- and SLS-free vegan toothpaste offers you the dental care support that you need for yourself and your family. This toothpaste prevents the development of plaque, and tartar, and helps whiten your teeth. It is a herbal mint gel that is easy to use, and it doesn't feel abrasive to your skin. The teeth whitening blend of this toothpaste is highly effective, delivering long-lasting results.
Ingredients
Licorice root extract
Peppermind leaf oil
Aloe leaf extract
Tea tree leaf oil
Iceland Moss
Hydrated Silica


This toothpaste by Hello is specifically designed to deal with plaque buildup issues. This fluoride-free toothpaste freshens your breath and eliminates plaque buildup. It's also peroxide-free, gluten-free, SLS-free, and contains no artificial sweeteners oro artificial flavors and is free from dyes, parabens, microbeads, triclosan, and gluten. It's Leaping Bunny Certified and PETA recognized.
You'd need to use this toothpaste consistently for the best results. It contains farm-grown peppermint and coconut oil that moisturize your teeth, making them stronger and healthier.
Ingredients
Vegetable glycerin
Sorbitol
Hydrated silica
Farm-grown peppermint
Tea tree oil
Purified water
Xylitol

Natural toothpaste enables one to maintain exceptional oral health in a natural way; making it good for the environment as well. Natural toothpaste brands are sustainable since they are made from natural ingredients. Be sure to refer back to our complete guide when shopping for the best natural toothpaste to buy in 2023.
FAQs
Does Natural Toothpaste work better?
Natural toothpaste can work just as effectively as conventional toothpaste.
What makes toothpaste natural?
Natural toothpaste is one that doesn't contain any harmful or artificially made ingredients.
Should I switch to natural toothpaste?
Switching to natural toothpaste is highly recommended for people who want to take care of their dental health by using natural oral care alternatives.
Is Natural Toothpaste Safe?
Natural toothpaste are a safe alternative to fluoride-based toothpaste products.