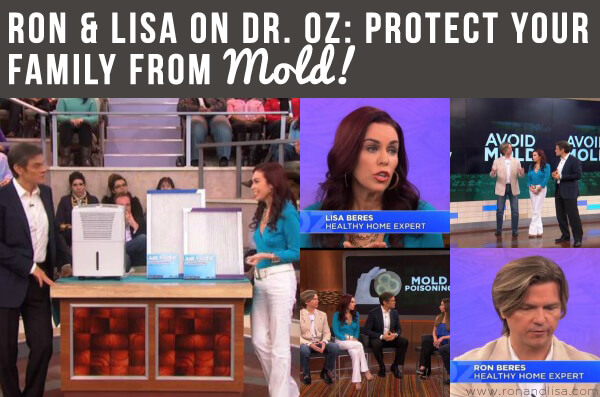 Mold Poisoning: Could It Be The Reason for Your Unexplained Illness? We hope you tuned in on Monday to catch the live show on Dr. Oz as we discussed how mold can affect your health and offered safety tips to protect your family from mold poisoning! We worked with one family who found out that the cause of their horrible illnesses was toxic mold located within their own home.
In case you missed it, you can watch the entire episode online HERE –or- click below to watch our individual clips and learn how to protect yourself and your loved ones:
1.) WHY WATER SOURCES MAY CAUSE MOLD: Healthy home experts, Ron and Lisa Beres, share the results from the mold tests completed in the Feeney family's home.

2.) HOW TO AVOID MOLD GROWING IN YOUR HOME: Ron and Lisa Beres explain how to properly clean if you have visible signs of mold in your home. Plus, learn how to practice mold prevention.

As Seen On the Show!
1.) HVAC Filters:
2.) NYC Area Mold Testing:
3.) Californa Mold Testing:
4.) DIY Mold Test Kits:
5.) Mold Remediation:
6.) Environmental M.D.'s:
If you are seeking a doctor who specializes in mold testing, allergies and chemical sensitivities, visit the American Academy of Environmental Medicine to locate a physician in your area.
Work With Us!
1.) Consultation: Order a Healthy Home Phone Consultation or a Comprehensive Healthy Home Assessment, Testing & Phone Consultation.
2.) Take the 30-day healthy home challenge! Join our community, Change Your Home. Change Your Health in 30 Days and learn simple steps to eliminate hidden toxins and chemicals from your life, improve your health and live the life you deserve!