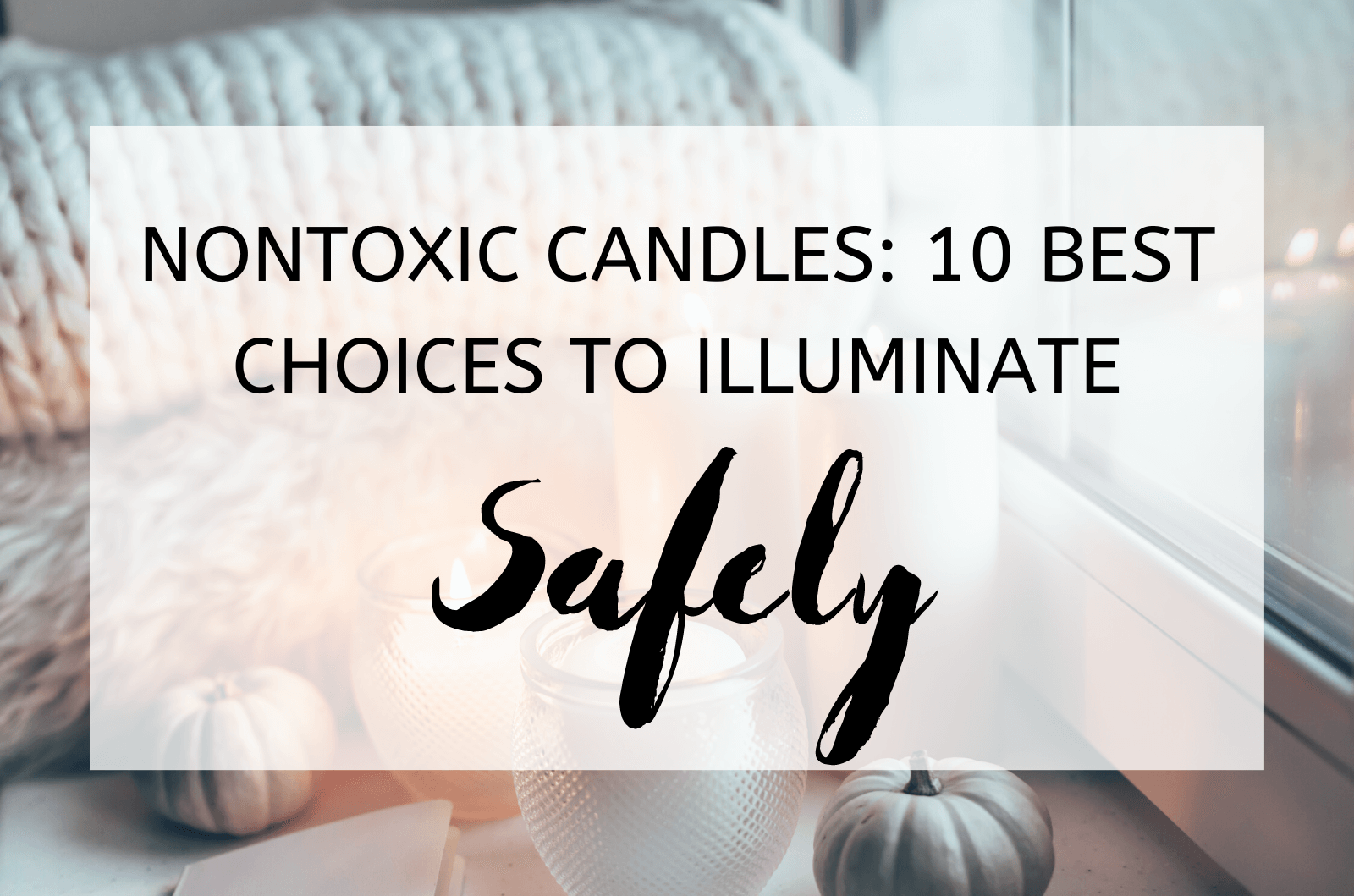 Nontoxic candles offer a safer and more eco-friendly alternative to traditional candles. This guide provides an in-depth look at the top 10 nontoxic candles available in the market, examining their pros, cons, and what customers say. It also delves into the components that make a candle nontoxic and the environmental impact of switching to these candles.
10 Best Nontoxic Candles
Discover the top picks for a cleaner, safer way to fill your home with inviting aromas.
Which Candle is Right for You?
Here are the options for finding the perfect nontoxic candle tailored to your needs and preferences.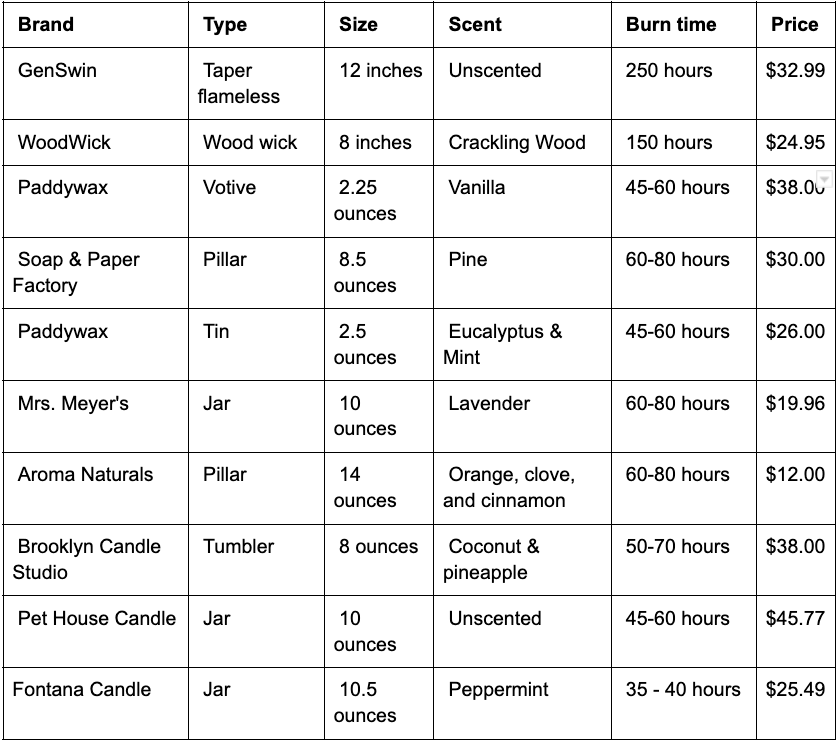 10 Best Choices For Nontoxic Candles
Looking for a safe and non-toxic way to add a touch of ambiance to your home? The following are some:

GenSwin Taper Flameless Candles offer a safe and elegant alternative to traditional candles. They feature a realistic flame effect and are battery-operated, making them ideal for homes with children or pets.
What People Are Saying
Love the realistic flame!
A bit pricey but worth it.
Wish they had more scents.

The Crackling Wood Wick Candle offers a unique sensory experience with its wood wick that crackles as it burns. The candle is made from natural soy wax and comes in various scents.

What People Are Saying?
The crackling sound is so soothing.
Needs frequent wick trimming.
A bit expensive but a great experience.

Paddywax Candles are known for their artisanal quality and unique fragrances. They are hand-poured and come in various stylish containers, making them great for gifting.

What People Are Saying
Perfect for gifts!
A bit on the pricier side.
Some scents can be overwhelming.

Mrs. Meyer's Soy Aromatherapy Candles are made from renewable ingredients like soy and vegetable wax. They are designed for cleaner burning and come in various natural scents.
What People Are Saying
Love the natural ingredients.
Burns out quicker than expected.
Affordable and smells excellent.

Aroma Naturals' scented pillar candle combine orange, clove, and cinnamon essential oils for a unique aromatic experience. Made from natural ingredients, this candle aims to provide therapeutic benefits alongside ambient lighting.

What People Are Saying
The essential oils are so calming.
A bit expensive but worth it.
Wish it came in different sizes.

Brooklyn Candle Studio's Maui Escapist Candle aims to transport you to the beaches of Maui with its tropical scent profile. Hand-poured in Brooklyn, these candles use 100% soy wax for a cleaner burn.

What People Are Saying
Feels like a mini-vacation!
A bit on the expensive side.
The scent could last longer.

The Pet House Candle is designed specifically for homes with pets. Made from 100% plant-based wax, it aims to neutralize pet odors while providing a pleasant scent.

What People Are Saying
Finally, a candle that tackles pet odors!
Wish there were more scent options.
A bit pricey but effective.

The Fontana Candle Co's Peppermint Twist offers a subtle aroma that delights the senses. Crafted from a unique blend of beeswax and coconut oil, this 9 oz candle incorporates essential oils and a wood wick. The result is a long-lasting and clean burn, free from toxins, making it an excellent choice for any room in your home.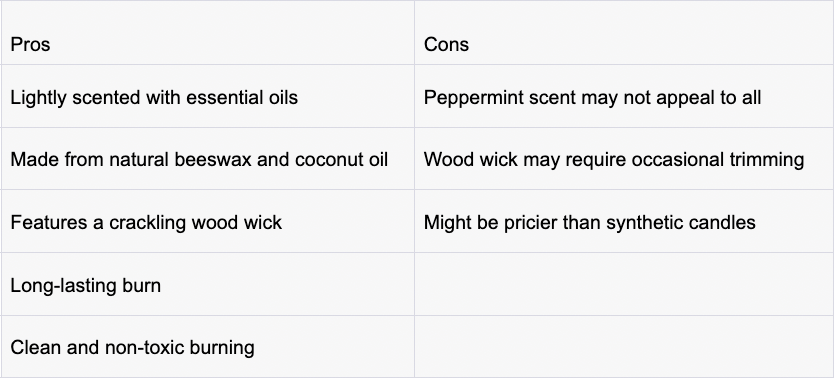 What People Are Saying
A refreshing peppermint twist that's not overwhelming!
Worth every penny for its clean burn.
I love the wood wick crackle but remember to trim it now and then.

The Soap & Paper Factory Roland Pine Candle offers a refreshing pine scent that evokes the feeling of a walk through a forest. This candle is made with soy wax and essential oils for a clean and long-lasting burn.

What People Are Saying
The pine scent is so authentic!
A bit on the expensive side.
Wish it was more widely available.

The Paddywax Lolli Artisan Candle is a hand-poured, scented candle with various unique fragrances. Its stylish design and packaging make it an excellent gift or chic addition to any home decor.

What People Are Saying
The design is so chic!
It could be a bit more affordable.
Wish the scent was more robust.
What Makes a Candle Nontoxic?
When it comes to candles, not all are created equal. Nontoxic candles are typically made from natural waxes like soy or beeswax rather than paraffin, a petroleum byproduct. Additionally, they often feature cotton or wooden wicks and use natural essential oils for fragrance instead of synthetic scents.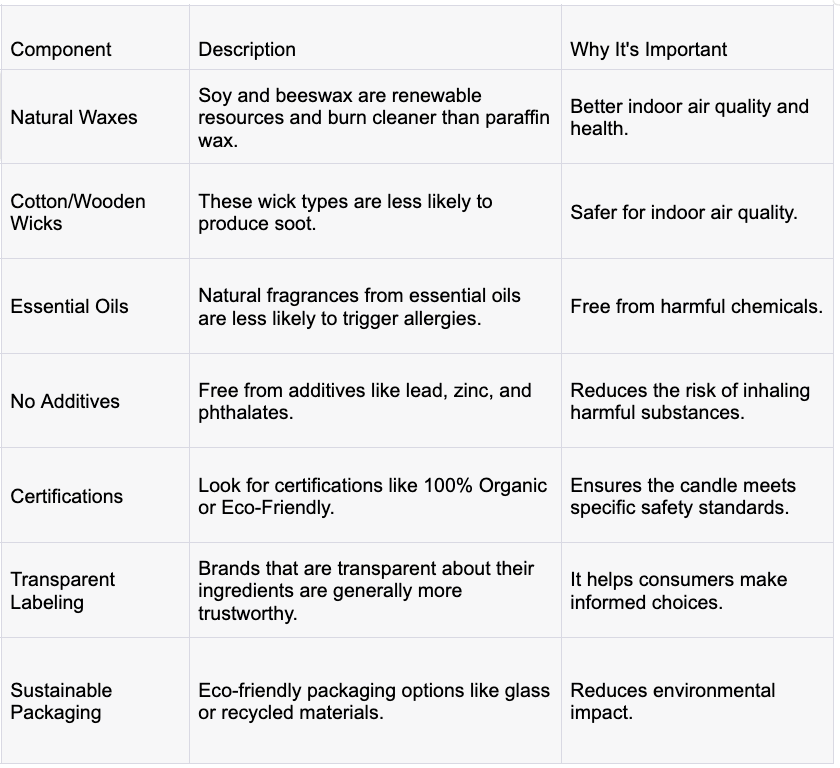 The Environmental Impact of Nontoxic Candles
Switching to nontoxic candles isn't just good for your health; it's also a step in the right direction for the planet. Natural waxes like soy and beeswax are biodegradable and sourced from renewable resources. Moreover, many companies that produce nontoxic candles are committed to sustainable practices, including eco-friendly packaging.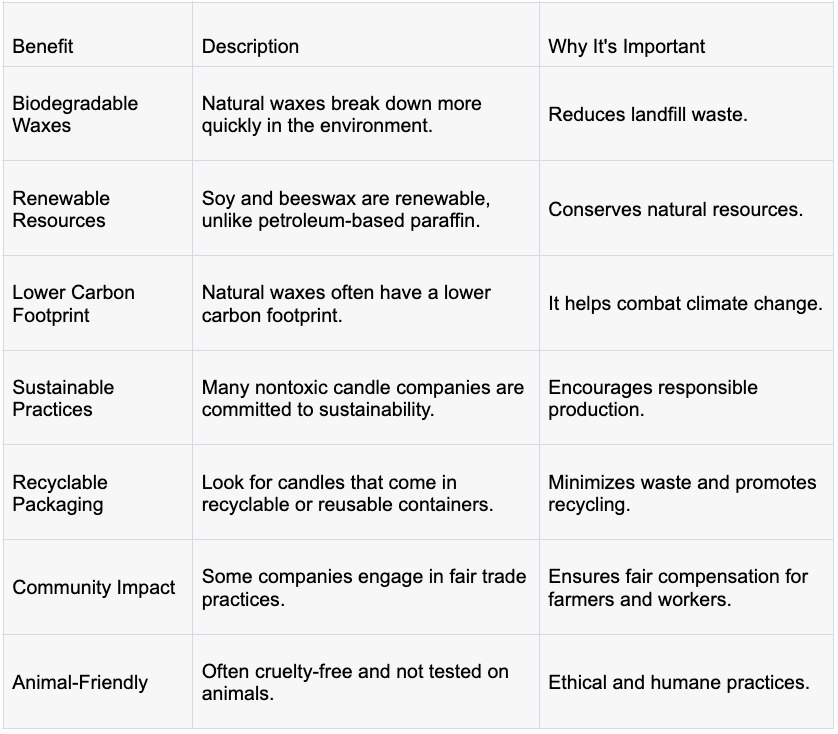 The importance of choosing nontoxic candles extends beyond mere aesthetics. It's a commitment to health and environmental sustainability. The candles featured in this guide are crafted to elevate the sensory experience and designed with the well-being of both the individual and the planet in mind. Opting for these nontoxic alternatives is a step towards a more conscious and harmonious lifestyle.
Frequently Asked Questions (FAQs)
What are the most common types of natural waxes used in nontoxic candles?
The most common natural waxes in nontoxic candles are soy wax and beeswax. Some candles also use coconut wax or a blend of natural waxes.
Are essential oils always safe to use in candles?
While essential oils are generally considered safer than synthetic fragrances, some people may have allergies or sensitivities to certain oils. Always check the ingredients and do a patch test if you're concerned.
How can I verify if a candle is truly nontoxic?
Look for certifications like 100% Organic or Eco-Friendly on the packaging.
Additionally, brands that are transparent about their ingredients and sourcing practices are generally more trustworthy.
Do nontoxic candles last longer than regular candles?
The longevity of a candle depends on various factors, like the quality of the wax and wick, rather than its toxicity. However, natural waxes like soy and beeswax burn slower than paraffin, making the candle last longer.
Are nontoxic candles more expensive?
Nontoxic candles can be more expensive due to the cost of natural, high-quality ingredients and sustainable manufacturing practices. However, many find the health and environmental benefits worth the extra cost.