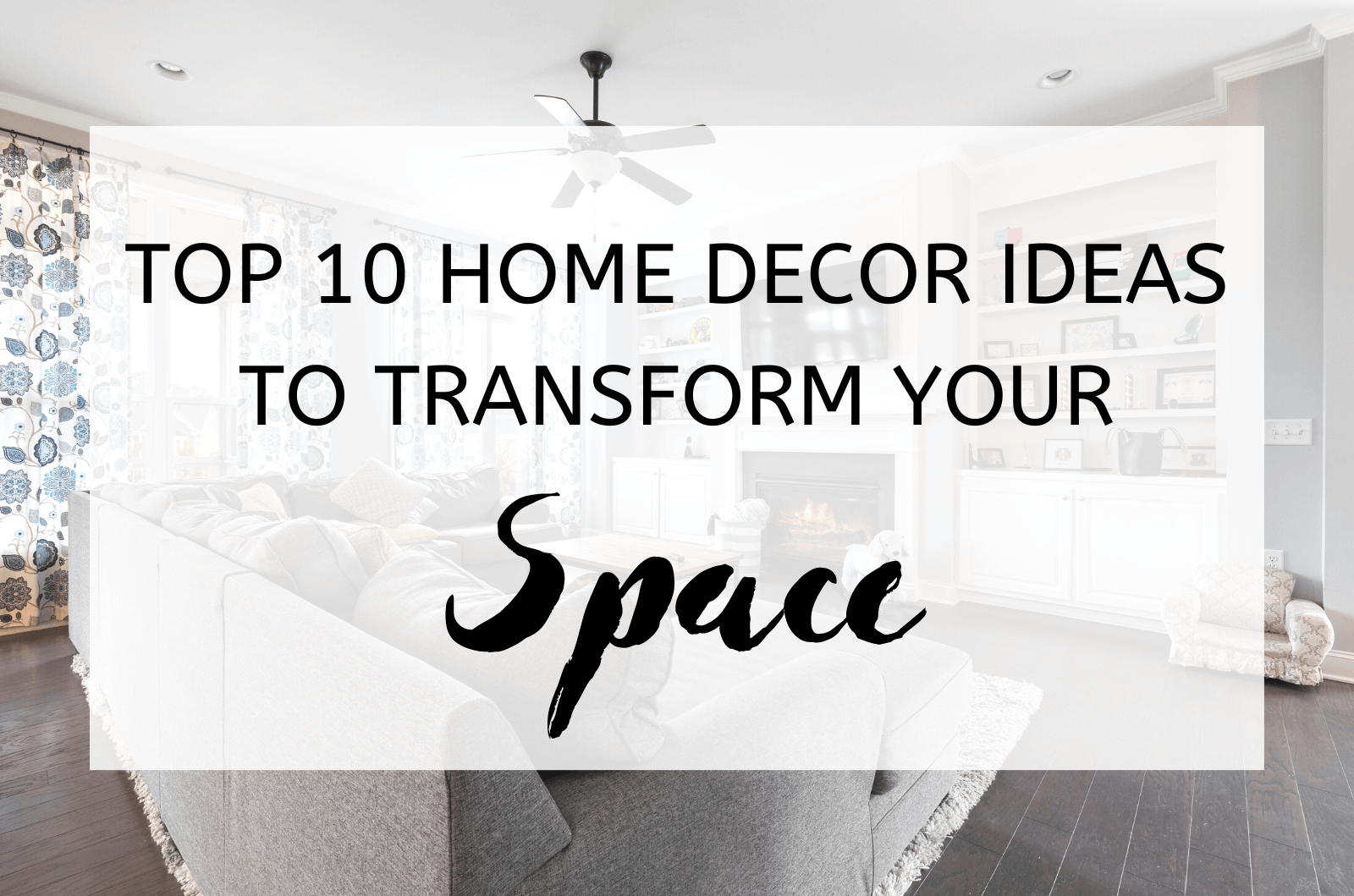 It is commonly recognized that one's attitude, productivity, and overall well-being can be significantly impacted by your home environment. A tastefully decorated home is not only visually pleasing but also elevates the spirit. After a long day, there is a special joy in returning to a beautiful space to relax and unwind.
Various home décor ideas exist to match your personal design preferences, whether you prefer detailed patterns, or are maximalist or minimalist in your aesthetic choices. Your living area can be completely transformed into a haven of comfort and style thanks to our top 10 home décor ideas; many of which we have in our home.
Top 10 Home Decor Items
Comparison Table Top 10 Home Decor Ideas to Transform Your Space
Here is a comparison table breaking down some of our favorite home decor products.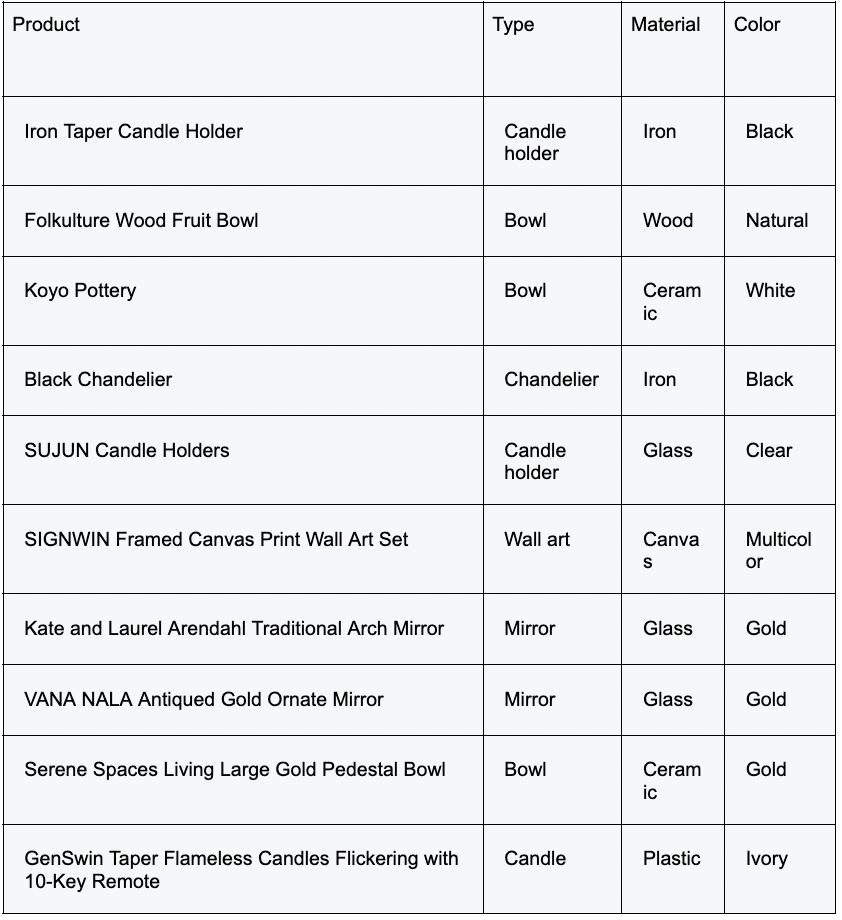 Top 10 Home Decor
Here are 10 home decor ideas that will help you transform your space into a stylish and inviting oasis.
The Iron Taper Candle Holder is a timeless piece of artistry, meticulously crafted from high-quality iron. Its sleek design and elegant finish make it a perfect centerpiece for any setting, be it a romantic dinner or a formal gathering. The holder's sturdy construction ensures stability, while its minimalist design complements both contemporary and traditional décor.

What Customers Are Saying
The perfect blend of modern and classic.
Its weight gives it a premium feel.
Needs a bit of polishing now and then, but totally worth it.
The Folkulture Wood Fruit Bowl is not just a bowl, but a statement piece. Made from premium wood, this bowl boasts a unique pedestal design that elevates its aesthetic appeal. Whether used to hold fruits or as a decorative piece, it adds a touch of rustic elegance to any table setting.

What Customers Are Saying
A conversation starter at every dinner party.
The wood grains are simply beautiful.
Wish it came in a smaller size too.
Koyo Pottery represents the epitome of exquisite craftsmanship. Each piece is handcrafted with precision, reflecting the rich heritage of pottery art. The intricate designs and earthy tones make it a versatile addition to any home or office space. Whether used for serving or as a decorative item, Koyo Pottery exudes elegance and sophistication.

What Customers Are Saying
A true work of art. Each design tells a story.
It's delicate, so handle it with care.
A bit on the expensive side, but worth every penny.
Illuminate your space with the Black Chandelier, a 6-light rustic industrial masterpiece. Made from robust iron, this chandelier combines the rawness of industrial design with the elegance of classic chandeliers. Its black finish ensures it stands out, making it the focal point of any room.

What Customers Are Saying
Transformed my living room into a vintage haven.
Installation was a bit tricky, but the end result is stunning.
Wish it came with the bulbs.
The SUJUN Candle Holders Set is a trio of elegance. Crafted for taper candles, each holder in the set is designed to exude a different level of charm. Their sleek design ensures they fit seamlessly into any décor, while their sturdy base guarantees stability.
What Customers Are Saying
The varying heights add a dynamic touch to my dining table.
Simple yet so elegant.
I just wish it came with the candles.
The SIGNWIN Framed Canvas Print Wall Art Set is a harmonious blend of artistry and elegance. Each canvas in the set captures a unique essence, making it a captivating addition to any wall. Encased in a premium frame, these prints not only enhance the beauty of the artwork but also provide durability. Perfect for both modern and traditional spaces, this set is a testament to timeless design.
What Customers Are Saying
The clarity of the prints is astounding.
Elevated the aesthetics of my living room.
Wish they offered individual pieces as well.
The Kate and Laurel Arendahl Traditional Arch Mirror is a reflection of classic beauty. With its arch design and intricate detailing, this mirror is more than just a reflective surface; it's a statement piece. Whether placed in an entryway or a bedroom, it adds depth and elegance, making any space feel grander.

What Customers Are Saying
Feels like a portal to a vintage era.
The detailing is simply mesmerizing.
A bit heavy, but the beauty compensates.
The VANA NALA Antiqued Gold Ornate Mirror is where vintage meets luxury. Its gold finish, combined with ornate detailing, makes it a centerpiece in any room. Designed to exude opulence, this mirror not only offers a clear reflection but also adds a touch of antiqued charm to your décor.

What Customers Are Saying
Feels like a piece straight out of a palace.
The gold finish is just the right shade – not too shiny, not too dull.
It's an investment, but one I don't regret.
The Serene Spaces Living Large Gold Pedestal Bowl is an embodiment of elegance. Crafted with precision, its gold finish and pedestal design make it a standout piece. Whether used for decorative purposes or to serve, this bowl is sure to impress.

What Customers Are Saying
A centerpiece that always grabs attention.
Perfect for special occasions.
Requires a bit of care, but it's worth it.
Experience the ambiance of real candles without the worry with the GenSwin Taper Flameless Candles. These candles offer a realistic flicker, ensuring a warm and cozy atmosphere. The included 10-key remote provides convenience, allowing you to set the mood from a distance.

What Customers Are Saying
The remote is a game-changer.
Feels just like a real candle, minus the mess.
Wish the batteries were included.
Why Do You Need Home Decor?
The answer is simple yet profound: Your home is more than just four walls and a roof; it's a sanctuary, a reflection of your personality, and a canvas for your creativity. Like a favorite shirt can boost your confidence, a well-decorated home can enhance your well-being, showcase your taste, and make your space feel like a home sweet home.
Comfort Zone: Elevating your living space with comfy furniture and aesthetically pleasing elements can turn your home into a relaxing haven where you can unwind.
Self-Expression: The decor you choose mirrors your style, allowing you to express yourself without saying a word.
Aesthetic Appeal: Artistic touches like paintings or sculptures can bring beauty into your space, turning the mundane into the extraordinary.
Functionality Meets Style: Organizational pieces like shelves or storage boxes can serve a practical purpose and add visual interest.
Social Impression: A well-decorated home can be a talking point among guests, making social gatherings more enjoyable and memorable.
Psychological Benefits: Believe it or not, your chosen colors and layouts can impact your mood and mental health. Bright, open spaces can uplift your spirits, while darker tones provide a cozy, intimate atmosphere.
Increased Property Value: If you're considering selling, a well-thought-out decor can make your property more attractive to potential buyers, potentially boosting its market value.
Home Decor Tips
The importance of home decor extends beyond mere aesthetics; it plays a crucial role in enhancing a space's overall ambiance, functionality, and livability. A well-thought-out decor plan not only adds visual appeal but also caters to the emotional well-being of the inhabitants. Considering the multitude of options and styles available, it can be daunting to make choices that align with one's taste and lifestyle. Therefore, it is imperative to equip oneself with practical home decor tips that can serve as a guiding framework for creating stylish and functional spaces.
Key Factors to Consider When Investing in Home Decor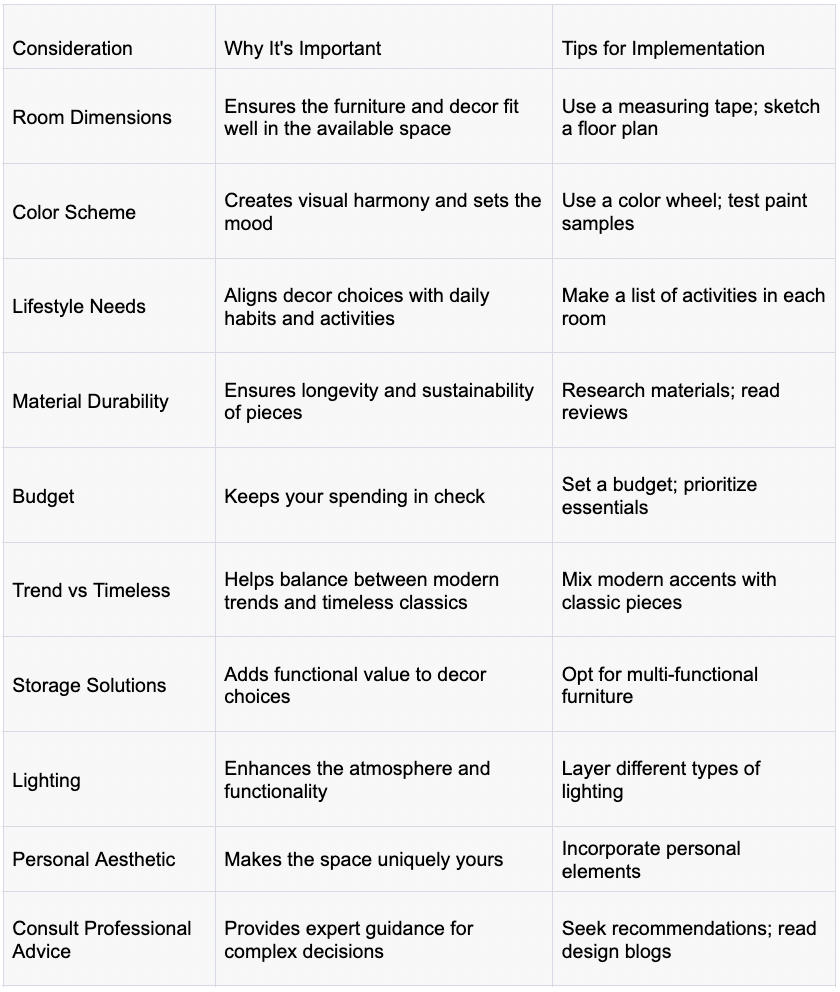 Transforming a living space into a stylish and functional haven is an achievable goal with the right decor items. The top 10 home decor pieces listed in this guide offer a range of options to suit various needs and preferences. Whether it's the calming effect of a tabletop water fountain or the educational value of 3D wall art, each item brings its unique benefits and considerations. Customer reviews further enrich the understanding of these products, providing real-world insights into their performance and appeal. Investing in quality home decor is an aesthetic choice and a step towards creating a more comfortable and enriching living environment.
Frequently Asked Questions
What are the best home decor items to create a calming atmosphere?
Soothing colors and neutrals are an excellent choice for creating a calming atmosphere. Choosing large decor pieces creates visual interest whereas too many smaller items can add clutter and create an uneasy feeling.
Is the VANA NALA Antiqued Gold Ornate Mirror worth the high price?
The VANA NALA Antiqued Gold Ornate Mirror offers a unique aesthetic and can add opulence while visually expanding the space; it's great for smaller areas. While it's an investment, the high-quality craftsmanship often justifies the price.
Can iron and metal taper candle holders be used with different types of candles?
The tapered candle holders are versatile enough to hold varying heights of tapered candles (real or battery-operated) with different burn times.
Do the decorative bowls require special care to prevent rusting?
While the decorative bowls are generally durable, they require routine dusting. Others can be washed.
Is professional installation required for the artwork and mirrors?
No, these can be easily hung with the proper hardware to support the weight of the item.
Is the black chandelier durable?
The black chandelier is made of iron and is very durable. It's a great price point but does require professional installation.