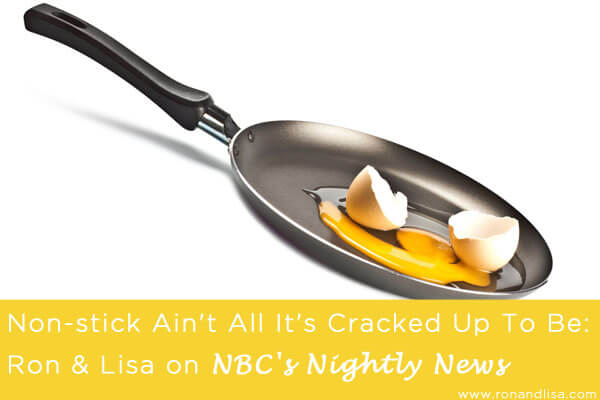 PFCs — Perflourinated Compounds are a manmade family of fluorine-containing chemicals with unique properties to make materials stain and stick resistant.  PFC's (including PFOA & PFOS) are widely used in manufactured products such as non-stick cookware, waterproof clothing, fast-food packaging, and even personal care items including shaving crème, pressed powder, lotions and dental floss.  PFC's are ubiquitous and have been found in food, air, and drinking water.  Most Americans have these chemical compounds in their bodies.
Are you still stuck on non-stick cookware?  If so, you may be surprised to learn most nonstick pans begin to break down and release toxic gases and particulates into the air at a temperature of only 446° F and can cause flu-like symptoms known as "polymer fume fever." These toxic fumes can kill pet birds.  PFOA, the chemical used in the manufacturing of non-stick cookware, is actually a breakdown product of PFCs. A highly persistent environmental toxin, it accumulates in the human body over many years, and has been detected in close to 98% of the population tested. PFOA is classified as a likely carcinogen and has been shown to cause cancer in animal studies.
As if PFC's in our products, environments and bodies were not bad enough, a new study (to appear in the January 25, 2012 issue of the Journal of the American Medical Association) finds that perfluorinated compounds were associated with lowered immune response to vaccinations in children. It is the first study to document how PFCs, which can be transferred to children prenatally (via the mother) and postnatally from exposure in the environment, can adversely affect vaccine response.
"We were surprised by the steep negative associations, which suggest that PFCs may be more toxic to the immune system than current dioxin exposures," said study lead author Philippe Grandjean, adjunct professor of environmental health at Harvard School of Public Health.
We visited the Schooley family and shared tips on eliminating PFC's throughout their home environment on NBC's Nightly News with Brian Williams.
Visit msnbc.com for breaking news, world news, and news about the economy
Related Articles:
3 Simple Swaps for a Healthy Labor Day
Ron & Lisa on Blythe Raw Live TV
Tips to Avoid PFC's
Cook with cast iron and food-grade stainless steel for cooking and glass or earthenware for baking.
Choose furnishings made without stain-resistant coatings; made from natural fibers that naturally repell water (ie: wool).  Also, forgo added stain treatments on carpeting.
Avoid personal care products with 'PTFE' or 'fluoro' or 'perfluoro' in the ingredients.  Is yours on the list?  Find out HERE
Choose real plates instead of coated or 'grease resistant' paper.
Visit Environmental Working Group's (EWG) Guide to PFC's HERE
For more cookware alternatives, visit Just GREEN It! or, enter our Ultimate Shopping Guide Giveaway to win your own signed copy!
Through the EPA's Stewardship Program, eight of the companies currently using PFOA had made a voluntarily agreed to reduce PFOA releases by 2010.  However, they are not required to eliminate them until 2015. Although a step in the right directly, these chemicals will, unfortunately 'stick' around for years to come since they are persistent; resistant to breaking down  in the environment.