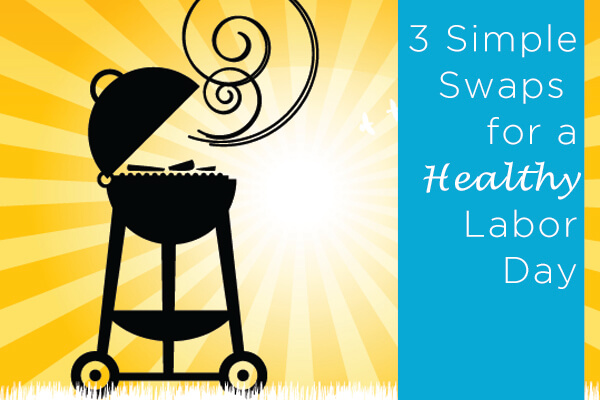 Ahh, the last three-day weekend of the summer is approaching and, if you are like most of Americans, the idea of frolicking in the sun before the crisp air of Fall rolls in, then you are not alone.  We are fortunate to live in Southern California – just a few miles from the beach.  This summer, we discovered muscles we never knew existed until several games of volleyball left our bright, red forearms in utter fatigue.  I wouldn't exactly say 'move over' to this years three-time Olympic gold medalists', Misty May-Treanor and Kerri Lee Walsh, nor 'keep a look for us in Rio de Janeiro in 2016.'  However, we do have the privilege of resting, relaxing and hitting a ball or two on the exact same beach they practice on –Manhattan Beach, California – and that is exactly where we'll be enjoying this year's Labor Day.
This brings me to the idea of enjoying all of the holiday festivities, without the post holiday guilt.  As Ron and I discovered – you can have both.  Here are a few simple swaps to assure your celebration is superb:
1.)    You CAN Have Your Crunch & Eat It Too! Let's face it, we all want to be healthy, but who doesn't get an occasional, albeit insatiable, appetite for something crunchy and salty (and by that, I don't mean carrots)?  It can be challenging in social settings to eat healthy without peer pressure from others or just plain 'ol feeling left out of the fun.  Alas, introducing a new kind of crunch. The popcorn peeps at GH Cretors use all natural/ non-genetically modified ingredients, no artificial colors or flavors and no gluten ingredients to bring you the best tasting popcorn you've ever had. Plus, they DON'T use corn syrup in their products (major kudos); rather they use brown rice syrup instead.  We (and our family members) couldn't get enough of this all natural, kosher and great tasting family of snacks.  Now, if only movie theaters would sell this as a healthy snack option!
2.)    Protein without the Polycyclic Aromatic Hydrocarbons (PAH).  Say what? Did you know the smoke formed from grilling meat using hardwood charcoal as fuel also releases polycyclic aromatic hydrocarbons (carcinogens) into the air? The major source of PAH emitted to the environment from charcoal grilling is derived from the combustion of the charcoal itself. But, the soot from a charcoal barbecue can also be a lung irritant. Additionally, the act of barbecuing meat on an open flame can create carcinogens known as heterocyclic amines (HCAs). Opt instead for Wild Planet Foods.  Their products don't require heating up the BBQ and are 100% sourced from wild capture fishing fleets and are not subject to any potential contamination from aquaculture production practices. Their line offers sustainably caught Tuna, Alaskan Salmon, Pacific Shrimp & NEW California Sardines. Plus, their albacore has six times the Omega 3 and less than half the mercury as compared to national brands!
Related Articles:
Ron & Lisa on Blythe Raw Live TV
Non-Stick Ain't All It's Cracked Up To Be! Ron & Lisa Unscramble PFC's on NBC's Nightly News
3.)    Soothe Sore Muscles Sans Synthetic Pills. Whether you are chasing little ones around, hitting a ball, riding a bike or swimming – we've all experienced those sore muscles the day after – discovering, much to our chagrin, that we are so not  Michael Phelps-esque in our ability to recover (uh, or our training regimen).  Ron and I learned about the Bed Buddy Moist heat ThermaTherapy® when Ron experienced a recent (and painful) gout attack.  It is more beneficial than dry heat because it penetrates deeply to relieve aches, pains, tension or arthritis in chronic problem areas such as back, hip flexor, shoulders and abdomen. Our favorite is the reusable and long lasting Herbal Naturals All Over Comfort Pack.  It's filled with 100% all natural ingredients including Lavender and Chamomile aromatherapy. Plus, the cover is removable and washable.  The entire line is great and includes: Hot/Cold Pack, Back Wrap, Body Wrap, Foot and Hand Warmer Gift Set, Arthritic Iso-Ball, Foot Warmers, Hand Warmers, Large Joint Wrap, Sinus Pack and a Small Joint Wrap.  Say hello to your new buddy and goodbye aches, pains…and pills!