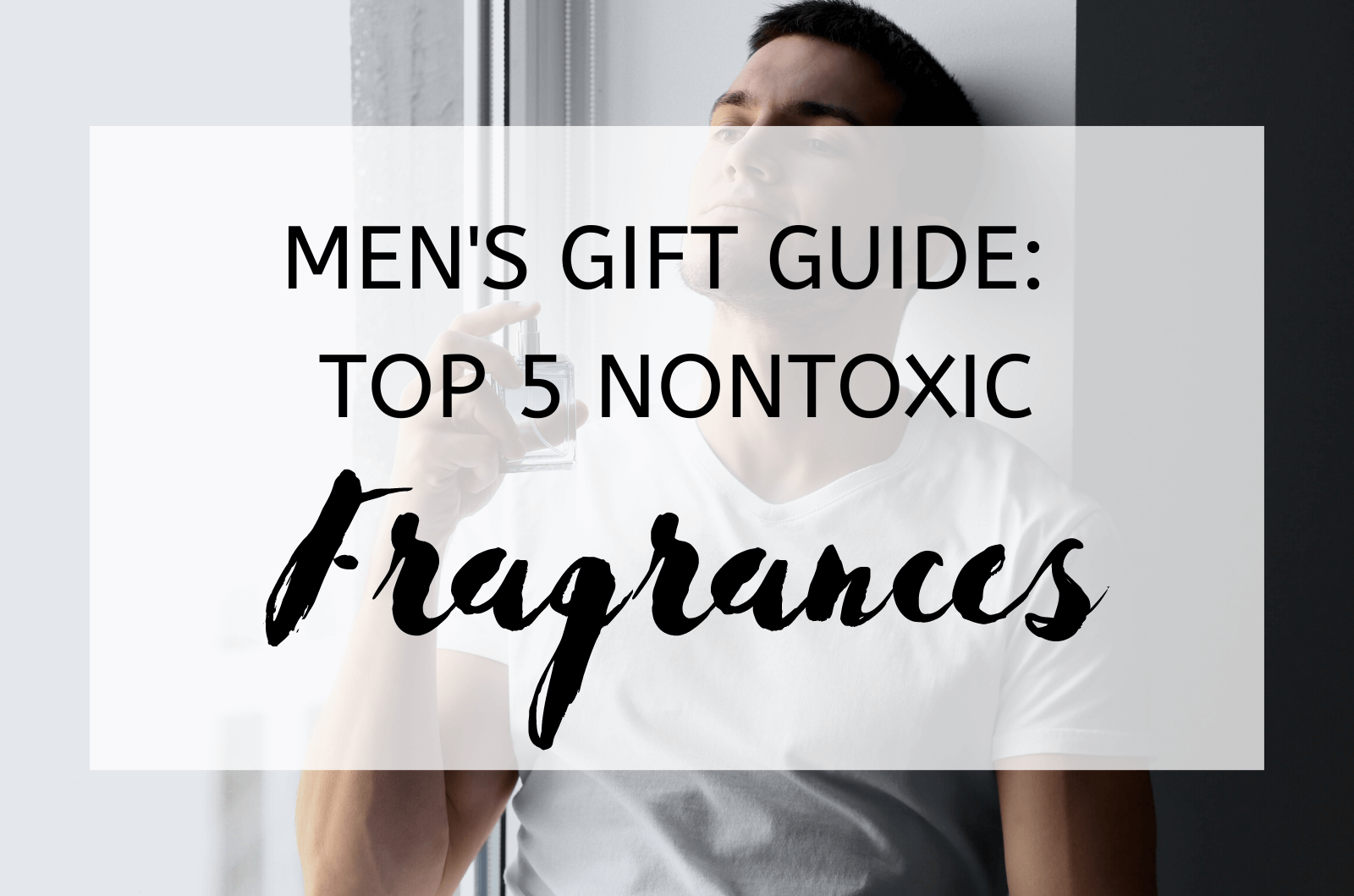 In today's day and age, where conscientious choices about our health and the environment reign supreme, selecting the right fragrance is more than just about the scent. Gone are the days of blindly picking up any overpriced, celeb endorsed cologne from a store shelf. Today's discerning man seeks not only an aroma that complements his style but also one that aligns with his values.
Enter nontoxic fragrances: the perfect blend of appealing scents and responsible ingredients. In this guide, we've curated the top five nontoxic fragrances for men (some unisex), ensuring that you or your loved one can smell great without any hidden harm.
5 Nontoxic Fragrances for Men
Henry Rose – Windows Down Eau de Parfum
Aromapassions NUDE
Skylar Sun Shower Eau de Perfume
Scotch Porter Porter House Body Fragrance
Lake & Skye 11 11 Eau de Parfum Spray
Comparison of the 11 Non-Toxic Fragrances For Men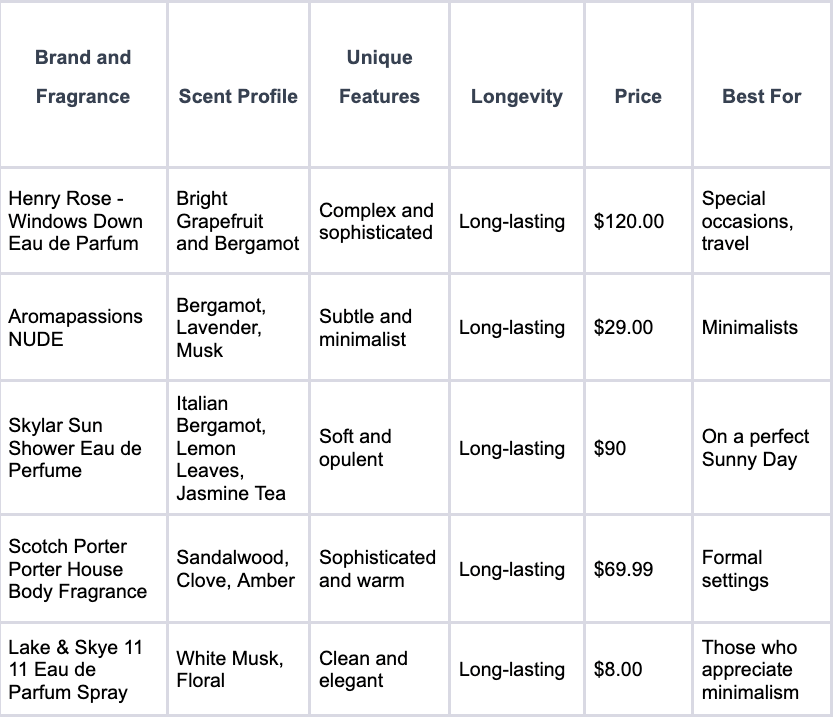 What are the best nontoxic fragrances for men in 2023?
Let's make smelling good a breath of fresh air with these nontoxic options.

Henry Rose's Windows Down Eau de Parfum offers a refreshing burst of citrus and aquatic notes, reminiscent of a breezy summer day. It's the perfect scent for someone looking to feel invigorated and lively.
Pros
Bright and uplifting scent
Suitable for daily wear
Unisex appeal
Cons
May not last as long as heavier fragrances
Some may find it too light or airy
What Customers Are Saying?
Customers appreciate the clean and fresh scent of Windows Down, mentioning it often boosts their mood. A few, however, wished it had a longer staying power.
Aromapassions NUDE is a minimalist fragrance designed for the modern man. Some note is a fantastic option for those who wish to stick with something other than traditional gendered scents.
A fragrance that complements rather than overshadows one's personality is just right for this one.
Pros
Subtle and understated
Versatile for any occasion
Long-lasting
Cons
It may be too mild for some
Sillage is not very strong
What Customers Are Saying?
Many customers love the subtle fragrance, stating that it is perfect for those who prefer not to have an overpowering scent. However, some wish that the sillage was a bit stronger.
Skylar's Sun Shower Eau de Perfume transports wearers to a serene morning after a light rain, combining hints of jasmine and citrus. A light and airy scent, it's great for those who want to feel naturally refreshed.
Pros
Subtle and delicate aroma
Doesn't overpower
Ideal for warmer weather
Cons
Might not be intense enough for those used to bolder fragrances
Sillage might be on the softer side
What Customers Are Saying?
Customers rave about the freshness of Sun Shower and its ability to evoke memories of peaceful, rainy mornings. Some, however, feel that it could have a bit more depth or intensity.
Scotch Porter Porter House Body Fragrance is a sophisticated scent combining sandalwood, clove, and amber notes. This fragrance was made for the modern male and worked equally well in more formal and relaxed settings.
Pros
Sophisticated scent profile
Warm and inviting
Long-lasting
Cons
They may be too mature for younger men
Higher price point
What Customers Are Saying?
Customers love the warm and sophisticated scent, stating that it's perfect for evening wear or formal occasions. Some younger users find it too mature but appreciate its quality and lasting power.
Lake & Skye 11 11 Eau de Parfum Spray is a clean, straightforward fragrance that blends white musk and subtle floral notes. This scent is perfect for those who appreciate minimalism and want a fragrance that's as straightforward as elegant.
Pros
Clean and simple
Elegant scent profile
Long-lasting
Cons
It may be too simple for some
Higher price point
What Customers Are Saying?
A simple yet sophisticated fragrance, this fragrance is appreciated by customers for its clean, elegant nature. Some wish it had more complexity but enjoy its lasting power.
Why Choose Nontoxic?
Choosing nontoxic fragrances is a lifestyle choice and an environmental commitment. Unlike traditional fragrances, which often contain synthetic chemicals that can be harmful, nontoxic fragrances are made from natural ingredients that are less likely to cause allergic reactions or long-term health issues. Moreover, they are usually produced environmentally friendly, so they reduce your environmental impact.
Health Advantages: Nontoxic fragrances are generally safer for the skin and less likely to cause allergic reactions. People with sensitive skin or allergies often recommend them.
Environmental Impact: Many nontoxic fragrances are made using sustainable practices, which is better for the planet. They often come in eco-friendly packaging as well.
Quality of Ingredients: Nontoxic fragrances usually contain high-quality, natural ingredients like essential oils, often providing a more authentic and complex scent profile.
What Ingredients Do Nontoxic Fragrances For Men Have?
Nontoxic fragrances for men typically contain various natural ingredients considered safe for the skin and the environment. Below is a table that outlines some common ingredients you might find in nontoxic men's perfumes: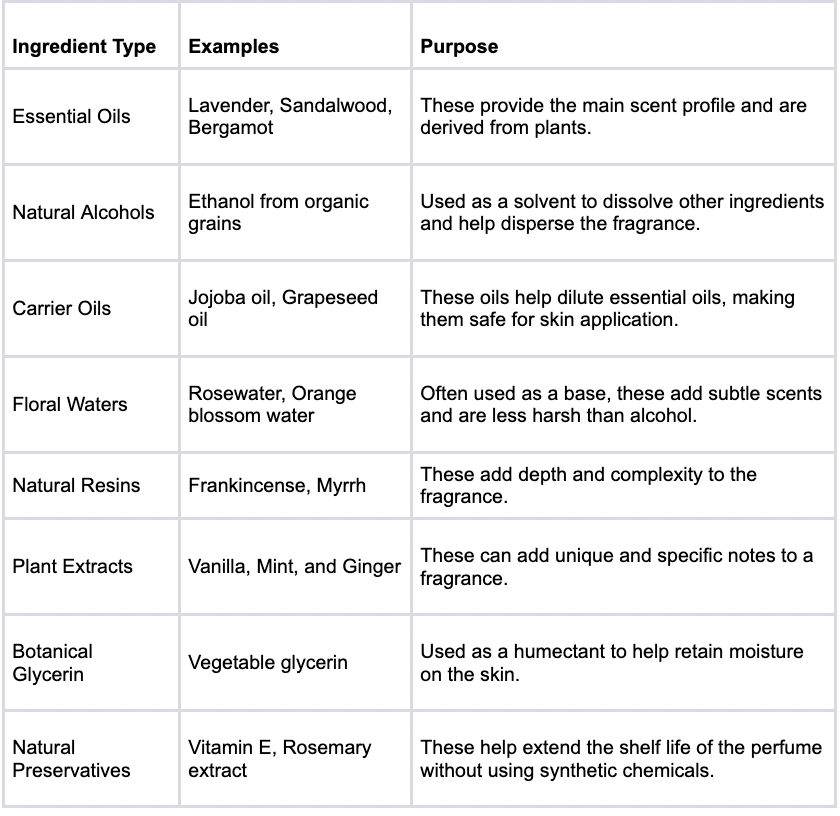 Criteria for Selection
When selecting the top 5 nontoxic fragrances, several criteria were considered to ensure that only the best products made the list. As a result of these criteria, each fragrance's quality, performance, and reliability can be evaluated as a whole.
Ingredient Transparency: Brands that list all ingredients were given preference, as this transparency is crucial for evaluating the product's safety.
Longevity: The staying power of the fragrance was considered. Nontoxic fragrances often have a reputation for not lasting as long, so those that proved long-lasting were rated higher.
Sillage: This refers to how far the fragrance travels when worn. A good sillage ensures that the fragrance is noticeable but not overpowering.
User Reviews: Customer feedback was also considered, particularly reviews that discussed the fragrance's performance, scent profile, and any skin reactions.
How to Wear and Store Nontoxic Fragrances?
Properly wearing and storing your nontoxic fragrances can significantly enhance your experience. Keeping your fragrance fresh for a long time is easy with these tips and tricks.
Maximizing Scent: Apply the fragrance to pulse points like the wrists, neck, and behind the ears for a longer-lasting scent.
Longevity: To prolong the fragrance's life, store it in a cool, dark place away from direct sunlight and heat.
Freshness: Always close the bottle tightly to prevent air from entering, which can degrade the quality of the fragrance.
Choosing the right fragrance is a personal journey, one that reflects not only individual style but also a commitment to health and sustainability. The world of nontoxic fragrances offers a plethora of options that are both captivating and kind to the environment and your skin. With the top five options listed in this guide, making an informed and responsible choice has never been easier. Whether you're gifting it to someone or choosing a scent for yourself, remember that in the realm of nontoxic fragrances, you're not just buying a scent, you're making a statement. Choose the healthiest fragrance wisely, and wear it with pride.
Frequently Asked Questions
What key distinctions can you make between conventional and nontoxic fragrances?
While non-toxic perfumes are typically derived from natural materials like essential oils and plant extracts, traditional scents frequently contain synthetic chemicals like phthalates and parabens.
How can I make my nontoxic fragrance last longer on my skin?
Apply the fragrance to pulse points like the wrists, neck, and behind the ears. If you want to make the scent last longer, layer it over carrier oil.
Is "nontoxic" the same as "allergen-free"?
No, "nontoxic" means the ingredients are generally safer and more natural, but some people may still have sensitivities or allergies to natural ingredients.
How do I store my nontoxic fragrance to ensure it remains fresh?
Keep your fragrance out of the light and heat by putting it in an excellent, dark spot. Make sure the bottle cap is on snugly to keep out any air.
When choosing a nontoxic fragrance, what should I look for?
Ensure the ingredients are transparent, the formula is long-lasting, the sillage is good, and there are positive user reviews. Brands that are open about their ingredients and have a reputation for quality are generally a good choice.