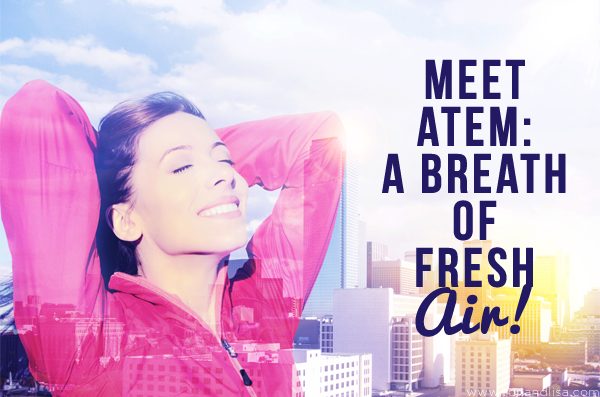 The bad news: According to a new report published by the Lancet Commission on Health and Pollution, about one in six deaths is related to pollution of some kind. Additionally, 4.3 million people die every year from exposure to indoor air pollution, according to the World Health Organization.
The good news: Meet a new, state-of-the-art personal air purifier that is now available to you (and, in perfect time for the holidays). It's small enough to sit atop your desk, at home or at work and it's called the Atem (which means breathe in German) by IQAir. You can breathe (or, atem) a sigh of relief because two of you have a chance to win one (in your choice of color)!

You Are What You Breathe
AchOoOo! Are you one of the one in five Americans who suffer from allergies? According to the Asthma and Allergy Foundation of America (AAFA), allergies are not limited to spring and fall. Allergy season lasts all year long, with approximately 50 million Americans suffering from indoor/outdoor allergies (allergic rhinitis) and it's no fun.
It's not just allergies we need to be concerned with. Asthma rates are on the rise, and many people are looking for solutions to keep their air clean while at home and at work. In fact, asthma rates have doubled – even quadrupled – in certain parts of the country over the past 20 years. Like filtered water, filtered air is quickly becoming a necessity to live a healthy life.
We take 25,000 breaths a day and it's often dirty air we're breathing in. However, there are solutions. We're thrilled to introduce you to a product that not only works effectively, but is affordable and oh-so cute. Good looks aside, Atem's HyperHEPA air filter removes 95% of all particles from the air down to the 0.003 micron level (smaller than most viruses) that we breathe at home or work. The Atem Personal Air Purifier is truly a revolution in air purification. Sleek. Compact. Powerful. Watch & learn what makes the Atem a must have to create your own personal clean air zone:
While outdoor air is important, indoor air is often more polluted than outside and can lead to lower productivity, higher rates of asthma and heart disease, as well as contribute to depression and obesity. Air pollution has also been shown to lead to lower birth weight rates and can even cause wrinkles and premature aging, oy!
Did You Know? The EPA deems indoor air quality one of the top five environmental health risks we face today.
Good news! The Atem Personal Air Purifier is now available for a fraction of the cost of the IQAir HealthPro series at only $399.00 and is available in black and white.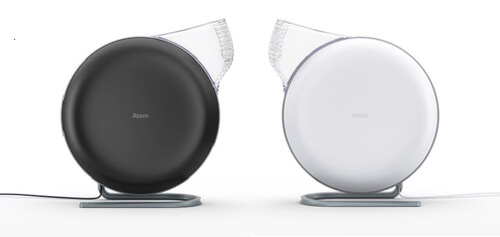 Health Effects of Breathing Polluted Air
If you've experienced any type of illness related to poor indoor air quality and are one of the 24 million Americans who suffer from asthma, or one of 30 percent of adults and 40 percent of children suffering from allergies to airborne particulates, then you know that finding the best relief you get your hands on is non-negotiable.

Related Articles:
Radon – DANGER:A Real Risk At Hom
12 Reasons To Add a Salt Lamp to Your Home
Swiss Engineered
Swiss engineered and German made. IQ Air was founded in 1963 by two brothers in Germany, Manfred and Klaus Hammes. Manfred was a long-time allergy sufferer and together, they introduce the world's first residential air filter which helped to reduce Manfred's asthma flare-ups during the winter months. In 1999, the IQAir HealthPro stand-alone air cleaning system was launched to major recognition by outperforming all competitors in one of the most comprehensive air purifier tests ever designed. We personally use the IQAir, have tested it for its effectiveness which is why we refer to it as The Mercedes of Air Purifiers.
IQAir has subjected their systems to testing, conducted by major third-party independent labs in Europe and by government agencies in the U.S., proving that their filters are effective. By using the highest quality components, a dedicated team of skilled craftsmen and women, and state-of-the-art manufacturing processes, IQAir aims to build the finest air cleaning products in the world.