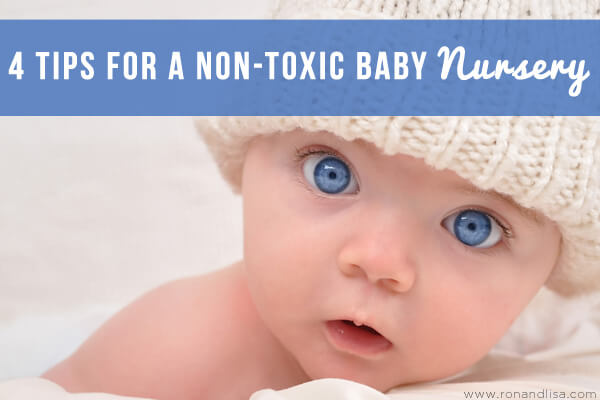 Taking toxic materials out of the nursery is becoming a top priority for new parents. Creating a green nursery just makes sense since your delicate little one will spend up to 17-hours a day in there! Consider everything your baby comes in contact with and choose your nursery furnishings with natural, organic materials in mind.
1. Use Non-Toxic Paints and Finishes
Before baby comes home from the hospital you can start preparing your green nursery. Painting should be done at least a month before the new addition arrives and it should be done by someone other than a pregnant mom. Avoid residual toxic chemicals found in typical paints and finishes by choosing Zero VOC or Low VOC options. Babies are particularly vulnerable to the dangers of Volatile Organic Compounds (VOC's) found in common commercial oil and water based paints.
Using healthy non-toxic paints and finishes for the creation of an organic baby nursery is a must. The crib is your baby's "home" and needs to be as pure as possible in every way. Choose real wood and natural finishes.
2. Choose Safe Flooring
You can be sure your baby will spend a lot of time on the floor, so stay away from new carpeting. Instead choose natural and hard surfaced flooring like wood (with a low VOC sealant), linoleum or cork. Hard surfacing is easier to maintain and less likely to trap potential contaminants than wall-to-wall carpeting. If an area rug is needed, be aware that VOC's can be found in carpet backing, adhesives and the fibers themselves, as well as stain or water resistant treatments that have been applied to the carpet. Make sure to choose natural fibers and untreated options.
3. Choose Organic Baby Clothes, Organic Bedding and Natural Toys
Choose certified organic cotton that's been untreated, unbleached, and unprocessed for bed sheets, baby clothes and toys your baby will use. Also make sure that colored dyes in the fabric have all-natural ingredients derived from nature's plants and minerals.
Make sure your baby sleeps on an organic mattress that is free of dangerous flame retardant chemicals like the Green Nest organic crib mattresses, which are made from certified wool, natural rubber and organic cotton.
In 2007, 12 million children's toys were recalled. Be aware of imported toys from China, which may contain lead, a neurotoxin. But that's not the only toy hazard. Most toys sold in major toy stores are made from plastics. Plastic is a major contributor to indoor air pollution. There are many natural cloth and wood toys available on the Internet.
4. Use Safe Baby Bottles
Bisphenol-A is a hormone-disrupting chemical considered to be potentially harmful to human health and the environment and is found in older plastic baby bottles. It has been known that scratched and worn polycarbonate feeding bottles will leach Bisphenol-A into liquids. Studies have been shown that very low levels of Bisphenol-A in a baby can cause behavioral effects like hyperactivity, and impaired learning. Make sure to use BPA free plastic baby bottles  and sippy cups (all new bottles are) or glass bottles for feeding your baby.
It may not always be possible to determine which materials are used in nursery products, or their safety, but there is one tool you have that you can rely on to evaluate any product—your nose. If the smell bothers you, it will bother your baby, so don't put it in the nursery. Once you have a natural, organic, green nursery, keep it safe by using only natural and nontoxic cleaning products and pest controls.  Watch now as Ron & Lisa help new mommy, Liz, create a safe space for new daughter, Skylar:

A great book for parents and children is "My Body My House" by Lisa Beres. Lisa and Ron Beres are Building Biologists, Certified Green Building Professionals, authors of Just GREEN It! and the original founders of GreenNest.com.
Sign up for additional FREE healthy home tips here.