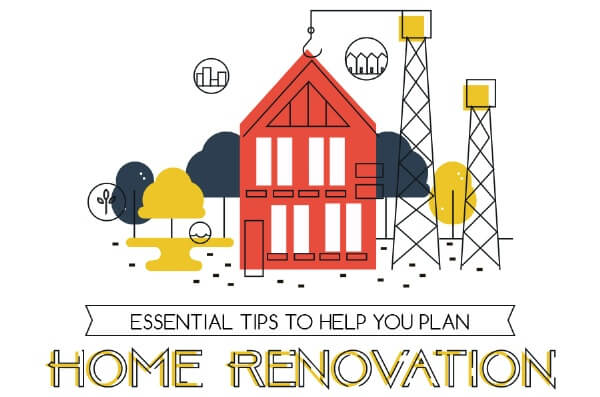 People choose to start a home renovation project for different reasons. Some start because they find that their home lacks functionality in some way and could be improved. For others it is simply a project to add value to their home because they plan on selling it on at a later stage.
Whatever the reason behind beginning a home improvement project, there are some important things to keep in mind. You need to do your research in advance. Research in terms of what will work best to improve your home; what will fit your budget and so on. You also need to source reputable and reliable suppliers and builders. A good builder or other trades person could really make the job a lot less stressful so choose wisely. Also, think about the health and toxicity of the products. Choose low or zero VOC whenever possible and opt for healthy alternatives to every material including insulation, flooring, paints, finishes and sealants. Reducing or eliminating formaldehyde exposure is key to good indoor air quality. For example, these state-of-the art gypsum products from CertainTeed Gypsum are available to reduce indoor pollution that many contractors and homeowners are not familiar with. Homeowners have a choice to live in a healthier and more sustainable manner.
AirRenew® – Offers enhanced indoor air quality by utilizing the industry's first formaldehyde-absorbing technology which actively removes formaldehyde from the air, converting it into a safe, inert compound. Once captured, the chemicals cannot be released back into the air.
SilentFX® QuickCut – A noise-reducing drywall designed to manage the challenges of today's modern families while maintaining peace and tranquility in the busiest of homes.
NO-COAT® – The NO-COAT Structural Laminate (SLAM™) design is a superior drywall corner system that delivers strength and durability, saving on labor and supplies. The total system includes rolls, pre-cut stick lengths, arch sticks, tools and accessories for easy installation and flawless results.
Habito™ – A revolutionary high-performance drywall product, which is the industry's strongest and hardest ½-inch drywall. Habito features technical benefits previously unseen in the drywall category. It eliminates the need for threaded drywall anchors or nailing to wall studs for fixtures less than 30 pounds, offering consumers a seamless way to mount and remount the newest televisions, speaker systems and other home electronics and décor.
Budget is also of course a major concern. You need to keep in mind a contingency element to the budget for unforeseen occurrences. This figure should be 10-15% of the overall figure because unexpected things will happen in a project like this!
This infographic from HalfPrice.com.au gives a good indication on where to begin if you are considering a home improvement project. It indicates what you should be considering in terms of ideas; it highlights the steps to beginning a project; it pinpoints a typical schedule when home renovation is involved; it covers possible costs and gives some tips for budgeting and avoiding mistakes and it also gives some expert guidance! Check it out below.