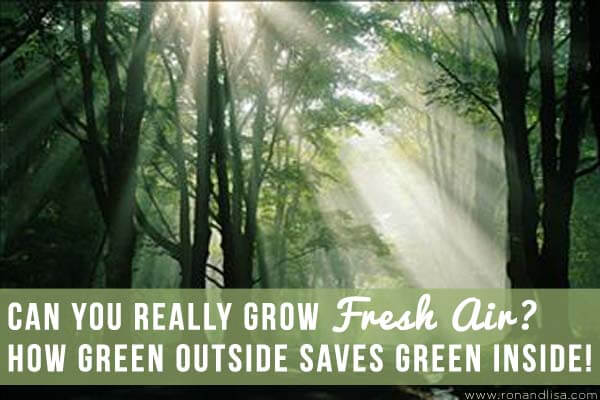 Hopefully, you have read the first post; Can You Really Grow Fresh Air: Or, Should you Buy it in a Can? and second post, Can You Really Grow Fresh Air: Formaldehyde, Benzene and Plants – Oh, My! And, by now, you have broken up with your synthetic can of chemical-laden air freshener, gotten your spouse in a frenzy from plant overload and had to gasp for air yourself in learning about the ubiquitous chemicals lurking in your beautiful home!  But, in the end, you remain strong and empowered knowing that Mother Nature always has your best interest at heart as she created everything we need to live nurturing and fulfilling lives!  Sometimes, we have to just look a little closer to nature.
"Study nature, love nature, stay close to nature. It will never fail you."
-Frank Lloyd Wright
Besides our green friends, the plants, let's not forget their taller relatives – trees! Trees are can help the air inside and outside.  In addition to providing habitats for birds and other animals, trees contribute a significant amount of oxygen to the atmosphere, prevent soil erosion, protect aquatic life from sediment buildup, decrease flooding and provide beautiful scenery. They are among the hardest working natural resources in our society.  Trees also scrub ozone, sulfur dioxide and other pollutants from the air and help absorb toxins.
Finally, aconvenient truth for you: Trees can also help fight global warming! Large trees on the south, east and west sides of a building can reduce energy use for air conditioning, cutting summer electricity usage by 5% to 10%. In the winter, deciduous trees drop their leaves so that the sun's rays help warm the building, reducing heating fuel consumption.  Trees strategically planted to shade building can generate a 10% to 50% savings in cooling expenses and 4% to 22% savings of heating costs!  We've talked in past posts about energy efficient window coverings to reduce 50% of heat loss, but trees can help reduce your carbon footprint all year long, hence, bringing more savings to you.  This means more money left over to invest in your indoor greenhouse!