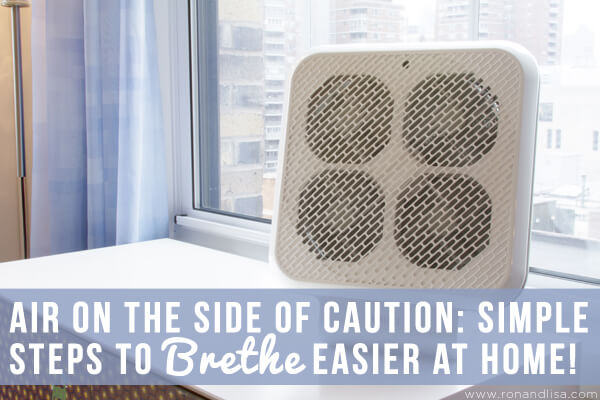 Have you ever purchased a new car and received that nice, thick driver's manual to store conveniently in your glovebox? Contracts signed, you zip off the lot in your shiny, new wheels with a tome of security knowing you could confidently rely on that baby should you ever encounter a hiss, buzz, whistle or grinding sound. Come to think of it, you also receive a manual when you buy a toaster, a coffee maker, a printer, a computer, an iPhone…even a pill! Heck, I receive a manual with my battery operated candles! WHY THEN do we not receive a manual when we purchase a home, condo or townhouse?? Loads of documents, lustrous gold or silver keys, maybe even a welcome basket, but never, ever, ever…a manual.
That's where we, The Healthy Home Dream Team, come in! We're your healthy home manual – of sorts. Think of us as your cyber-Suri, in the form of a husband/wife team to answer your whys, whats, hows and buts. If we were to create a healthy home manual for you, you better believe the opening chapter would be – what we like to call the umbrella of your home – INDOOR. AIR. QUALITY.
WHY?
Hopefully, you are well aware of just some (of the gazillion) reasons why good indoor air quality is important, but here are just a few more to scare the bajeebers assist you in protecting yourself, your pets and your beloved family.  Today in the U.S.:
25 million Americans suffer from Asthma
Indoor air is 2 to 5 times more polluted than outdoor air
65 million Americans have allergies
The indoor air in the average American home contains over 400 chemicals
The EPA ranks indoor air pollution one of the top five environmental health risks
1 in 4 homeowners currently or previously lived in a home that made them feel sick or unwell
Environmental toxins found in homes account for an estimated 75%-80% of cancer cases and deaths in the US
WHAT…
What if you could change this? What if we told you that you could be proactive and prevent some – if not all- of the above from happening? The single most important thing you can do for your health is to implement an air purifier in your home…but, not just any brand. There are a lot of air purifiers on the market and it can be exhausting and overwhelming to find out which one best suits your needs.  As your 'online' healthy home manual, we are here to keep you abreast of the latest technology and our professional recommendations. Recently, we discovered (and are currently using) the Brethe air purifier by HoMEDICS.  We've always suggested HEPA filters in the past and, while these still do a fantastic job at cleaning your air, what if we told you there was a new kid in town…a technology that offers 7 times more cleaning surface than a comparable HEPA tower and is 5 times better than HEPA at cleaning microscopic particles down to 0.05 microns in size including Staphylococcus bacteria AND cold and flu viruses? To put this into better perspective, HEPA filters down to .3 microns in size. Add to this goodness a splash of green in the form of energy savings (translation = $$ in your pocket).  This sleek unit sits nicely at a mere 13.5" tall and uses only 25 watts of power…that's 50% less than comparable HEPA towers!  It filters 191 square feet, so it's perfect for a bedroom, dorm or family room. You can see how seamlessly it integrates into a household décor and is easy to move from room to room weighing in at a svelte 6.45 lbs.  Oh, did I mention that it removes 99% of airborne contaminants such as allergens, smoke, pollen, dust and germs (exsqueeze me…major oversight). I personally love the remote control and am so dazzled with all of the bells and whistles and almost forgot to dish about the triple filtration and state of the art Nano-Coil technology that kills cold and flu viruses while reducing bacteria. The carbon VOC filter will have you dancing the rumba and saying adios to off-gassing chemicals from household cleaners, paint, furniture upholstery, and other chemicals you use every day.
HOW?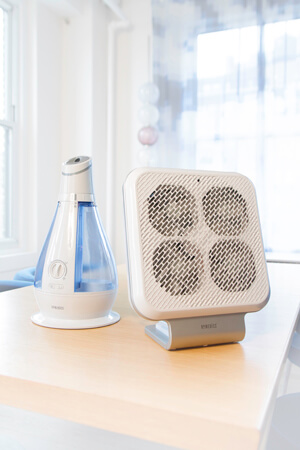 Rumbas and Salsas aside, we knoooow you don't like remembering to change those pesky filters, but they work hard for you every day ('cuz you can – and should – keep this unit running 24/7) and this baby is low maintenance. With routine upkeep (occasional vacuuming of the filters), you'll only need to replace your filter once every eighteen months. More time for you. More time for dance lessons. More time with the kiddos. Heck, with indoor air this clean and extra time on your hands, you may want your next vacation to be a staycation at home! Who needs Cancun? Grab some guacamole, hang a piñata and savor your new and healthy home environment.
BUT…
Speaking of tropical climates, don't forget your home's humidity levels. The humidity of your home's indoor air is of vital importance to your health. Ideally, your homes humidity level should be between 30-50%; levels too high or low can cause health problems. For those of you who live in dryer climates, you definitely don't want to miss the opportunity to keep your air moist. Dry skin, chapped lips and dry sinus issues do not have to be your reality and solutions don't need to break the bank. Starting at just $19.99, you can add a home humidifier to any room and instantly reap the benefits. We love the Warm and Cool Mist Ultrasonic Tower humidifier. This has all of the bells and whistles your little heart (and lips, nose and throat) desire; programmable humidity target, LCD light display, timer and more! But, our fave is the Ultrasonic Cool and Warm Mist Humidifier. The on/off oscillating head provides either an even distribution or a targeted fixed direction mist which keeps annoying water drips a figment of your – vacation or staycation – imagination.