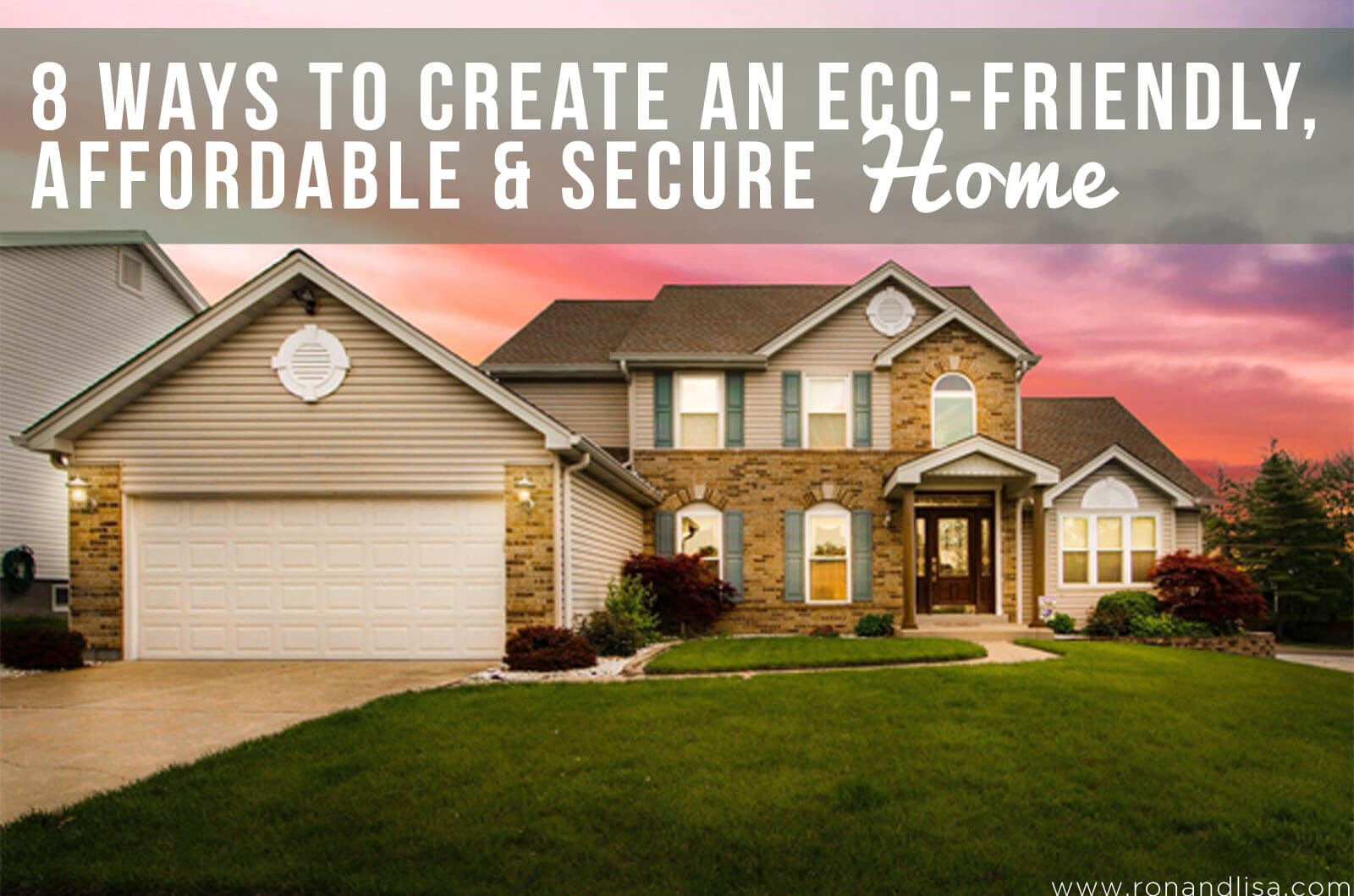 Implementing eco-friendly measures at home involves reducing energy consumption while preventing or lessening the production of greenhouse gases. Prioritizing resource efficiency is one of the first steps to creating a more sustainable home environment.
Living greener involves repeated daily actions. Turning off unused lights, reducing your water usage and using programmable thermostats at home and at work are just a few simple actions you can adopt to create a positive impact on the environment. Here are 8 ways to create an eco-friendly, cost-effective, and more secure home.
1.) Use an IP Surveillance System
Internet Protocol (IP) cameras consume less energy yet cover a wide range; making them an environmentally friendly choice over traditional analog cameras. IP cameras don't require large or inconvenient receivers intended for physical video storage since IP cams can receive or send, and save video footage digitally.
2.) Maximize Energy Efficiency with Window Shades
Window shades possess energy-efficient and protective qualities. Aside from offering privacy, shades make it difficult for intruders to see if people are at home. Window shades can also buffer cold air during winter days and block out excessive sunlight during summer days.
3.) Use LED Bulbs
Light-emitting diode (LED) bulbs are more energy-efficient when compared to incandescent bulbs. LED lights utilize 80% less energy and last much longer. LED lighting is more expensive up front; however, these bulbs can continue to work for a decade or more, resulting in reduced energy consumption and lowered overall costs.
4.) Place Motion-Based Floodlights
Motion-based floodlights are ideal; especially when you are sleeping, away at work or on vacation. Motion-based lighting is activated upon movement, so they're not running or using energy continuously.
Motion-based tools include automated indoor and outdoor lighting that can deter unwanted intruders. For longer trips away from your home, or while out of the country, consider added security for your home. Check out protect America equipment info.
5.) Invest in Insulation
Heating your home continuously during the winter months isn't necessary when you have implemented good insulation techniques. There are numerous ways to insulate your home effectively. For example, you can utilize double-glazed windows. You can also reduce energy costs by using area rugs to cover any exposed, hard-surfaced flooring. The rugs will prevent air from escaping through cracks in your floor and into your home. Finally, seal holes and cracks and be sure to check roofing and walls for areas that may require insulation repairs.
6.) Opt for Low Carbon-Footprint Electronics
The electricity the majority of us use on a daily basis is created from the burning of fossil fuels such as natural gas, oil, or coal. One's carbon footprint refers the total amount of greenhouse gases created by the burning of these fossil fuels, coupled with the amount carbon dioxide (CO2) emitted by a person's activity in a given period.
Plasma and LED displays are samples of low carbon-footprint electronic choices. Both are more efficient than cathode ray tube monitors. Also, look for electronics and appliances with the Energy Star certification to reduce your carbon footprint.eco
7.) Install Solar Panels
Solar energy panels are the eco-friendliest energy source available to consumers today. Solar energy creates a clean and renewable power from the sun. Solar energy does not create harmful emissions but reduces one's carbon footprint by minimizing greenhouse gas usage. Hence, solar panels are an excellent alternative to fossil fuels.
8.) Upgrade Your Personal Computer
Upgrading to a more modern personal computer (PC) can lessen your carbon footprint since newer PCs use less energy, while increasing security. It's important to find a brand that has earned green certifications. Ideally, the computer should be manufactured without any hazardous substances like cadmium, mercury, hexavalent chromium or phthalates. For the sake of the environment and the health of yourself and your children, it is best to choose computer brands that share the same health and environmentally friendly values.
Hiring a sustainability consultant is another great way to discuss ideas that can reduce your home's operating costs while improving your property's value. Sustainability professionals can conduct a home audit and provide you with a more detailed analysis as well as ideas on how to make changes to your house that will have a lasting impact.
This post was sponsored. All thoughts and opinions are our own.