There is a funny myth out there that granite countertops are the crown jewel; the very best possible thing you could have in a kitchen.  They are considered a sign of quality, even a major selling point for houses on the market.  "New kitchen and bath, with GRANITE countertops!" boast the flyers and advertisements.
Whenever I see that – and I see it a lot – I just have to shake my head, because I know that granite countertops are really not all that great.  Not only does quarrying the stone cause irreparable environmental damage, the stone itself isn't all that sanitary once it is installed, due to the numerous micro-fractures across the surface; a favorite place for bacteria to build up.  Also, in order to lessen the number of micro-fractures, and prevent staining to the surface of the stone, it is recommended that granite be sealed every year or two, but honestly, who remembers to do that?  Add to all that the higher than healthful levels of radon emitted from several types of granite available in the marketplace, and you have a countertop material that is a lot less appealing than those realtor ads make it sound.

So, what's a frustrated, countertop shopper to do?  Why not take a look at these five great, environmentally-sound alternatives:
1. Quartz                                
If you love the look of granite, but want to avoid the pitfalls I mentioned above, quartz countertops are the way to go.  Made from abundant quartz aggregate – along with binders and pigments – quartz countertops can mimic the beautiful look of stone, but with a virtually impermeable surface that requires no sealing.  Even the lightest of colors won't show stains under normal use.  Manufacturers to check out include Cambria, Caesarstone, Silestone, and Okite.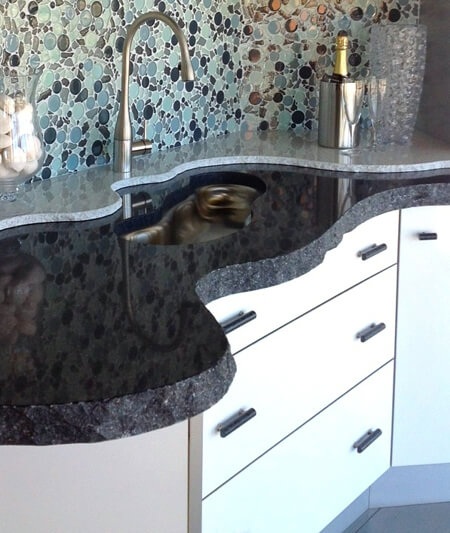 2. Wood                       
Once the standard for countertops in kitchens around the world, wood is experiencing a comeback thanks to its aesthetic appeal and renewable nature.  Wood countertops are also more economical than most other options.  Although wood mars more easily than most other surfaces, many people enjoy the look wood countertops acquire over years of use, and maintenance is as easy as a light oiling (with food grade oil), and the occasional sanding out of stains.  Inexpensive versions made of beech can be purchased from Ikea, or, for a bit higher end look, Proteak's FSC certified teak countertops are hard to beat.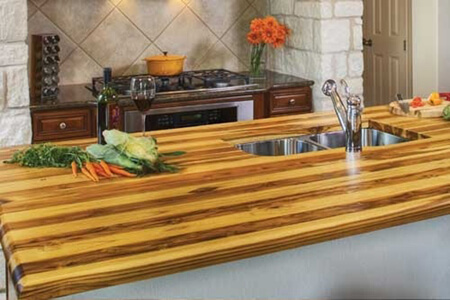 3. Recycled glass                      
For sparkle and shine, it would be hard to beat recycled glass.  Most glass countertops on the market are a form of terrazzo.  Terrazo is an age-old method of creating hard surfaces by combining aggregate, such as marble chips, with concrete.  The resulting material is poured into place and smoothed out using grinders and polishers. Companies such as Vetrazzo, Eco by Cosentino, and Icestone have taken this method and replaced the stone aggregate with recycled glass chips, creating lovely, eye-catching surfaces.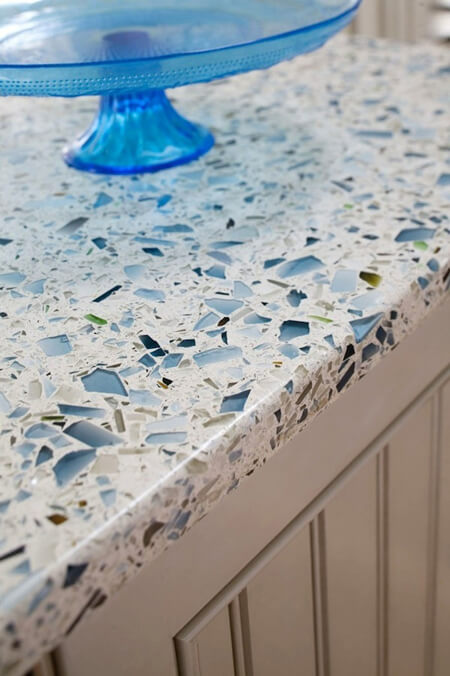 4. Steel
When it comes to durability, ease of cleaning, and sleek styling, steel countertops are tops.  Evocative of the professional chef's kitchen, steel gives a crisp, modern look to a kitchen.  Although durable enough to last for hundreds, if not thousands of years, your cabinets (and you!) aren't likely to be around nearly as long, so the fact that stainless steel is also recyclable is an added bonus.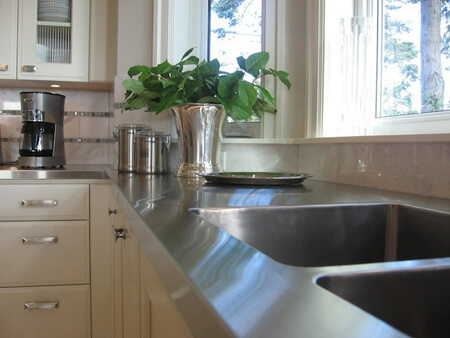 5. Concrete
Whether poured in place, or slab, lightweight concrete makes a lovely, versatile countertop surface.  With the addition of pigment, surface detailing and various types of aggregate, this material can be endlessly customized.  Perhaps one of the biggest advantages is the ability to create integral sinks, which provide a seamless surface transition.  There are many artisans who specialize in creating and installing concrete countertops, as well as some larger companies such as Sonoma Stone.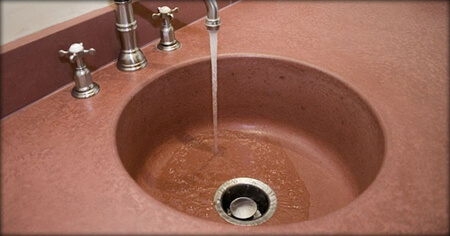 Have you used one of these granite alternatives in your home?  What has your experience been? Let us know in the comments section below.
Photo Credits: Quartz (Cambria countertop), Recycled glass (Vetrazzo), Steel (Boston Design & Manufacturing), Wood (Proteak), Concrete (Sonoma Stone)