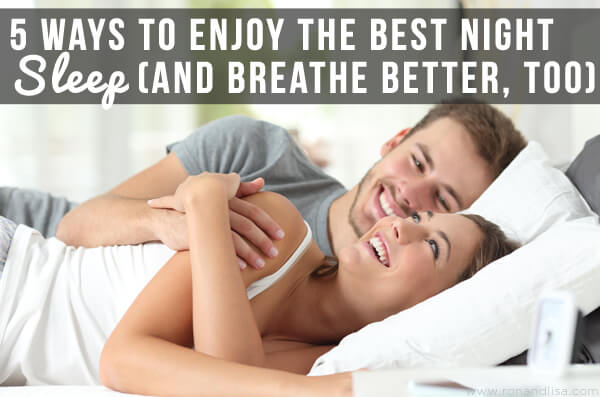 There are numerous signs that it's time for a new mattress. I'll tell you firsthand – if you're tossing and turning throughout the night, waking up with back pain, or feel like Day of the Dead is more than a Mexican celebration and the Zombieland flick resembles your workday – chances are your mattress' time has come.
Case in point. Ron and I had a high quality mattress, but the truth was, it was old. We both knew it, but kept prioritizing other things ahead of a new bed purchase (sound familiar?).  I had been waking up almost daily with lower back pain and feeling restless throughout the night; not from an overactive mind, but from an underactive mattress. The support was absent, the sagging omnipresent and the joy of sleeping? Nonexistent. We had wonderful organic linens and pillows, but had serious mattress shame as we continually procrastinated the big investment of an eco-friendly mattress. After all, we'd test driven a few beds boasting price tags equivalent to a small vehicle. And, as much as the health benefits of a good mattress are endless, you can't exactly drive your organic mattress to work.
Are You Getting the Support You Need?
While I'm referring to the physical support of a quality mattress, the emotional struggle of not getting your nightly zzz's is real. Before resorting to drugs and pills for a deep snooze, have you considered the item your spending one third of your life on could be the culprit? And it's not just the age of your bed, it's the health of it. The majority of name brand mattresses today are loaded with petrochemicals (polyurethane foam, polyester, memory foam) that utilize precious resources (petroleum) and off gas dangerous VOC's – volatile organic compounds – into the air you breath. This, topped with chemical flame retardants, pesticides and waterproof or water resistant treatments isn't exactly a recipe for rejuvenation. And, let's not get started with bacteria, germs and allergens like dust mites breeding in your mattress.
Handcrafted & American Made
Let me introduce you to my new bff, my little taste of heaven…the Zenhaven mattress from Saatva! Needless to say, we took the eco-friendly plunge with a mattress that truly is the perfect marriage of luxurious comfort and healthy support. Ron and I have been sleeping like babies. After awaking from my first night sleep, I looked at Ron and said,
"That's the best sleep I've had in fifteen years. I'm in zen heaven!"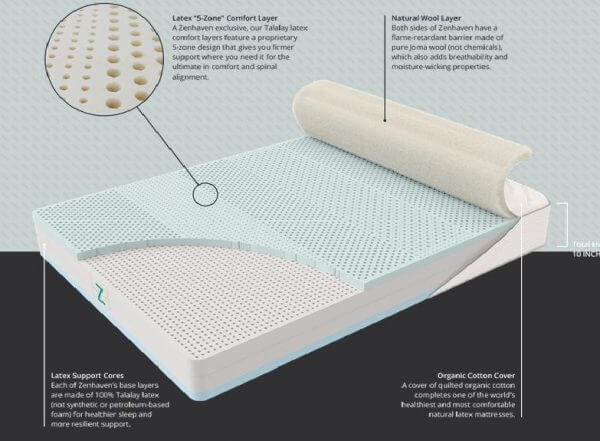 While you can't find the Zenhaven mattresses in local retail shops (which helps keep both overhead and your cost down), they offer a free 75-day trial. If you don't like the mattress, you can return with no restocking fee. They'll even pay the pick up fee! Sound too good to be true? What if I told you this top of the line, luxury, eco-friendly mattress is not only believable, but achievable at just under two thousand dollars (Queen size)? It's a royally amazing deal. There are many reasons why, but here are five:
1.) Zenhaven is handcrafted in America of 100% natural American Talalay latex.
No latex delivers a more luxurious feeling than the American Talalay latex used in the Zenhaven mattress. Unlike, say, latex medical gloves, pure tree-tapped natural latex has zero synthetic latex and zero petroleum based foams. The mattress construction consists of an open cell structure that allows air to circulate freely, countering body heat, while providing cool, comfortable sleep that cradles your body. The natural air flow offers a mattress that's seven times more breathable than other types of latex. Unlike memory foams, the Talalay offers support while staying breathable and cool.
You may be familiar with the denser Dunlop latex, but its' the supremely supple and buoyant feel of Talalay latex that won the hearts — and backs – of the Zenhaven manufacturer and customers. Every support layer of the resilient Talalay gives offers an elevating sensation, breathability, and durability. Zenhaven's Talalay is made in America, not imported. You can more details here: WHY AMERICAN TALALAY?
The Talalay latex used in the Zenhaven mattress is naturally hypoallergenic and resistant to mold, microbes and dust mites (check one). It contains no volatile organic compounds or other harmful substances found in chemical-based bed foams (check two). And it has a uniquely resilient feel that elevates and conforms to your body for perfect support, total comfort, and a truly restorative night's sleep (check three).
2.) Zenhaven offers 2-in-1 comfort to create the ultimate sleep experience.
The Zenhaven mattress uniquely features both comfort levels in one mattress — the Luxury Plush (our personal fave) and the Gentle Firm. In the rare case that the comfort level originally decided on isn't right for you, the mattress can be flipped to the desired comfort level. Ironically, I love great back support and thought I'd prefer the Gentle Firm. But, the Luxury Plush really offers both great support with just enough softness. Due to the heavy weight of the mattress, the Saatva Company will even send a team to your home to flip the mattress for you at no cost (how's that for white glove?)!
3.) Zero VOC's, Nontoxic & GMO-free
Stop counting sheep. Sleep with them. The Zenhaven mattress is layered with breathable natural wool and wrapped in lush organic cotton. While the mattress is flame retardant, it achieves this without toxic chemicals – and without a doctors note! Zenhaven uses a natural wool layer, which creates a flame-retardant barrier without the use of harmful chemicals. There are no sprays applied to the Zenhaven mattress. All the latex layers in Zenhaven are made from 100% natural latex, which is organic. Once the latex is harvested, a small amount of non-toxic, inorganic material must be added to convert natural latex from its liquid, tree-tapped form to its solid form. The ten inch Zenhaven mattress is as green as modern manufacturing will allow, in keeping with the green initiative Saatva takes with all its products. The mattress is consists of  an organic cotton cover; a flame-retardant layer of natural wool; a 1.5" comfort layer of 100% Talalay latex featuring a proprietary 5-zone design; and a 6" base layer, also of 100% Talalay latex. The organic cotton in the cotton cover is GMO free by virtue of the organic label.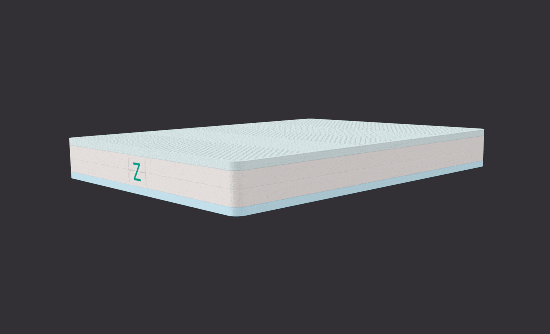 4.) Zenhaven offer luxurious comfort and support backed by a 20-year warranty
5.) Zenhaven offers body support with a  proprietary 5-zone latex comfort layer
Weightless. That's the word so many people use to describe how they feel on a Zenhaven mattress. Customers new to latex often expect to sink into the mattress, but are surprised to find themselves lifted instead. By varying the size and distribution of the "pinholes" formed during the Talalay process, the peeps at Zenhaven have created a seamless mattress layer with 5 distinct zones of density, providing Zenhaven with firmer support beneath the torso and shoulders and more subtle support elsewhere. The result is pressure-free support and better spinal alignment.
Don't Take Our Word for It
Dollar for dollar and feature-by-feature, you can see how other comparable mattresses compare with the Zenhaven by Saatva HERE.
The Zenhaven Foundation
Just like our bodies need support, so do our mattresses. For ultimate back and body support as well as maintaining the quality of your mattress, the Zenhaven foundations are not required, buy highly recommended. You don't want to invest in your health and then douse the air with toxic chemicals emanating from your box spring or foundation. Zenhaven's foundations are made of North American spruce, providing a durable platform-style support system for the Zenhaven mattress. They also contain a bio-based foams and are covered in organic cotton. To learn more, download a Zenhaven by Saatva mattress brochure.
Did You Know? Zenhaven by Saatva Mattresses
Comes with a 20  year warranty
Offers a 75 day in-home trail
Consists of an organic cotton cover; a flame-retardant layer of natural wool; a 1.5" comfort layer of 100% Talalay latex featuring a proprietary 5-zone design; and a 6" base layer, also of 100% Talalay latex
Features both comfort levels in one mattress — the Luxury Plush and the Gentle Firm. If the comfort level originally decided on isn't right for you, the mattress can be flipped to the desired comfort level.
Isn't it time to say goodbye to chemicals and hello to (rubber) trees? Remember, your skin is your largest organ. Sleeping with natural materials, the way nature intended, should no longer be a luxury, but a norm. Thanks to the great people at Saatva for creating a mattress that is not only eco-friendly and nontoxic, but affordable. It's finally time to end sleepless night and put a fork in the many cancer-causing chemicals that are found in our homes, food, personal care and even our bedrooms. Making healthy decisions not only benefits your health directly, but our planet and the well-being of our future generations.
Let us know your favorite feature in the comments below! If you'd like to learn more tips to create a safe sleep sanctuary, join us for the free Healthy Home Challenge!
Save
Save