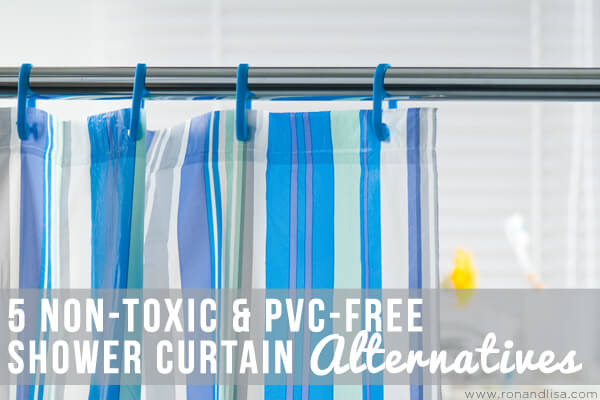 Are you looking for Non-Toxic shower curtains or PVC-Free Shower Curtain Alternatives? Your shower curtain or, more specifically, your plastic liner, is likely toxic. Most are made from PVC (polyvinyl chloride) and off-gas dangerous volatile organic compounds (VOCs) like toluene and xylene (Read: PVC? OMG).
No other plastic contains or releases as many dangerous chemicals like dioxins, hormone-disrupting chemicals called phthalates, vinyl chloride, ethylene dichloride, lead, cadmium, and organotins into the air you breathe. A Non-vinyl shower curtain is free from such toxic chemicals. Buy a non-vinyl shower curtain and shower filter for a healthy bathing experience.
These chemicals can damage the respiratory system, liver, kidney, central nervous system, and have been connected to diseases such as cancer. PVC-containing shower curtains can emit 108 chemicals in the air according to studies by the Center for Health, Environment, and Justice, CHEJ. We highly recommend a non-plastic shower curtain.
You can recognize this evil plastic (yes, I'm 100% comfortable calling it that), by locating the recycling number inside the triangle. PVC will always be a number 3 (not good for you or recycling).  To get better equipped with the dangers to both your health and the environment, read our past posts: PVC? OMG? and PVC: THE POISON PLASTIC! Get Safer Supplies & Back to School Guides
But, getting back to your beloved bathroom and breathing easier! The good news is healthy, eco-friendly alternatives to nasty PVC shower curtain options do exist. We recommend hemp because it's a natural material and is naturally resistant to mildew and bacteria.  I will absorb water but can be machine washed.
Also, a hemp shower curtain doesn't require a plastic liner; yes, it'll cost you a bit more (but, you're sooo worth it!). Here are some of our favorite non-PVC shower curtains. Let us know if you have a favorite chemical-free shower curtain in the comments below.
Learn more about the best shower filters
5 Non-Toxic Shower Curtain Alternatives
1.) HEMP
Earthsake $119.00 – 100% pesticide-free Romanian hemp shower curtain. Does not require a shower curtain liner. Resistant to mold and bacteria and dries quickly. It is machine washable.
GreenHome $105.00 – Romanian grown hemp which is grown without pesticides and chemical fertilizers. The shower curtain will get wet, but will not leak through. natural resistance to mildew and bacteria, and can be machine washed to clean any grime buildup.
Rawganique $42.50 – $109.00 – Made from 100% organic European hemp grown. Sweatshop-free, PVC-free shower curtain. Plastic-free. BPA-free. VOC-free. Dioxin-free. Metal-free. Use with or without a non-toxic shower curtain liner.
2.) LINEN
Coyuchi
$214.00-$236.00 – Can be used with or without a liner.
Earthsake $126.40 – May be used with a liner or without-just squeezing the water out of the lower edge after use and letting it dry. Hangs from rustproof metal grommets. Cotton/linen is made in India from flax grown in France and Belgium, and 100% organic cotton from India.
3.) BIRCH
Coyuchi
$158.00 – 100% organic cotton. This no PVC shower curtain can be used with or without a liner.
4.) ORGANIC COTTON
Coyuchi
– $162.00 100% organic cotton. Can be used with or without a natural shower curtain liner.
GreenHome – $82.14 100% Certified Fairtrade and Organic cotton shower curtain. A second curtain may be necessary as a liner as these have a sheer-like texture but also works well alone for areas with a smaller splash factor.
LifeKind – $149.00. Non-toxic and PVC-free shower curtain. Repels water naturally w/out liner. 100% certified organic cotton canvas.
5.) COTTON
So Well Made – $39.94. For a limited time, this also comes with a free organic cotton hand towel. Choose natural or white.
WATCH NOW:
Shower Curtain Liners
Many of our readers made comments below about a fabric shower curtain being too expensive. Sometimes in life, you're forced between choosing the lesser of two evils. In this case, if you can't afford any of the above, then we recommend PEVA (polyethylene vinyl acetate) or EVA (ethylene vinyl acetate) over PVC. While PEVA shower curtain and PEVA curtain liners are not perfect (made from petroleum; a non-renewable resource and contains chemicals), PEVA and EVA are water-resistant and made from chloride-free vinyl which delivers touchable softness and waterproof function without the smell of traditional PVC vinyl. Both are PVC-free, biodegradable, don't off-gas, and are affordable, especially when you can find them at a store like Bed Bath and Beyond that offers coupons pretty consistently.
However, buyer beware as a new study published in the Journal of Toxicological Sciences found PEVA toxic to living organisms. Further studies are needed to determine toxicity in humans. You can find these at BedBathstore
$3.99+ or Target $9.99+.  Styles are also available from West Elm
or Pottery Barn for only $12.00. Or, the PEVA liner from Cb2 for $9.95. They're chloride & odor-free and offer a safer alternative to PVC versions.
Also, when it comes to PVC-free shower curtain liners, steer clear of labels mold or mildew resistance. This means that the product is – or – contains an antimicrobial chemical that interferes with the growth of mold and mildew. It does not mean that the product will kill disease-causing bacteria or provide a health benefit. Remember – shower to shower each day, but keep toxins at bay!
Save
Save
Save
Save
Save