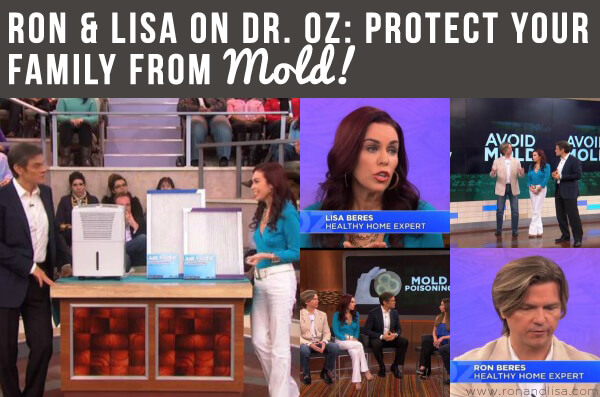 Mold Poisoning: Could It Be The Reason for Your Unexplained Illness? We hope you tuned in on Monday to catch the live show on Dr. Oz as we discussed how mold can affect your health and offered safety tips to protect your family from mold poisoning! We worked with one family who found out that the cause of their horrible illnesses was toxic mold located within their own home.
In case you missed it, you can watch the entire episode online HERE –or- click below to watch our individual clips and learn how to protect yourself and your loved ones:
1.) WHY WATER SOURCES MAY CAUSE MOLD: Healthy home experts, Ron and Lisa Beres, share the results from the mold tests completed in the Feeney family's home.

2.) HOW TO AVOID MOLD GROWING IN YOUR HOME: Ron and Lisa Beres explain how to properly clean if you have visible signs of mold in your home. Plus, learn how to practice mold prevention.

As Seen On the Show!
1.) HVAC Filters:
When you head to the store, look on the filter packaging for the one that says "healthy living filter" and has a microparticle rating of 1500 or above to capture at least 90 percent of large particles such as pollen and mold spores from the air passing through the filter. The U.S. Environmental Protection Agency recommends checking your filter monthly and changing it at least every three months.
2.) NYC Area Mold Testing:
If you live in the tri-state area and are seeking mold testing for your home, contact Healthy Dwellings. Otherwise, you can search for topics on this site for a plethora of valuable information to help you get started HERE.
3.) Californa Mold Testing:
If you live in the state of California and are seeking mold testing for your home, we recommend The Mold Guy Inc. Let owner, Mark Levy know we sent you. He and his top-notch team will take great care of you.
4.) DIY Mold Test Kits:
Mold Screen Check: Surface Test Kit from Indoor Air Test. This checks for 100's of different types and provides info on the genus level of each mold detected for $52.50. It includes an AIHA-LAP, LLC accredited lab analysis for molds. More info HERE.
Airborne Mold Test from Techtron Engineering. Kit with mold and dust counts is $49.95 (video demo HERE).
Airborne Mold Test from Got Mold? starting at $149.00. Includes indoor and outdoor cassette and lab fees.
5.) Mold Remediation:
For a large mold problem (over 10 square feet) -or- if you are highly sensitive to mold, seek an experienced professional to conduct the work. Always get estimates from at least three contractors before deciding on one. Finally, check references and be sure the company is certified through a third party certifying agency such as the IICRC or NORMI.
6.) Environmental M.D.'s:
If you are seeking a doctor who specializes in mold testing, allergies and chemical sensitivities, visit the American Academy of Environmental Medicine to locate a physician in your area.
Work With Us!
1.) Consultation: Order a Healthy Home Phone Consultation or a Comprehensive Healthy Home Assessment, Testing & Phone Consultation.
2.) Take the 30-day healthy home challenge! Join our community, Change Your Home. Change Your Health in 30 Days and learn simple steps to eliminate hidden toxins and chemicals from your life, improve your health and live the life you deserve!