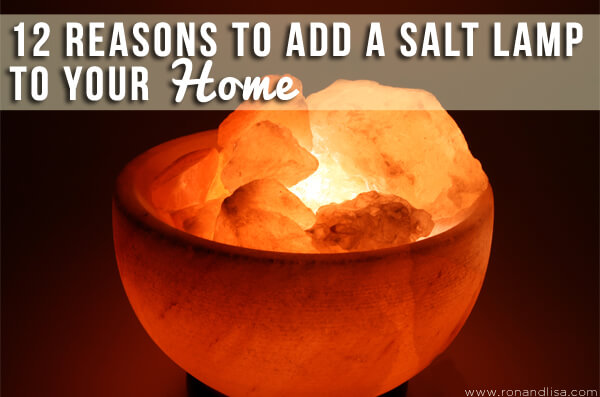 Let it glow, let it glow! Anna and Elsa may live in a castle and have a talking snowman, but I'm pretty sure they didn't have one of these, a Himalayan crystal salt lamp. These magical rock salt lamps are cropping up in homes across America due to their numerous healing benefits. In fact, we have several of them scattered throughout our own home and absolutely love the warm, cozy ambiance they add to a space.
What do salt lamps do?
Good looks aside, do more than illuminate, they actually heal our bodies in numerous ways. From cleaning and deodorizing the indoor air and neutralizing electromagnetic fields (EMFs) to removing airborne particles such as dust, smoke, mold, pet dander, pollen, and odors, salt lamps are perfect for anyone who suffers from allergies or asthma. Since negative ions in your home are a good thing, these lamps, when heated (sorry Olaf!), remove positive ions and expel negative ions into the air; aiding in improved energy levels. Salt Lamps reaps the same physical benefits as visiting a waterfall, the beach, or the mountains without ever having to leave your home (minus the visual part. You'll need to update your desktop wallpaper for that).
Get your Himalayan crystal salt lamps here.
19 Benefits of A Himalayan Salt lamp
Discover the benefits of incorporating a Himalayan crystal salt lamp into your home below:
Illuminates the environment
Cleanses and Deodorizes the indoor air
Neutralizes Electromagnetic fields (EMFs)
Alleviates common symptoms of cold
Sharpens performance
Improves concentration
Removes dust
Removes smoke
Removes Mold
Removes Per dander
Removes Pollen
Enhances overall breathing
Boosts Blood flow
Improves sleep
Enhances mood
Good for people with allergies
Good for asthma patients
Improves energy levels
Physical benefits of visiting a waterfall, beach, or mountains
Do Himalayan salt lamps smell?
The Himalayan salt lamp has a distinctive scent, but it's not overpowering. Himalayan salt lamps are made from pure Himalayan salt that is mined in the foothills of the Himalayans. The minerals in these salts have a distinctive smell, which can vary depending on where the salt is mined. The scent is described as a fresh, earthy smell.
These lamps also contain a small amount of finely ground or crushed lava rock and other minerals, so the lamp's aroma changes over time as these ingredients break down.
Which is The Best Salt Lamp?
We recommend the So Well brand of lamps which have been beautifully hand-crafted since 2004 and derived from pristine sea beds in the Himalayan mountains, then carefully carved by artisans in – not Arendelle but – Pakistan. The fact that the So Well Himalayan crystal salt lamps are Fair Trade, ensures the workers who mine the 200 million-year-old salt from caves in India are paid fair wages.
Are Salt lamps Available in a variety of Colors, Shapes, and Sizes?
Top Himalayan Salt Lamps are available in amazing varieties including smoke grey, rare pearl white, and warm amber color choices. They come in every shape and size imaginable.
Related Articles:
Radon – DANGER:A Real Risk At Home
Meet Atem: A Breath of Fresh Air!
What is a USB Salt Lamp?
They even offer one made specifically for your office desk, the USB Salt Lamp, that plugs right into your computer or any USB port; making it perfect for your desk or travel.