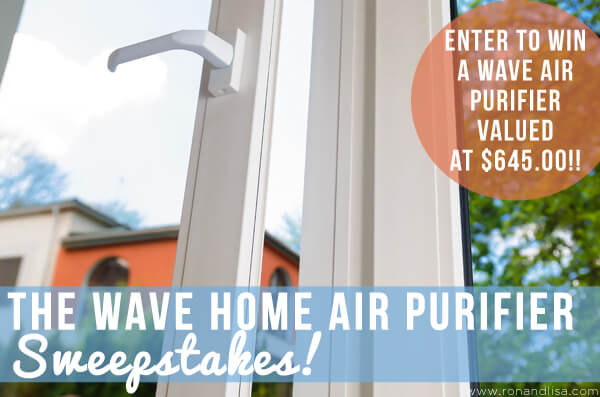 WAVE Goodbye to Indoor Pollutants & Allergens
Good indoor air quality is no longer a luxury. It's a necessity. According to the Center for Disease Control and Prevention, 'a growing body of scientific evidence has indicated that the air within homes and other buildings can be more seriously polluted than the outdoor air in even the largest and most industrialized cities. Other research indicates that people spend approximately 90% of their time indoors. Thus, for many people, the risks to health from exposure to indoor air pollution may be greater than risks from outdoor pollution.'
As a savvy Ron and Lisa reader, you're likely already aware that with green construction and tighter homes being built, we are constantly breathing in dangerous particulates and toxins; creating a toxic brewery of sorts. While we can't always smell or detect the chemical pollutants that come from gases, cleansers, materials and biological agents such as mold, viruses, pollen, dust mites and bacteria –it doesn't mean they're not there. Exposure to theses contaminants can lead to asthmatic triggers, respiratory ailments, dizziness and other illnesses.
The WAVE Air Purifier
Introducing an easy way to clean and purify your air with the patented, multi-stage WAVE Air Purifier. It utilizes a highly rated HEPA filter for filtering particulates; a unique Ultra Violet superior purification; and multiple-processes to remove and kill 99% of everyday indoor air pollutants. Covering 800 square feet, it's portable and can moved from room to room or taken to a new residence.
How the WAVE Air Purifier Works
Permanent washable pre-filter captures large particulates and increases life of HEPA filter
HEPA filter removes 99.5% of airborne particulates
Carbon charcoal filter enhances odor reduction capabilities
Ti02 Catalyst reacts with UV light destroys Volatile Organic Compounds (VOC's)
Patented UVC/UVV "J" Lamp:

UVC attacks the DNA of microorganisms to destroy biological contaminants such as mold, viruses, bacteria, etc.
UVV destroys chemicals, smoke, odors and aerosols

Мore than 2 million/cc negative ion output causes particle attraction for superior filtration
The Same Technology that Hospitals Trust!
UV (ultraviolet) technology used in hospitals is incorporated into the WAVE Air Purifier. It utilizes a patented, revolutionary dual UV wavelength and reflector not found in other UV purifiers. Coupled with a high-end HEPA filter and multi-stage processes, the WAVE Air Purifier gives you superior purification, killing up to 99% of everyday indoor air pollutants.
What is the CADR?
Glad you asked! The WAVE Air Purifier has a CADR (Clean Air Delivery Rate) of 150! Plus, the Smart Sensing Technology continually samples and monitors the air, automatically controlling the unit's operation. If pollutant levels start to increase, the unit will self-adjust and operate at a higher speed until conditions are favorable.
How Often Should I Replace the Filters?
The WAVE Air Purifier has a super smart automatic indicator for UV and HEPA replacement. But, you'll replace the filters approximately every 2 years –or – 17,500 hours of operation. WATCH the WAVE in action now. Sit back. Relax. Breathe.
Did You Know? The WAVE Air Purifier Offers: 

A 6 stage purification
Washable pre-filter
H12 grade HEPA filter
Dual wavelength UV lamp
Remove 99.5% of airborne particulates, kill bacteria, viruses, mold, dust mites, and remove aerosols, chemicals and odors from the air
Smart Sensing Technology allows for constant monitoring of the air and automatic control of the unit's operation
4 fan speed settings
LCD Display with API (Air Pollution Index)
Remote Control
A one year performance guarantee
Will you be the insanely lucky winner of the WAVE Air Purifier valued at $645.00? Enter daily for a chance to WIN and share this page a friend or loved one who could benefit from clean, healthy and purified air!
How to Enter:
For every action below that you complete, you receive a specific number of entries. Click each individual action to enter yourself. For actions you have done in the past (i.e. you are already a fan of WAVE Home Solutions on Facebook) just click directly on 'I did this'. The eligibility of the winner will be verified by The Healthy Home Dream Team®.
There is no mandatory entry. Each action will earn different numbers of entries into the contest. You may Tweet or share on Facebook or Google+ for an entry once per day. All other actions will only be counted once. Sweepstakes open to US residents age 18 and over. Contest ends 11/7/15 at 12:15am PST.