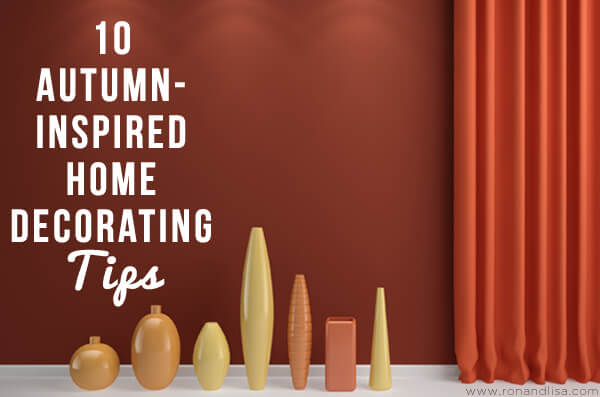 Life does indeed imitate art since orange is the new black when it comes to fall home decor. If you're seeking design inspiration beyond chandeliers, pintuck upholstery and subway tiles, the autumn months brim with opportunity to infuse an extra pop of fall cheer. To transform your interior space, follow these easy design tips to bring the outdoors-in. Prepare to fall in love with your home this season.
1.) Special Delivery
With the kids back in school and activities in full swing, chances are you're quite busy. An easy way to decorate your space – without leaving the comfort of your home – is to order a fall bouquet or potted plant delivered straight to your door. A handcrafted autumn centerpiece from ProFlowers can liven up your dining room. Or, try an arrangement featuring beautiful fall foliage to serve as the autumn accent for your kitchen.
2.) Painted Produce
It's easy to take fall staples and transform them into elegant décor. All you need is a little low or zero VOC paint. Gather several pumpkins or gourds, or a mix of the two. Clean off any excess dirt, and pour the desired paint color into a large bowl. Simply dip your chosen vegetable, set aside to dry, and display your creation in at the doorway to set the mood.
3.) Rustic Charm
Adding in small pieces of nature can make a room feel more rustic. Mount some old birch branches and onto a canvas for a fresh, out of the woods feel. Or, pick up a refurbished old side table from a flea market and decorate it with candles and fall foliage. If you've got a fireplace, keep some wood nearby in a dedicated container to add more rustic feeling. A wicker fire log basket is a gorgeous addition to any living room.
4.) The Votive Motive
Candles are a staple for cooler months, and displaying them in a specifically fall-inspired way can make your autumn décor a breeze. Core out an apple or miniature pumpkin and nestle a beeswax or soy, nontoxic candle inside. Or, place white tea lights or votives in clear glass for elegance and charm.
5.) Throwing Punches
If you live in a cooler climate you likely already possess plenty of plush throws. Add a few more by scattering them throughout your living space for a cozy feel. Guests will love the practicality. Look for certified organic blankets with autumn colors or jewel tones that will complement your fall palette. Invite some friends over and encourage them to bundle up. Serve a healthy snack and toast in fall together!
6.) Curtain Call
If you have lighter, summer-inspired window treatments, you can temporarily replace them with heavier fabrics. This will keep the cold out during chillier seasons; while completely change the look of your room. Even a well-appointed neutral can serve as an ideal backdrop for your autumn accents. Be sure the material hangs completely to the floor. Frame the window to achieve more desired light in your living space.
7.) Pick a Palette
While more of a home makeover, selecting a fall furniture palette and designing your décor around that gives spaces a cohesive feel. Popular and effective color combinations include bright orange and clean white, deep red and chocolate brown or varied shades of neutrals. You can incorporate these colors into everything from contemporary wall paper and area rugs to accent pillows and artwork.
8.) Utilize Mason Jars
Mason jars have been on trend lately, so you may already have a few on hand. Fill the jars with fall berries, cinnamon sticks, or of floating candles to add warmth and ambiance. They provide a low cost pop of color and can be displayed on a simple textured or monochromatic table runner. Combine different sizes and heights to achieve a more complex and appealing aesthetic.
9.) What's Old is New
Vintage finds and antiques can give your home the perfect autumn sensation. Check out your local flea market, garage sales or second hand furniture stores for one-of-a kind frames. Frame fall inspired artwork or a modern watercolor with an autumn palette.
10.) Tea Time
Few things say fall like a hot cup of tea. The amazing health benefits of this elixir are well known, but tea accessories can also serve as an ideal autumn accent. Display the perfect teapot on your coffee table, or create a dedicated tea station on a rustic buffet or sleek modern console.
Decorating your home this autumn is easily achievable with a few simple DIY projects and ready-made items. Get creative by incorporating your favorite fall features into your existing décor and make this a season to remember.