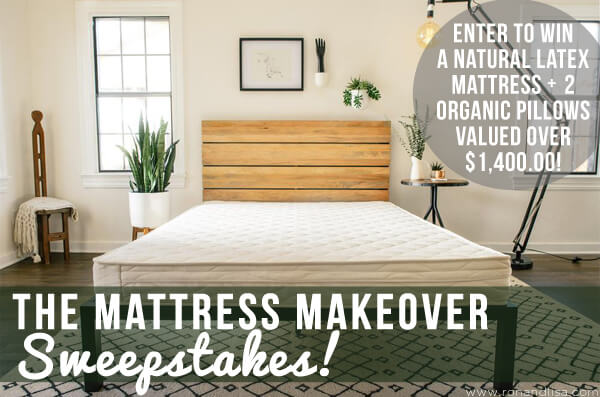 Do you wake up each day feeling groggy, tired and achy? If so, you join the likes of 33 percent of Americans who aren't getting enough sleep. Sleep disorders affect over 50 million people today and are a real and serious issue that affect your mood, your work performance and most importantly, your health. If dragging yourself through the day has become your norm, it's time to WAKE UP! Get ready for a new norm. Meet an affordable and comfortable mattress – one made from premium natural and certified organic raw materials that's conveniently delivered (for free) right to your doorstep. Oh, and it's not just the mattress that's delivered; it's the promise of a great night's sleep, naturally.
Meet Metta Bed
Metta Bed offers a quality, handmade mattress that, not only offers you comfort, but comes with an affordable price tag. Their finely crafted mattress are made from natural and organic raw materials and contain no chemicals or synthetic materials.
The Metta Bed company also offers a complete collection of certified organic sheets, pillows and comforters handmade right here in the USA from a California-based Eco-factory. In fact, the Metta Bed brand was created by the same visionaries who own and operate Organic Mattresses, Inc. (OMI)® – the leading organic mattress brand in America.
Furthermore, every Metta Bed mattress is handcrafted to order to fit each individual customer. The team of craftsmen has extensive skills and experience. You can, therefore, expect only the very best from Metta Bed. Oh, and were giving one Queen mattress, two queen pillows and away!

Your Best Sleep, Naturally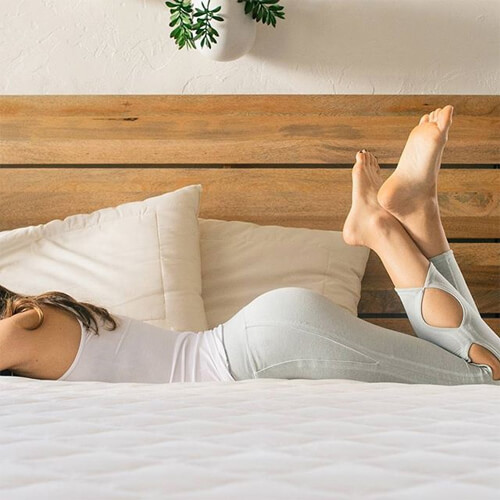 The team behind Metta Bed has more than two decades of experience in the world of mattress production. They take pride in offering luxury organic certified organic mattresses that are crafted by hand. The Metta Bed Company does not compromise on the quality of their products.
Their unique layer system offers three comfort layers to choose from including: plush, medium and firm. Amazingly, the company allows you to return a purchase that doesn't offer you the most optimal comfort in exchange for a new layer – at no extra cost – via their Comfort Layer Exchange Program.
The Metta Bed system is put together by experts to help you get the best sleeping experience. The Metta Bed natural latex mattress is comfortable, provides value at a reasonable price and is made from natural premium materials including:
1.) Premium Natural Latex
Tradition foam mattresses off-gas dangerous chemicals odors and pollutants into the air we breathe. These emissions of volatile organic compounds (VOC's) can be detrimental to our health. The Metta Bed mattresses, on the other hand, has a five-star rating on off-gassing via the Greengard Gold certification.
The all natural, premium latex mattress comes with a few hidden gems essential for good night sleep. That's because, in addition to being incredibly soft where needed, Metta Bed is also firm enough to offer support in all the right spots. Botanical rubber sap is harvested from rubber trees also known as latex. This latex is minimally processed and at least 95% pure – free from many of the synthetic "fillers" used in most other latex products that claim to be "all natural."
Natural latex offers durability, comfort and breathability, providing excellent overall support and just the right buoyancy. Natural latex is also naturally dust mite resistant and helps you keep cool.
2.) Premium Organic Woven Cotton Fabrics
The unbleached, certified organic cotton fabrics used in the Metta Bed products are made from the highest quality and have earned the Global Organic Textile Standard (GOTS) certification. The American-grown, organic cotton fiber is never chemically treated, creating an exceptionally soft and naturally beautiful material. The luxurious and durable, our quilted mattress cover and certified organic sheets, comforter and sateen pillows feel silky smooth against your skin.
3.) Premium Organic Wool
The GOTS certified organic wool used in the Metta Bed collection of products is sourced from New Zealand, where it adheres to strict standards and purity. Organic pastures and grazing grounds, minimal processing and humane shearing practices (along with other requirements) contribute to the organic standard, to which the Metta Bed wool is certified.
Organic wool naturally wicks moisture away from the body during sleep, promotes airflow while keeping your body cool. Wool is also a natural flame retardant and replaces the need for toxic chemical fire retardants found today in the majority of conventional mattresses.
In fact, were offering you a chance to win your own queen-sized Metta Bed mattress and two queen pillows! One first place winner will receive: A queen Metta Bed Natural Latex Mattress & two queen pillows, plus $250.00 cash from AHA Life. That's a total retail value of $1,747.00! Who's ready to win? Enter now:

The Metta Bed Difference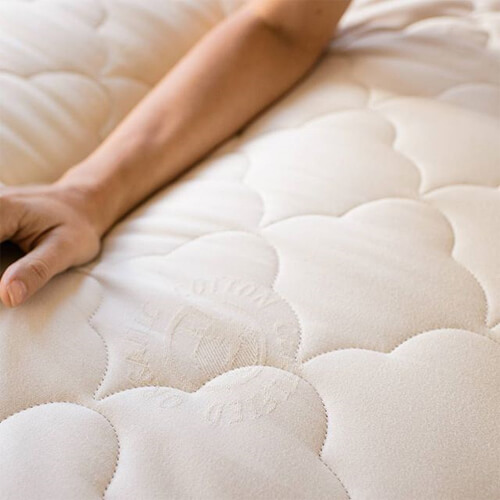 The Metta Bed luxury mattress is put together with your health and comfort in mind. The materials work together to offer support to your spinal code while providing softness where required. This is a must-have mattress that offers optimal benefits and can make the term, sleeping like a baby, a meaningful reality in your life. Remember, a good rest is attributed to good health, a better mood and increased productivity. The innovative Metta Bed mattress is made using organic materials which include:
Natural latex – offers a responsive spring and refreshing sleep
Organic cotton fabric- beautiful, breathable, durable and incredibly soft.
Wool- removes moisture away from your body for a cool night
20-night Comfort Exchange
20 Year Warranty
The Metta Bed Mattress benefits include:
Durable – uses the highest quality materials
Uses certified organic and natural materials
Handcrafted to order to meet individual needs
Conveniently delivered to your location
Provides proper spinal alignment
High-quality product
Offers maximum comfort
Cool temperatures

The Metta Bed mattress features include:
Available in plush, medium or firm
Free from chemical flame retardants and conventional foams
Made with natural and certified organic raw materials – botanical latex, certified organic cotton and certified organic wool
Two, 3" latex layers individually socked, quilted zipper cover
Overall height of approx. 7" 
Hand made by the OMI team in California
Works with existing foundation or platform bed
20-year warranty
120-night comfort layer exchange policy, exchange one layer if you are not 100% satisfied, shipping of return and replacement layer is free
Free shipping on every product, every order
0% APR financing through our website
Easy one-stop-shop for a complete bedding system (mattress, sheets, pillows and comforter)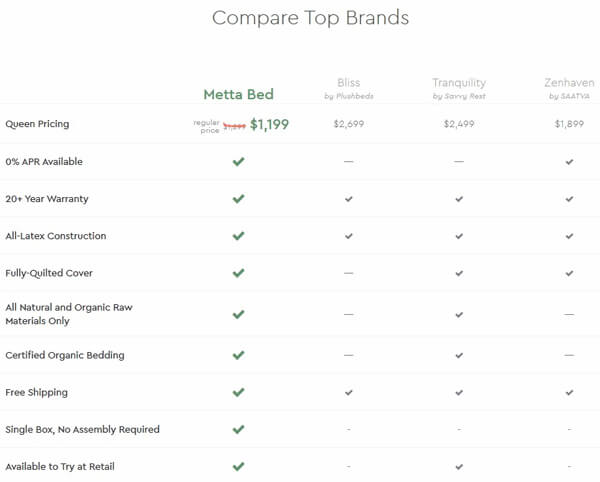 Enter to Win
We're offering a chance to win your queen-sized Metta Bed mattress and two queen pillows! One first place winner will receive a queen Metta Bed Natural Latex Mattress & two queen pillows, plus $250.00 cash from AHA Life. That's a total retail value of $1,747.00! Who's ready to win? Enter now! Open to residents of the US. Sweepstakes ends 4/27/18. Whatcha' waiting for? Share with a friend or loved one who could sleep more soundly and safely! Enter below: