Change Your Life in the…

WIN Your Way
to Healthy Water

Sweepstakes!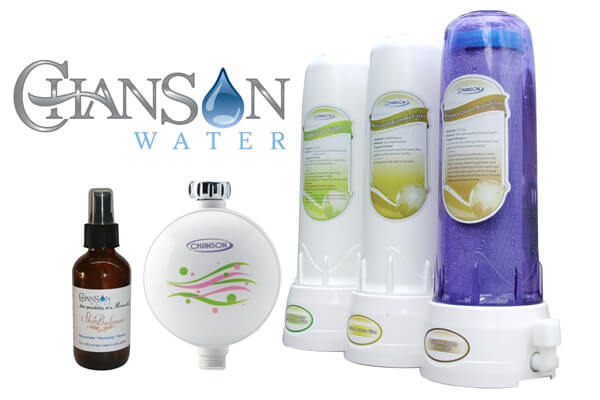 ENTER TO WIN!
A top of the line Chanson Spa Shower Filter, A C3 
Prefiltration Home Water System
& SkinBalance Spritzer
Valued at $280.00!!
Would you like to Change Your Health?  Then, You May Need to Change Your Water!  Water is literally our life force.  We cannot survive without it. The human body is made up of more than 60% water: The blood is composed of more than 80% water; the brain 70% water; the lungs nearly 90% water and the liver, an astonishing 96% water! One of the most important functions of water in your body is to flush out toxins and salt. Eight glasses of purified water a day will aid your body's ability to properly digest, transport nutrients, remove toxins and waste, lubricate joints, and improve overall immune function. Nowadays, you'd have to be living under a (river) rock not to realize the importance of drinking clean, healthy and filtered water.  And, while your local government water agency may deem your tap water safe, the list of contaminants they test for is surprisingly short. When you consider the ridiculous amount of money spent on bottled water today (Americans purchase more than half a billion bottles of water every week), the desire for clean water speaks for itself.  However, bottled water can costs hundreds and even thousands of times more per gallon than tap water and even then, not necessarily consist of the best filtration. Watch the Story of Bottled Water HERE and see for yourself.  Save money with a home filtration system and take reusable containers with you when you're on the go.  A Chanson C3 Prefiltration Home Water System and Spa Shower Filter will help ensure that the water you're drinking and bathing in is safe and healthy for everyone in your family! (ARV $280.00)
Spa Shower Filter:
Specially engineered to remove at least 95% of harmful chlorine and chloramines from your shower water
The only shower filter that softens and energizes the water, resulting in healthier, younger-looking skin, softer, more manageable hair, relief from dry skin and scalp and improved lather of soaps and shampoos
100% environmentally safe and natural
Attaches easily to any shower fixture
Filter life of 15,000-20,000 liters (approximately 12-18 months)
Easy to install and to change refill cartridge
C3 Prefiltration Home Water System:
Removes harmful contaminants without removing healthy minerals and other important properties from the water
Includes three stages of filtration which address: heavy metals, bacteria, sulfur, pesticides, nitrates, fluoride, lead, arsenic, chloramines, bad taste and odor
Wastes less water than a reverse osmosis system
Full lifetime warranty on the housings, hoses and fittings
Filter life is approximately one full year
This gentle formula binds with rough, dead skin and gently exfoliates revealing clearer, smoother, healthier skin after each use
Close the natural pH of your skin
Great for use as a skin toner, aftershave, astringent, general cleaner, and hair conditioner
Great for treating insect bites, burns, poison ivy, other rashes, and many more
Comparable to other skin products which sell for as much as $195 per ounce
How to Enter:
For every action below that you complete, you receive a specific number of entries.  Click each individual action to enter yourself. For actions you have done in the past (i.e. you already follow @ChansonWaterUSA or @RonandLisa on Twitter) just click directly on 'I did this'. The eligibility of the winner will be verified by The Healthy Home Dream Team(TM).
There is no mandatory entry. Each action will earn different numbers of entries into the contest. You may tweet or share on Google+ or your Facebook wall for an entry once per day. All other actions will only be counted once. You must be 18 or older with a US address to win. Contest ends 3/30/12 at 12:01am ET. Click here for complete terms and conditions.