Are You Toxic?
I was recently talking to our friend and cleansing coach, Christina Bird, and said to her, If people had keywords, ours would be #healthy, #nontoxic and #chemical-free. So, it goes without saying that Ron and I take these words very seriously, not just in our home, but in terms of everything that we put into our bodies. However, many people go through their day, completely unaware of – not only the toxins in their environment – but the plethora of chemicals they are ingesting daily through food and water. Most people are shocked when diagnosed with an illness, completely unaware that they had so much control over their health. Did you know, according to the NIEHS, two-thirds of all cancer cases are linked to environmental causes? That's great new for you. But, the first step is understanding that you need to make a positive change. Take a peek now to find out if you are toxic?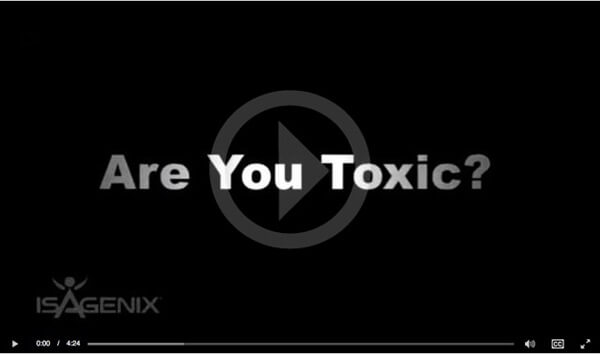 OUR STORY: How We Got a Cleaner & Leaner Body in 30 Days!
You are what you eat – so don't be fast, cheap, easy or fake. ~Author unknown
As the Healthy Home Dream Team, we truly do practice what we preach and while eliminating toxins in your home is our main message, avoiding them in your diet is part of the overall picture for well being and optimal health.
Everyone Needs Cleansing
I have been a pescatarian for over twenty years and Ron has been for over fifteen. But, one year ago, Ron and I took the plunge and went 100% vegan. Today, our diet consists primarily of (organic whenever feasible) fruit, vegetables, grains, nuts, seeds and beans. What it does NOT include is: dairy, meat, wheat, poultry, seafood, processed food, refined sugar, corn, soy, soda, artificial colors & flavors, pesticides –or, well – junk. I can tell you unequivocally that we've never felt better. So, when my childhood friend, Christina from Isagenix, approached us with the concept of doing a thirty day cleanse, red flags were alerted. Really? I thought. I've done every cleanse under the sun – colon, gallbladder, parasite, kidney. With my healthy lifestyle, would there really be any benefit? Not to mention the fact that I was leery of shake and protein bar supplementation companies since many of them are loaded with ingredients on my no-no list and finding a vegan option would be like finding a pea-protein-needle in a GMO-soy-haystack.
After several phone calls, watching videos (including the one above) and an eye-opening discussion with another vegan who swore by their vegan plan, we decided to embark on the thirty day Isagenix cleanse. As it turn out, it's proven in clinical research to be more healthy than a heart-healthy diet. See results HERE>

Balanced Food = Balanced Mind
Our first question (and likely yours, too) was, Can we eat real food? Ron and I are self-proclaimed foodies and have been really getting our hands wet in the kitchen this past year – in particular enjoying delicious, nutritious and healthy vegan recipes. Don't laugh, but 2016 was the year of our first food processor (okay, laugh a little). Now you know why we suddenly love cooking so much. But, the thought of a cleanse with no food would be a total deal breaker. Thankfully, the vegan and non-vegan versions include two shakes a day and one meal. This is geared towards weight loss, but since our primary goal was eliminating toxins and toning our bodies (ie: increasing muscle mass), we often consumed only one shake, a salad for lunch and one dinner meal of our choice. The shake packs are to be mixed with water or milk of your choice (nut milk in my case) and really come in handy on busy mornings and while traveling. You can easily make these in your hotel which we did during the filming of our Dr. Oz episode!
Mind, Body & Beyond
Body Scan
Our local fitness center offers a wonderful member benefit called the mPort. It's basically a high-tech pod you enter, remove your clothes while it scans your body; uh, not for the faint of heart. This helped us track our weight loss and lean muscle mass gains.
So, the cleanse began and we found ourselves really looking forward to the morning shot of Ionix Supreme followed by our choice of shake (vegan in our case). The Ionix Supreme tastes great and is loaded with goodness. Click the following links to see the full ingredient list (and let's give them a high five for transparency): Ionix Supreme and IsaLean Shake Vanilla Chia Dairy Free (since this was both of our favorites). In the vegan version, they also offer Natural Berry Harvest and Rich Chocolate.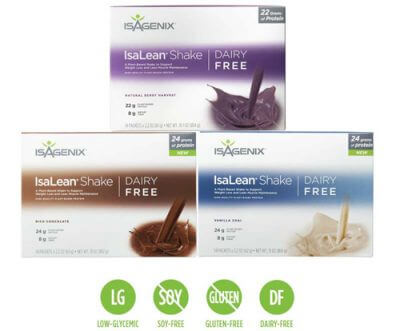 Like everyone, our mornings are busy and it was nice to know we'd be getting the vitamins, minerals and nutrients we desired in a quick fashion. Before we'd head to the gym – which for us, tends to be about 4 days a week on average – we took a scoop of our pre-workout fuel. After the workout, it was two scoops of the post-workout fuel. I really enjoyed the flavors of each and wasn't expecting to feel an immediate increase in energy, but also we both noticed much less muscle soreness after doing weights; something neither of us had experienced before. If we hit a slump during the day or needed an extra boost of energy, we took our handy Isagenix e+ Healthy Energy shots. These are great because you can carry them in your purse gals for a quick pick me up. STARBUCK SPOILER ALERT: Click HERE to see how these compare to other caffeine sources. Since we started this cleanse during the holidays (and with company visiting) I can tell you we certainly took advantage of their super-powers with no artificial colors, flavors or obnoxious caffeine high that you find in so many energy shots and drinks. Just a little natural Herba Matte and green tea along with something called adaptogens to help balance your energy and mood. In addition, we had the IsaLean Dairy Free protein bars to snack on during the day whenever we felt we needed an extra snack. We had the choice of Chocolate-Coconut Almond, Chocolate Peanut Butter or Chocolate Berry Bliss (non-vegans, you'll get even more choices!). They all include a pea-protein blend and are soy-, gluten-, and dairy-free and vegetarian.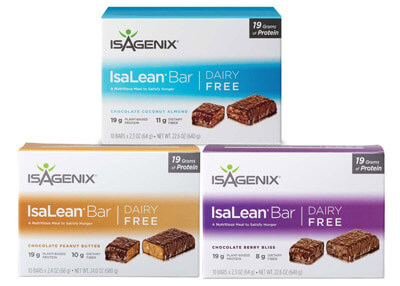 No Pain. No Gain.
Even though this is essentially a 30-day cleanse, it involves a cleanse within a cleanse for two days. I was a bit (a lot) apprehensive about these days for myself and Ron because this one really does involve no food (yikes!) and had my stomach growling just thinking about it. So we selected the days we knew we'd be around since you'll find yourself emptying your bladder…a lot! I would also highly recommend choosing a day your busy to keep your mind from wandering about food. And, as Christina suggested, if you get too hungry in the evening, go to bed early. It actually worked.
Much to my surprise, this part of the thirty days was my favorite, not during, but the feeling, energy and clarity you will feel when finished. You definitely need to get the My ShakeDay app for you iPhone or Android to remind you of what to take when on these two days since there are varied drinks, wafers and supplements you'll be taking throughout the day; about every two hours. It's great because it keeps your hunger curbed and psychologically makes you feel like you're consuming something often. Everything tasted so delicious; the Berry Wafers were my favorite; I could snack on these everyday and it turns out some of the biggest losers (over 100 pounds) consume about six of these a day during their cleanse.
Indeed there may be times you have a headache, your stomach growls or you feel crabby. But, if you've ever done any kind of cleanse, this is all part of the detoxification process and is actually a good thing. I call it the 'spoiled body syndrome.' You're taking the candy (toxins) away from the spoiled baby (body) and it's having a tantrum of sorts. This part is super important for you self-proclaimed sugar addicts. In reality, you're giving your body the healthy break it needs from working so hard every day from processing and digesting food. This allows it to use the stored energy to detox nasty things from your body and frees you up for feeling amazing afterwards. Can you say flat tummy? And yes, you'll drop a few bonus pounds after this alone. Definitely drink lots of water on these two days as well, it keeps you full and hydrated.

Did You Know? Isagenix Products Are:

Isagenix products are all-natural, organic, GMO-free, Soy-Free and Gluten-Free
Isagenix is not a diet, but a complete lifestyle change
Isagenix IsaLean shakes and bars are a complete micro/macro-nutrient meal with 240 calories, 24 g of high-quality protein, 23 vitamins and minerals, 8 g of fiber, 24 g of carbs and 11 g of all-natural sugar (Stevia)
Link to clinical research studies
Know Pain. Know Gain.
Change is never easy, but it's essential for growth. If you are tempted to change the way you feel, make today the day you commit and stop making excuses. Love yourself enough to enjoy the best life you can with clear skin, more energy, a better mood and of course, a better body. While that might seem superficial for some, carrying around extra fat and weight is not good for your joints, your organs (which have to work so much harder) and of course, your health. Looking better is just a bonus!
"Change happens when the pain of staying the same is greater than the pain of change." ― Tony Robbins (Click to Tweet)
It's swimsuit season, and whether you'll be sporting a Speedo or a Brazilian bikini, you deserve to feel confident, not perfect. Ron and I want you to look and feel your best and we are giving away an Isagenix 9-Day Deep-Cleansing and Fat-Burning System (Retail value $214) + FREE annual membership (Value $29) to one lucky ducky RonandLisa reader (not open to existing Isagenix members)! And, since we don't like to play favorites, e v e r y o n e will receive a FREE consultation with Christina to discuss your struggles and future goals! Click below to enter now. *Open to US and Canadian residents, 18 years and older. We can't wait to see and hear about the new + improved you!

Save
Save