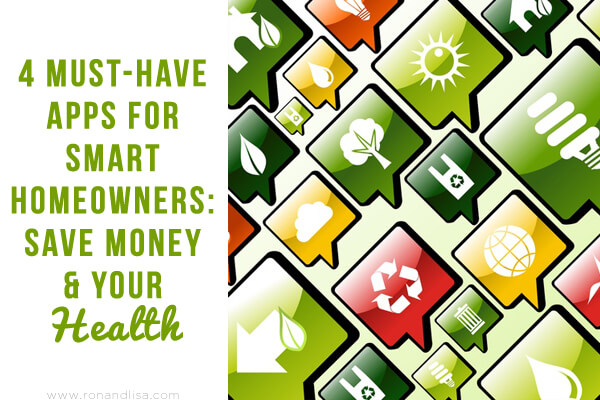 For the conscientious homeowner, creating a domicile that is eco-friendly, functional and safe can be a daunting task. Luckily, smart technology is now in sync with environmental concerns. If you've recently purchased a home and want to ensure that your house leaves a sound impression and not a carbon footprint, here are four downloadable apps for your smartphone that can assist you in creating a greener, safer and healthier abode.
1.) Air Visibility Monitoring
Designed to measure air visibility, this app does more than just tell you when it's smoggy outside. Air visibility indicates airborne particulate matter, a problem that affects the environment and your health. Especially valuable in metropolitan and urban landscapes, Air Visibility Monitoring points out the primary causes of visibility degradation, allowing you to crank up the air purifier in your home or showing you when to avoid moving about in the open. The app, available for Android devices, uses sensors and cameras on the device to keep you up to date on air quality and visibility.
2.) EnergySaver
The EnergySaver app allows you to identify and then eliminate the energy being wasted in your home. It monitors your appliances to pinpoint which ones are sapping the most energy and at what times. You can save on electric bills just by eliminating phantom loads, which according to Lawrence Livermore National Laboratory, make up about 10 percent of the electricity used in a home. Available for download through the App Store or Google Play, EnergySaver is a practical app to stop the energy sap in your residence.
3.) Nexia Home Intelligence
Available for download through iTunes, Nexia Home Intelligence provides a means of monitoring the most important systems in your home from anywhere. The home automation app allows you to run checks on your locks, thermostats, cameras and lights in the house. You can view real-time video, set temporary codes, schedule the use of the heating and cooling system, create automations and customize device groups. It's an incredible method for making sure your home stays safe and environmentally sound when you are away.
4.) Grow Planner
One of the best ways to improve the atmosphere of your home and participate in green practices is to start your own home garden. The Grow Planner app is a multi-functional tool for fruit, vegetable and herb garden planning. This app from Mother Earth for the iPad, creates digital graph paper so you can virtually sketch your garden plans. The app asks you to enter the dimensions of your planned garden, then creates a grid which you can add to or edit, depending on the features you want to incorporate into your design. Once your plan is set, choose from 140 plants and crops to grow in your garden. Each plant has a growing guide that indicates best practices in maturing and sowing that crop so you can avoid using toxins or pesticides.
Ecological concern has come a long way in recent years, and it's nice to see that smart technology has kept up with it. With just a smartphone or tablet, the ability to save money, go green and secure your new home is just a few swipes of the fingertips away.