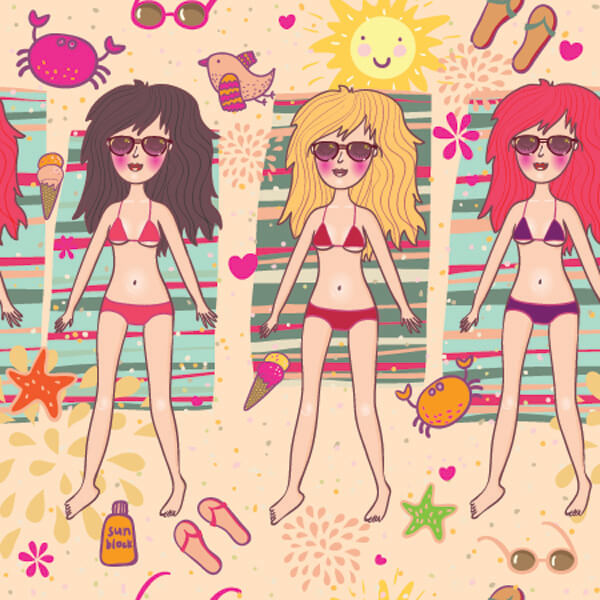 Summer is here and that means relaxing beach days and festive pool parties. However, I cringe at the sun protection products I see other people buying and using and here are (6) shocking reasons why…
Shocker # 1 – SPF is not an accurate predictor of protection! You may be surprised to learn the SPF number on your sunscreen rates only protection from UVB rays, those that cause sunburn (think 'B' for bad burn); not UVA rays, those that cause wrinkling, leathering, aging skin and long-term damage (think 'A' for aging).  Crazy, right?  You can be baking in the sun, not burning, and be led to believe you are protecting yourself from skin cancer.  You could, however, be very wrong.  You need to protect against both UVA and UVB rays.  Both rays cause melanoma, and UVA rays are constant all year long.
Shocker #2 – Chemical "active ingredient" oxybenzone is a "no-no."  I find this ingredient in almost every sunscreen so prominently featured on the end caps at local drugstores and "big box" stores; including kids sunscreen.   Oxybenzone penetrates the skin, promoting indirect DNA damage which causes the most lethal form of skin cancer: malignant melanoma. You read that correctly, your sunscreen could be causing cancer!  Instead, use a mineral sunscreen (think zinc) to keep the sun protection on the surface of the skin.  Zinc oxide provides broad spectrum UVA /UVB protection without nasty harmful chemicals. Important note: oxybenzone is also a known endocrine disrupting chemical (EDC).  These are now being linked with neurological disorders as shown by Dr. Philip Landrigan of Mt. Sinai School of Medicine, who just released a list of the Top 10 environmental toxic chemicals linked with autism, ADHD and neurological disorders!  And guess what?  Endocrine disruptors came in at number six on the list! Future moms, avoid it at all costs.
Shocker #3 – Your mineral sunscreens – zinc and titanium are most likely nanoparticle size.  What exactly does this mean?  Remember the lifeguard at the pool with the white stripes on his or her nose?  This is what zinc looks like.  Most manufacturers use tiny particles (1,000 times smaller than a strand of hair) of zinc or titanium to make them easier to spread on and disappear. The problem is research reveals that those tiny particles – called nanoparticles – cross the cell barrier and enter organs including the brain in humans.   I, for one, am not willing to be a guinea pig on this.
Shocker #4 – An ingredient that enhances skin cancer lesions is found in many sunscreens! I know – crazy, right?  The FDA released a report last spring that retinyl palmitate enhances skin cancer lesions in the presence of sunlight as found in animal research. Again, with the guinea pig thing, I'm definitely avoiding it and hope you are too!
Shocker #5 – The paraben preservatives in your sunscreen are also known endocrine disruptors, and suspected carcinogens.  Avoid sunscreens (and any other products) with parabens – methylparaben, ethylparaben, propylparaben, etc.   Also, a recent study by the Univ of Chicago showed that methylparaben, in combination with BPA, turned healthy breast cells into cancer cells and rendered tamoxifin ineffective. Avoid all parabens.
Shocker #6  – Manufacturers can legally hide hundreds of toxic chemicals in the ingredient "fragrance."  That coconut smell is not real, and most likely comes with a dose of phthalates (yup, more endocrine disruptors!) and other toxic chemicals. Avoid synthetic fragrances. Period.
How to find the safest sunscreens? – Read labels and look up your sunscreen on the Skin Deep cosmetic database, because it really is "all about the ingredients."  The database ranks products on a 0-10 toxicity scale. The sunscreen I used to use is ranked an 8 in toxicity (ouch).  All of those on end caps in your big box stores are ranked 6 through 9 (ie: the "highest toxic hazard" range).   Some of these contain ALL four endocrine disrupting offenders discussed above – octinoxate, retinyl palmitate, parabens and fragrance.  Now, think of how many times you reapply sunscreen to yourself and your little ones in hopes of daily 'protection.'
Related Articles:
Create a Daily Escape in 3 Blissful Steps!
Clean Up Your Chemical "Body Burden" from Personal Care Products
A Zen Workout You'll Really "Dig!"
The BIG Secret in Your Home That's Keeping You Overweight
Steps to Safe Sunscreen Application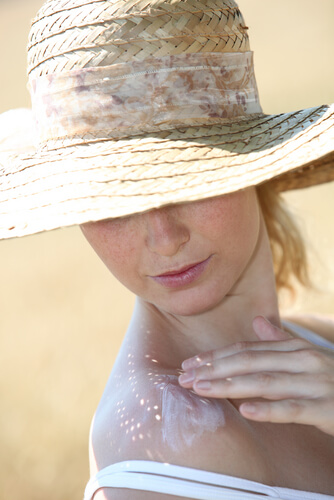 Apply sunscreen liberally to dry skin 30 minutes before going outdoors; taking extra precaution to cover exposed areas.
Sunscreen should be reapplied every two hours, or half that time when near the water and after swimming; showering; or sweating.
Avoid exposure from the strongest sun (between 10 a.m. – 4 p.m.) when possible.
Cover up, go wild and top if off with a great hat!
We are really proud of Ava Susncreen 33.5spf.  It is a great moisturizer that doubles as a sunscreen. It includes five certified organic, botanical ingredients with no chemicals harmful to humans or the environment.  Yes, you do need to rub it in a bit but, based on all of this information, isn't a little elbow grease worth it?  Now, sit back and enjoy a relaxing summertime read, the Ava Sunscreen ingredient list: zinc oxide (21%, non-nanoparticle), beeswax (organic), theobroma cacao seed butter (organic cocoa butter), butyrospermum parkii (organic shea butter), olea europaea (organic olive oil), simmondsia chinensis (organic jojoba oil).
Guest blogger, Ava Anderson, founded Ava Anderson Non Toxic with the support of her family after learning about the dangers of toxic chemicals in personal care products. Her goal is to share this message in every family room in this country, and provide safe, organic and natural products without harmful chemicals for humans and the environment.  She now has many product categories for men, women and children – avaSKIN,  avaBODY, avaHAIR, avaSUN, avaBABY, avaSCENTS, avaFACE and avaHOME!   Learn more about Ava and visit her company online HERE!