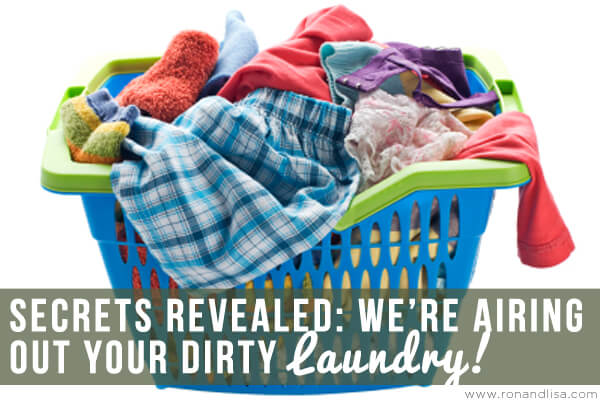 It is time to get dirty! We are dishing the dirt on your laundry and Ron and I are determined to help you clean up your act! If you are unaware of the potential dangers hiding behind those brightly colored laundry boxes, masquerading summer breeze scents and whiteners & brighteners that are potentially harming your health, then chances are you have been living under a pile of dirty laundry.
Someone once used the reference of a supermodel to me. The supermodel may appear physically beautiful on the outside, but may be dying on the inside; taking drugs, starving her body and smoking like a chimney. In some ways, our desire for cleanliness might not be that different. Sure, we all want the physical appearance of looking the best we can. But, do we ever consider that there might be a cost to this outer quest for perfection? It's not your fault. The model chooses to damage her body in attempt to please the industry's desire for waify, emaciated and deathly skinny mannequins on which to hang their clothes. But you, on the other hand, might not be making dangerous choices knowingly. Your day to day purchases may in fact, be harming your health. But, taking a sample of your favorite laundry product to the nearest laboratory for testing is not exactly finding its way to the top of your Thursday To-Do List.
We get it. And that is exactly why we are writing this post. In fact, it is the intention of both this blog and of our book, Just GREEN It! Simple Swaps to Save the Planet and Your Health. We realize you don't have time to do all of the research, so we did it for you; creating a shopping guide that visually compares brand names, side-by-side. And yes, we name names.
To begin, we need to face the dirty truth. Let's start with the basics – chlorine bleach. Most likely this is a staple in your laundry room. But, are you aware that chlorine -otherwise known as sodium hypochlorite, hypochlorite, hydrogen chloride, or hydrochloric acid—is a respiratory irritant, which can aggravate asthma, emphysema, or chronic bronchitis, and can be fatal when inhaled? Or that chlorine and ammonia (found in many window, floor and jewelry cleaning products), when combined, form a deadly, lung damaging gas—chloramine gas. Exposure to this causes irritation to the eyes, nose, throat, and airways. Symptoms include teary eyes, runny nose, sore throat, coughing, and chest congestion. Hmm, not quite seeing the beauty in this picture yet.
Alas, then came chlorine-free bleach thanks to companies like Ecover, who offer a Non Chlorine Bleach. Or, my personal fave, Earth Friendly, the makers of OXO BRITE whose non-chlorine bleach utilizes oxygen to whiten, brighten and deodorize your laundry and fabrics, is safe for colors and is fragrance-free!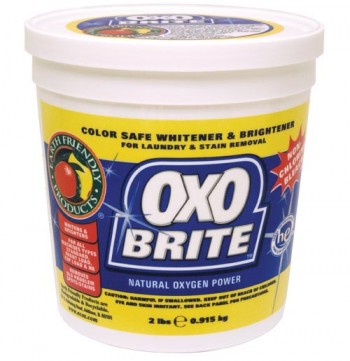 Laundry problems solved! Uh, not so fast. Unfortunately, we have only addressed one of laundry's dirty secrets. Many manufacturers still greenwash their products by touting 'phosphate-free.' Sounds healthy, right? In fact, phosphates have already been phased out of laundry detergents and are mainly a concern when it comes to dishwashing detergents. However other laundry chemicals are a cause for concern, especially nonylphenol ethoxylates (NPEs). NPEs are surfactants which help other ingredients penetrate dirt and grime, but unfortunately belong to a group of hormone-disrupting compounds called alkylphenol ethoxylates (APEs). Nonylphenol ethoxylates are recognized by the Environmental Protection Agency (EPA) as toxic to aquatic plants and animals. You do have choices and you'll want to look for manufacturers that use natural, plant based surfactants. I personally love Ecos concentrated detergent which is made with plant based surfactants. It has a built-in soy based fabric softener and cellulose based, versus as synthetic or petroleum optical brightener. It's nontoxic, biodegradable, and safe for the environment! By now, you've heard me tout that your skin is your largest organ and it absorbs everything on it – including fragrances. What's great about Earth Friendly's Ecos, is you don't have to sacrifice great smells because they use natural, essential oils for scents including Magnolia & Lilies, Lavender and Lemongrass (the sound of those makes me want to throw a load in right now)! Or, for those with strong sensitivities to fragrance, then you can opt for their Free & Clear version which can be used in grey water systems and is septic system safe. Other options include Trader Joe's detergent which contains zero chlorine bleach, uses a cellulose optical brightener and is 100% biodegradable. Or, Safeway's new Bright Green line which uses biodegradable surfactants, is septic-safe, and is never tested on animals.
To unveil more dirt stay tuned because we are revealing the laundry blacklist in our follow up post, Dirty Secrets Revealed: We're Dishing on Laundry! Part II. We are, of course, naming names and revealing safer solutions!