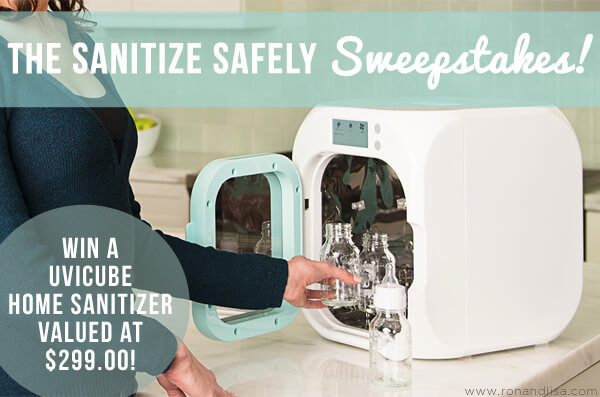 ENTER FOR A
CHANCE TO WIN!
1 Winner Will Receive a UviCube
Toal Value $299.00!!
in the…
Sanitize Safely
Sweepstakes!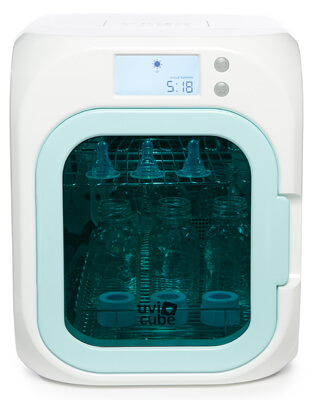 Wellness Begins with Cleanliness™
Baby mamas…beware; it's a great, big germy world out there! But, many well-intentioned germaphobic-parents have had a heyday trying to keep their baby safe from the plethora of chemical toxins found in the sanitizer solutions and antibacterial wipes on the market today. While you can't keep all the bad bugs away from your baby, as a parent it's your job to steer your baby around the most dangerous ones. At the same time you want to do everything you can to ensure that your baby's developing immune system has adequate time to become as strong and resilient as it can be.
Germs are Everywhere
Germs are right under your nose and at your fingertips on the things you and your baby touch most often. Because you can't see them it's easy to forget they're there – and, more importantly, how they got there. Doorknobs, kitchen counters and toilet seats are the most obvious culprits.
Did You Know? Your cell phone is dirtier than all of the above and, in fact, is likely to be the single dirtiest object in your home? A U.K. study found E. coli bacteria on 16% of participants' cell phones. Likewise, many remote controls, computer keyboards and even salt and pepper shakers harbor enough germs to be classified as health hazards.
Some viruses, such as hepatitis A and rotavirus, which causes severe intestinal infections in infants and children, can remain viable for weeks on toys and other surfaces your baby comes into contact with, even after you've allowed them to air dry. You can also transfer these viruses to your baby by touching those surfaces and then touching your baby or preparing your baby's food.
Your Baby's Delicate Immune System
Your infant's developing immune system produces fewer infection-fighting proteins and immune signaling molecules than that of an adult so is not capable of responding as quickly to neutralize and dispose of germs. As a result, infants can quickly become overwhelmed by infections and are at increased risk of developing potentially life-threatening complications.
How to Protect Yourself & Your Baby
Isn't it time to raise the bar on baby bottle electric sterilizer products? Introducing UviCube, designed by concerned parents just like you! UviCube is the newest and easiest way to keep the things your baby loves away from germs. It is the first of its kind in the U.S. market, to dry, store and eliminate 99.9% of bacteria on surfaces exposed to UV light on items such as baby bottles, bottle nipples and pacifiers. UviCube can also sanitize electronics, mobile phones, toys and other items your baby loves. Make UviCube part of creating a clean environment for your child. Its ability to eliminate 99.9% of harmful bacteria on surfaces exposed to UV light has been validated by a nationally recognized, ISO 17025 accredited laboratory in the United States.  In addition, UviCube can dry and store baby bottles, pacifiers and cups until they are needed.
Don't Take Our Word for It! Watch Now:
UviCube is the easiest way to keep babies safe from germs by eliminating 99.9% of harmful bacteria.
Uvicube is a cleaning system that uses Ultra Violet Light (UV) to sanitize everything from bottles to pacifiers to remotes, keys, mobile phones and more.
Because UviCube doesn't use moisture or heat, it can sanitize almost anything, from everyday household items to electronic devices like mobile phones and remote controls.
No boiling water or hot steam so there is no danger of getting burned. UviCube uses low heat infra-red light bulb to dry and ultraviolet light to disinfect.
UviCube dries bottles before it sanitizes, eliminating the extra step of drying, and allowing your counter to be clutter-free. Store bottles in UviCube until you need it so you don't have to worry about them getting dirty again while drying.
With UviCube, you don't have to load it with water or clean the lime-scale. Don't add more chores to your list. Just enjoy more time with your baby.
UviCube holds up to 7 bottles + their accessories depending on the size; a mini tablet fits perfectly on the tray.
No cleanup required.
No chemicals.
UviCube is a revolutionary, chemical-free sanitizing solution for the busy, fast-paced life of parents today. Will you be the *lucky* winner of your very own UviCube valued at $299.00? Enter daily for a chance to WIN and share this page with a mom, dad, aunt, uncle, friend or loved one who could benefit from a healthy home sanitizing solution!
How to Enter:
For every action below that you complete, you receive a specific number of entries. Click each individual action to enter yourself. For actions you have done in the past (i.e. you are already a fan of UviCube on Facebook) just click directly on 'I did this'. The eligibility of the winner will be verified by The Healthy Home Dream Team®.
There is no mandatory entry. Each action will earn different numbers of entries into the contest. You may Tweet or share on Facebook or Google+ for an entry once per day. All other actions will only be counted once. Sweepstakes open to US residents age 18 and over. Contest ends 01/02/16 at 12:15am PST.